Neth FM, a radio channel that has attracted a large of audience in a short period has now extended to Uwa and Eastern provinces. From July 20, the fast spreading channel is clearly audible to its listeners in the newly reached areas through frequencies FM 105.9. And according to LMRB ratings the channel has reached the third place with its increasing number of listeners.
Started on November 3, 2005, the channel has proved that it is one of the fast growing radio channels with variety of interesting and educating programmes. 'While providing quality entertainment to our audience our main aim is create a platform to our listeners to discuss their problems,' Asanka Jayasuriya, the Chief Executive Officer said.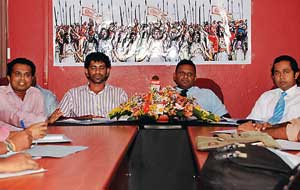 'Neth' Team
"We want to extend the social, cultural and religious service we rendered to all the citizens of this country," he added. Going beyond just providing entertainment, Neth FM has taken up the social responsibility to address various issues in the country.
'We have prepared programmes that discusses about the present problems like media freedom, drug menace and environmental problems' said Nuwan Liyanage, General Manager of the channel.
As a part of this mission Asset Radio Broadcasting (Pvt) Ltd, the Neth company is to organize a workshop for the Grade 5 children in Uwa province.
The channel plans to promote literature and indigenous music in the Eastern areas and promote their cultural values. Queried about the majority Tamil audience in the Eastern part, Mr. Jayasuriya said that they were planning to start a Tamil channel in future.
A number of novel programmes have become popular among its listeners and they were included 'Belumgala', 'Siw Weni Manaya', radio dramas and cinema and music programmes. 'Paththara Malli' one of the popular programmes that discusses about the daily newspapers celebrate its 10th anniversary.
Celebrating the extension of the channel to Uwa province, it also has organized a series of other events including a two day cycle race on August 2 and 3. Fifteen competitors will be selected from each province for the final round and the winners are to be awarded with valuable prices.
Neth FM broadcast through FM 95 from Colombo, FM 105.4 from Rajarata, FM 100.4 from Kandy, FM 93.9 from South and FM 105.9 islandwide and it is available worldwide through www.nethfm.com.