The famous comic story of the 1970s 'Itin Eeta Passa' drawn by Balangoda Sarath Madhu will be directed into a serial miniplay by Chandika Wijesinghe. Produced by Upul Jayasinghe and ITN channel, the story is about two young star-crossed lovers who became household names among the Sri Lankans for nearly two decades.
The two main characters 'Kelum' and 'Dedunu' are played by young upcoming actors Sampath Kumaratunga and Umayangana Wickramasinghe. Muhurath ceremony for the teledrama was held amidst a gathering of actors, actresses and teledrama technicians recently.
The comic artiste Balangoda Sarath Madhu speaking at the Muhurath said that his landmark story 'Itin Eeta Passe' appearing in miniscreen was a dream that has come true.
"The idea for 'Itin Eeta Passa' crossed me in the 1960s when I was watching Dr. Lester James Peries' film Sandeshaya. A scene with two actors Ananda Jayaratne and Kanthi Gunathunga imprinted on my mind and I started to draw this scene over and over again," said Sarath Madhu narrating how he started to draw his popular story. And for the first time he got the opportunity to reproduce his drawing of Kelum and Dedunu for the comic newspaper 'Siththara' on September 1975.
Sarath Madhu who was happy about the project miniplay initiated by the producer Upul Jayasinghe and ITN expressed his wishes that it would embrace the heart of many a television audience just as his comic story.
The story of 'Itin Eeta Passa' revolves around Dedunu, a young girl from a middle class family and she has lost her parents when she was young. Dedunu lives under the thumb of his only brother, Senaka, the only relative she has. The only person who cares for her is Maggie, the housemaid. Kelum, is a young musician who tries to win Dedunu. Though Dedunu too is interested in him she feels afraid to express it out of fear of her brother.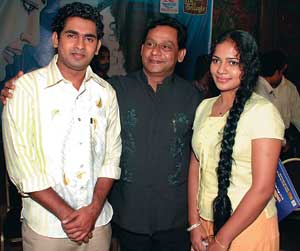 Sampath Kumaratunga and Umayangana Wickramasinghe as Kelum and Dedunu with Sarath Madhu.
Meanwhile Nilushi, Dedunu's brother is trying to win Kelum's heart. Overcoming all the obstacles, Kelum manages to win Dedunu's heart. Yet it is doubtful whether they could get married.
The technical staff includes screenplay by Sadun Rajakaruna, camera Chandana Dharmapriya, art director Chamikara Bokaragoda, editor Nishantha Priyadharshana and make-up by Narada Dhananji Thotagamuwa. Lyrics written by Channa Jayanath to the music direction of Rohana Weerasinghe, playback singing is by Uresha Ravihari and Chamika Sirimanna.
Cast in 'Itin Eeta Passa'
Cletus Mendis, Sanath Wimalasiri, Gihan Fernando, Sarath Kothalawela, Avanthi Aponsu, Anula Bulathsinghala, Janith Wickremage, Susila Kottage, Alfred Perera, Chandika Nanayakkara, Rishard Manamudali, Sarath Dikkumbura, Shan Bandu Weerasinghe, Renuka Mapalagama, Jeewani Nirupa Kumari, Piumi Purasinghe, Udayangani Saman Kumari, Rehana Kaushali and Biyanka Fonseka.