'Echoes of Heaven', a presentation of choral singing by the Western Choir of St. Sebastian's College, Moratuwa, will be held at the BMICH on Friday August 8 at 6.30 p.m. A strong combination of 100 male voices will be on stage with harmonious singing of songs and hymns, both classical and popular. The grand event will be an exclusive show of its kind with six leading Colombo schools performing with the Best Choristers. St. Joseph's College, St. Peter's College, St. Bridget's Convent, Holy Family Convent and Our Lady of Victories Convent, Moratuwa, will be sending their best performers to make this event an unforgettable one.
The Western Choir of the College was nearly non existent not long ago, but the present choir is the brainchild of Rev. Fr. Prasad Niranjan Fernando, a College old boy priest who is presently attached to the tutorial staff of the College. He is also a musician, a composer and a teacher of music. It was really his initiative and dedication which formed the choir as it is today about three years ago. Now it boasts of capturing the hearts of all who have come to enjoy the singing of this choir.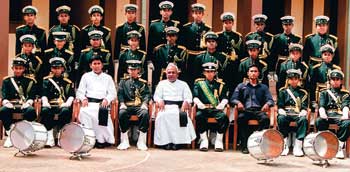 The choir consists of all major parts, namely soprano, alto, tenor and bass. Given that all its members come from a music loving city, Moratuwa, their full backing and enthusiasm is visible in all aspects of forming and maintaining standards of this choir. A lot of hard work, both from the trainer and trainees, goes in to training the choristers, which includes very regular and systematic practices. The cooperation of the parents of the choristers is also praiseworthy. From its inception to date they have extended their fullest support and willingness towards building up this choir.
It was in 2003 that Rev. Fathers of the Archdiocese of Colombo took over from then administration, De La Salle Brothers. There are four semi government schools under the patronage of the Archbishop of Colombo, Most Rev. Dr. Oswald Gomis namely St. Joseph's College, St. Peter's College, Loyola College, Negombo, and St. Sebastian's College, Moratuwa, the latest addition being the latter.
The talent and enthusiasm for music from the students was very high from the early days of the College. Singing as a group is utilized especially for special occasions and Holy Masses. But these talents are now united in a wonderful western choir which has matured over the years. The choir is formed by students of different age categories. They range from Grade Four to Grade Thirteen. Most of the juniors thus form the sopranos with their heavenly singing.
The Western Choir of St. Sebastian's College has performed to the delight of the people of Moratuwa at the annual carol service held in College for five consecutive years, which is accompanied by the Sri Lankan Army Band. Preparations will be underway for it this year too in the Christmas month of December. It also organized a choir show named 'Whispers of Music' at the Bishop's College Auditorium in 2006. Apart from public shows, the choir has also taken part in a number of invitation performances. It also serves the college worship by singing at the first Friday Holy Masses and singing for the College Annual Prize Giving and other school functions.
'The main purpose of the choir is not only singing. Singing of course is what this choir is for. But more importantly it inculcates in the children good values like unity, punctuality, commitment and silence' said Rev. Fr. Prasad. Furthermore he said, "They make a lot of sacrifices as members of this choir, but what they learn from here could not be learnt from anywhere else. My children enjoy singing and that is the most important thing." As to how he manages to keep them in regular practices he said, "Discipline in a choir is very important. It includes many things. To train 100 children is no easy task. My special thanks go to the '93 batch of the College who work hard in making this choir show a successful and a colourful one. It is noteworthy that all proceeds of this Choir Show will be utilized for the construction of the proposed new chapel.
More glamour will be added with the dancing of the Channa-Upuli Dancing troupe. Tickets are available at the College Gate and the Main Entrance of BMICH.