Ekamath Eka Rataka (Once upon a time), series of miniplays based on Sri Lankan folklores is to be directed by award winning teledrama maker Thusitha de Silva.
Scripted by Somaweera Senanayake, stories are to be based on folklores that we come across from different parts of the country like hill country, Uva, Sabaragamuwa, Ruhuna, Thun Korale, Sath Korale and Sathara Korale.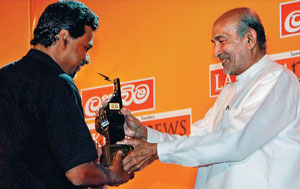 Thusitha receiving the special award for 'Paramitha' from Minister Alevi Maulana at Sumathi Tele Awards.
'Folklores are two fold, one common to the whole country and the others which are limited to certain provinces. But one common phenominan of them is they give important messages to us and with lot of pleasure and interest' Thusitha de Silva said.
Thusitha's previous teledrama series 'Paramitha' based on Jathaka stories became popular among the TV audience specially school children. Thusitha received a special award at recently held Sumathi Tele Award for the direction of 'Paramitha'.
Produced by Sanasa Development Bank for 'Creative Circle Production', teledrama series will be filmed in massive set created at an artificial village built in Sanasa Campus, a beautiful location in Paragammana, Kegalle. A massive cast of nearly 200 will join the series while Suminda Sirisena, Grace Ariyawimal, Anuruddhika Padukkage, G. R. Perera, Saman Hemaratne, Anton Jude and Sandul Wijesiri will play the lead roles.