In a pioneering move, HSBC has launched an innovative education and entertainment (edutainment) TV game show which makes financial decision making a part of your lifestyle.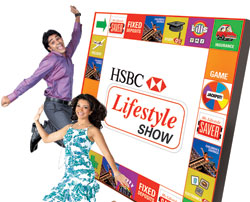 Introduced for the very first time in Sri Lanka by a bank, 'HSBC Lifestyle Show' a twelve episode reality TV game show began screening at 7.30p.m every Wednesday on Derana TV, from 11 June 2008. 'HSBC Lifestyle Show' is played out on a life size game board, with a promising experience that is larger than life, where real people will be faced with making real life decisions, in real time. Each group of participants will be given a cash limit and a credit card limit to invest wisely during the game, thus making the game show an opportunity to provide participants with valuable financial knowledge on how to invest, save and spend their hard earned money - and to prove that money spent wisely, is an earning. Currently there is a trend amongst the public where they consider investments to be more of a rewarding financial instrument.
Hence, the key aim of the show is to educate viewers at large on how to invest wisely and maximize their returns. Fabulous cash prizes and valuable gifts are included in the competition, allowing contestants to try their luck by rolling the virtual dice to win, The ultimate winner will be the team that maneuvers themselves through this maze of benefits and drawbacks, whilst enjoying the thrills and spills of the competition along the way.