'Maha Roo Mini', a project to make TV documentaries on World Heritage sites in Sri Lanka and telecast them over both local and international television channels is initiated by Winson Films Ltd. The first of this kind, 'Maha Roo Mini' is directed by award winning director Christy Shelton Fernando and produced by Ranjith K. Perera for Winson Films. The producer Ranjith Perera has acclaimed teledramas like 'Galpilimaya saha Bolpilimaya', 'Vinivindimi Andura' and 'Rankiri Soya' and films 'Thahanam Gaha' and 'Sanda Madala' to his credit. 'Karaththaya' (The Cart), one of the miniplays in the 'Vinivindimi Andura' series won the Best One Episode Drama at Raigam Tele Festival this year.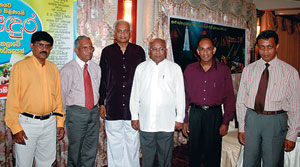 Director Christy Shelton, actor Sathischandra Edirisinghe, CulturalAffairs Minister Mahinda Yapa Abeywardena and producer Ranjith Perera
A timely endeavour initiated with the blessings of Ministry of Cultural Affairs and National Heritage, Archeological Department and Central Cultural Fund this is the first time that world renowned sites are captured in visual medium.
'There are only 400 World Heritage sites identified by UNESCO from 80 countries around the world. Though Sri Lanka is small in size it has seven sites in different parts of the country and now Seruwila, sacred city too has been proposed to be named as a world heritage site,' producer said describing the project.
The seven sites include monumental, archeological sites and rainforests in Anuradhapura, Polonnaruwa, Kandy, Dambulla, Sigiriya Galle (Fort) and Sinharaja forest. 'Unfortunately these sites have not been ever captured in details in visual medium which is the best way to promote country and tourism locally and internationally', Ranjith viewed.
Under the project 'Maha Roo Mini', sites will be featured television documentaries in Sinhala and English and later would be subtitled into French, German, Italian, Japanese and Arabic to go internationally. The programmes will be telecast over local and international television channels and later they will be made into DVD formats to be distributed among other countries in the world.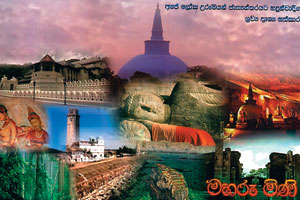 The TV scripts for the documentaries will be written by the experts in the specific spheres; Professor T. G. Kulatunga, Director of Anuradhapura Abhayagiri and Mahavihara project and former Professor of History and Archaeological Studies Unit of Sri Jayewardenepura University will write on Anuradhapura while Professor Senarath Dissanayake, Director General of Archaeology on Polonnaruwa, Professor Piyatissa Senanayake, lecturer of Archaeological Studies Unit of Sri Jayewardenepura University on Kandy, Udeni Hettige, Lecturer in Archaeological Studies Unit, Kelaniya University on Dambulla, Kusumsiri Kodituwakku Chief Experimental officer of Sigiriya Project on Sigiriya, Archaeological Conservation Advisor, Ashley de Vos on Galle Fort and former head of the Mammal and Bird Units of National Museum and Gamini Kumara Vithana on Sinharaja.