'Aba', Jackson Anthony's latest cinematic venture aims to attract international markets for local cinema.
Director Jackson says that he has already received invitations from several countries including China, Italy, Australia and few others.
'Out of these China has expressed greater interest with plans to dub 'Aba' into Chinese,' said Jackson. Discussions are underway to release the film in China through Chinese Film Bureau, the government institution that handles film industry in China.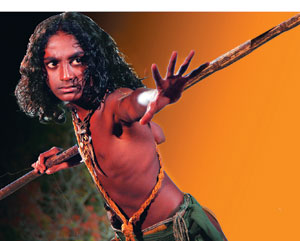 Sajith Anuththara playing the role of 'Aba'
'Having seen the trailer, the officials from China who came to Sri Lanka recently were highly impressed with the film' Jackson said with contentment. The delegation was on a mission to share their knowledge and technology with Sri Lanka.
'We had taken them to our 'Sarasavi' studio which is in dire straits and showed them the problems about the lack of facilities and technology. But having seen certain scenes of 'Aba', Chinese official complained that we were making films with international standards while complaining about the poor facilities' said Jackson with a smile.
Meanwhile some states in India like Kerala too has shown interest in the film, he said.
The colourful film has completed its post-production and is to be released in 36 cinemas in the EAP circuit from the first week of August following 'Rosa Kele' which is now being screened.
An in depth search into the real history of Sri Lanka, 'Aba' is based on the historical story of Prince Pandukabhaya who ruled this country around 400 BC. 'Pandukabhaya is important to us because he is the king who brought all clans, who existed in the country under one rule'.
'Even though Mahavansa chronicle reveals that this is a nation founded by Prince Vijaya, there are no archaeological supported evidence. But archaeological facts along with the folklore and legends clearly prove the existence of Prince Pandukabhaya the king who founded the Great Hela Dynasty,' Jackson described.
"The film is a result of vast research that took nearly 15 years and it was not a fictional story," director who is also well versed in history said. Jackson considers the film is a nationally important task that was done by the intervention of private parties. "However almost everybody who were involved in this project took it as a nationally important task.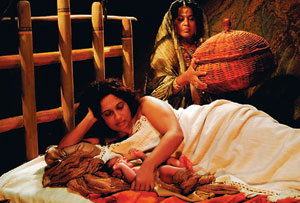 Malani and Sabitha in a scene from 'Aba'
There were many parties including both private and public institutions like Sri Lanka Police, Army, Forest Department, Archaeological Department which were really supportive of this project," Jackson reminded with gratitude.
'For example we needed a large number of horses for the film and we got real cooperation from the Sri Lanka Police which has the biggest collection of trained horses. We had to build a separate stable for them in Angamuwa where our location was and maintain them for nearly one month," described the filmmaker.
'Aba' involves a massive cast including leading actors and actresses like Ravindra Randeniya, Malani Fonseka, Sriyantha Mendis, Sabitha Perera, Saumya Liyanage and the director says 'the characters in this story have been living in our hearts and minds through legends and folklores for years and it is necessary to use professional actors to maintain confidence of the audience,'.
The director was grateful to the co-producers Justin Belagamage and Rajindra Jayasinghe, both chartered accountants in profession for coming forward to sponsor the country's biggest budget film ever made.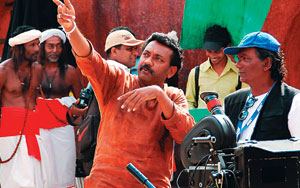 Jackson playing the role of director
Jackson said that the film was a result of hard work and before it was started he was fully aware how much he would have to labour to complete it. "'Aba' is an effort to make a rich film from a poor country and an effort to do a professional film in an unprofessional film industry" Jackson said.
The main cast in the film included Ravindra Randeniya, Malini Fonseka, Sabitha Perera, Kanchana Kodithuwakku, Saumya Liyanage, Sriyantha Mendis, Dulani Anuradha, Lucien Bulathsinhala, Madu Madhava Aravinda, Bimal Jayakody, Wasantha Dukgannarala, Wasantha Moragoda, Kasun Chamara while Jackson's son Sajith Anuththara plays the main role of Aba.
Photo: http://www.aba.lk/