---
Going barmy under the sun
By Ruth Sutton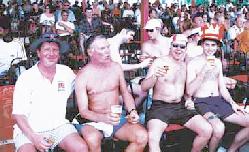 Accompanied by chants of "Eng-er-land, Eng-er-land, Eng-er-land", I enter the Sinhalese Sports Club grounds in Colombo as the third Test, that crucial series decider gets underway. The fence is draped with Union Jacks and banners bearing the names of English cricket clubs. Watch out Sri Lanka, "The Barmy Army" has come to town.

If Sri Lanka's cricket-crazy public were looking forward to having the Englishmen touring at last, they were hardly prepared for "The Barmy Army" invasion. And as if to cap their team's stirring performances on the field, "The Barmy Army" has certainly made their presence felt off the green.

As the TV cameras sweep the stadium, be it Galle, Asgiriya or the SSC, we see no lone Union Jack , but an array of them, waving madly as the English fans, skimpily dressed and soaking up the sun, sing and cheer their players on with unmatched gusto.

The concept of sitting and watching a match seems alien to them, Their exhibitionism seems to say, "What is the point in going to a match, in front of an international audience, if you can't be part of the show?" It's no longer just cricket. The green has become a human circus with the voyeuristic fascination focused on the audience. But who are these people, and what possessed them to travel so far in the name of cricket?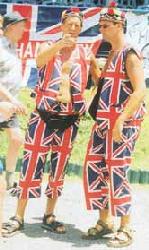 Beer, sun, cricket and English fans. It's a combination that seems to effect a mass personality change and disprove the stereotype of the famously staid and reserved English, clapping ever so decorously and munching cucumber sandwiches. Here, singing, drumming, and dancing, they come in all shapes and sizes complete with wigs, banners and outlandish hats vying to outdo each other in the ridiculous stakes!
Along with the ubiquitous beer, a casual observer could be forgiven for thinking that sunburn was an obligatory entrance requirement....Or could it be that there is truth in the old saying "Only mad dogs and Englishmen go out in the midday sun?"
There's no denying though, that the Barmy Army have been a huge source of support to their team. Many of the English fans are delighted to point out that England supporters are among the most dedicated in the world, and many more than ever before have made the journey to Sri Lanka. The Ceylon Tourist Board puts the figure at more than 8300.
They travel all over the globe - at quite an expense - to follow their team and provide a distinctly English style of support - never flagging in defeat. There is evident pride and a strong sense of community among the fans despite a varied range of ages, backgrounds and attitudes towards the game. There are young couples, middle-aged ones, families and groups of men and women. Some are combining the cricket with a holiday, and others have come out here only for the series.
Says Ben, a fan who travelled out here on his own, " Sometimes it seems as though the cricket is almost secondary. You get to know people from one match to the next. It's a little society of fans and you immediately make friends. You can come to matches by yourself in a country far away from home, and never feel alone." One t-shirt sums this up succinctly proclaiming "Cricket, Beer, Sun, Curry & Mates" on an England flag.
In contrast to the appalling reputation of English football fans, cricket fans are known for their boisterous and vigorous support, but good behavior. These cricket fans are also revelling in the sunshine, and are fully appreciative of Sri Lankan hospitality. Remarked one English fan, "If we win, we'll be partying and celebrating with 'a few' drinks." There sure was celebration, that Saturday night as England wrapped up the Test and the series.
But celebrating apart, the self-styled Barmy Army core, lead by "general" Dave Peacock, is a highly efficient and people-centred organisation - not just a rabble of shouting fans. There is a "Barmy Army Songs of Praise" book, with chants for individual players, t-shirts for each England tour, a website and business partnerships with travel companies and tour operators. This large mobile family is also actively involved in using their collective influence to give something back to the communities of the countries they visit. The cost of the song book includes a donation to the Indian Earthquake appeal.
Such is the depth of fanaticism, that Dave, a salesman from Liverpool, decided to become self-employed in order to take time off whenever he wanted to follow the cricketers around the world! He has cheered them on in New Zealand, India and Australia, and beaming with pride, showed me his recently inked "England Cricket" tattoo!
The English love of beer to complement the cricket has been very evident in the March heat and Dave confessed that the Test in Kandy on Poya day was "very hard work" due to the alcohol ban. But there was no trouble from the fans on this score, he says. "We all know how important it is to respect the religion and culture of any country we are in, and the rule was not broken. It's the least any tourist can do in a country that has been as welcoming and friendly as Sri Lanka."
With tourism and sports under the same ministry, the fans have unanimously commended the organisation of the Test series in ensuring efficiency, safety and enjoyment all round. Coupled with the warm weather, a beautiful country and unfailing courtesy of Sri Lankans (even when carrying out body searches) it is hardly surprising that so many fans have turned out, despite the distance and expense.
Without exception, the Englanders praised the reception they have had and one commented "Everyone I have met here has been unfailingly helpful and courteous...I will definitely be visiting again."

---
Bright view from the boundary line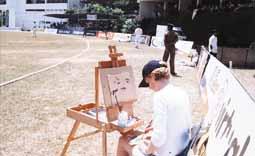 Through the overwhelming heat and legions of chanting fans, a petite, blonde figure sits on the boundary line surrounded by her artist's paraphernalia. Sheltering from the sun under an enormous multi-coloured umbrella, surveying the scene before her with an expert eye, artist Jo Bowen looks quite incongruous amid the male dominated environment. Her task is to capture the cricket teams in action against the verdant backdrops, and to commit to oil and canvas her impressions of Sri Lanka.

Jo has been commissioned by the MCC (Marylebone Cricket Club) England's oldest private club to produce a sequence of approximately 30 paintings of the series and of specific scenes of interest around the country.

This young British artist was spotted by Stephen Sommerville, a member of the MCC Arts and Library Committee at a gallery in Henley ( the English town famed for its summer regatta) where she had been invited to display her paintings of the Regatta. Impressed with her work, he invited Jo for an interview, and she succeeded in landing the job of official artist to the England Team's tour of Sri Lanka 2001.

Her appointment is part of the MCC initiative to encourage, promote and develop young artists. Other promising artists were commissioned for the England tour of Pakistan and India.

At 26, Jo is an accomplished professional with regular exhibitions under her belt. Her work has even been recognised by the House of Lords in the British Parliament. One of her landscapes is displayed in the Upper House of Parliament.

So what has it been like for Jo as the only female among