---
Sharon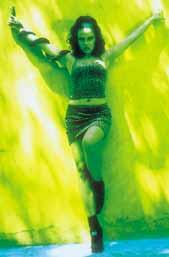 On our Mirror cover this week is Sharon Rqimers who models an outfit by Brian Kerkoven. Romesh Atapattu of Ramani Fernando Salons did her hair and make up. Anuruddha Medawattegedara photographed her at The Gallery Cafe.

---
All the world's a stage for Marissa
Bubbly Marissa believes in living life to its fullest and loving every minute of it
By Ruhanie Perera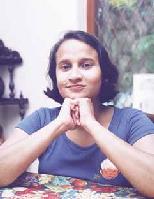 Marissa Jansz seems to have rather a penchant for drama, both on stage and off. Often fondly described as hyperactive by friends, Marissa was recently seen in 'Art', a production by the Creative Arts Foundation.

Rather vibrantly she recounts her first 'acting' experience to have been that which she was introduced to through the 'speech and drama' lessons she started at the age of six. She then went on to take part in all the little dramas and choral speech items open to students while in school. "Then the more major drama competitions came my way when I was older," says Marissa, who was a part of the cast of the Royal Interact Drama Competition in 1991 and in the Shakespeare Drama Competition from 1991 to 1994.

"I think the Shakespeare Drama Competition was probably the most momentous of my efforts at acting." That was the first time that her school, St. Bridget's Convent, won the drama competition. "I remember we were very motivated and having been runners-up the previous year we were out to prove a point, but winning was, although absolutely thrilling, rather unexpected." All the more unexpected was winning the coveted 'Best Actress' trophy, which went to Marissa and yet another member of the same cast. "We played the two mistresses in the Merry Wives of Windsor. Although our director Indu Dharmasena pointed out to us at rehearsals that we were more mournful than merry when we finally did perform we were very merry; and even merrier when we bagged both trophies that year."

More productions like 'The Leading Man' (1996), 'Camelot' (1997) and 'King and I' (1999) followed under the direction of both Indu Dharmasena and Samantha de Soysa of the Yolande School. Says Marissa with passion, "I was very much in love with acting and after I left school I decided to take up a theatre degree, but lots of people dissuaded me from taking it up because they said there was no scope for that kind of thing here." So instead she is studying for her Bachelor of Arts degree at the University of Colombo and adds emphatically that of the three things she intensely dislikes in life studying for exams heads the list closely followed by filling forms and having to deal with steps in the dark - "and of the latter I have some rather traumatic memories".

For Marissa, to be able to say that one is involved in theatre, it means having been a part of every aspect of the whole acting experience. That means even helping backstage or even prompting - "which I seem to have done quite often". Grinning she adds, "when you start having odd dreams of the production you are a part of then you know that you are totally into it."

Though every production she has been in holds some special memory for her, she feels that last year's Shakespeare Drama Competition, where she was responsible for directing the extract presented by her school, has been the most fulfilling so far. "People like Indu and Jerome have always said that directing is more fulfilling than acting; I think I found that out for myself last year." Although she has helped Indu out with productions in the past this was the first time she was directing completely on her own. It was an experience that she found "stressful but satisfying".

One thing's for sure that experience has made her a more patient person, but more importantly she learnt to appreciate people more. "You learn to appreciate people as individuals, without categorizing them. Instead you deal with people according to their personality. Also, I suddenly became aware of and learned to appreciate the patience my directors, especially Indu and Aunty Sammy had with me. You really don't realize it until you are in the same situation and you suddenly think 'my gosh, this was what they were doing', and then you really appreciate their efforts."

According to Marissa anyone involved in acting needs a wonderful support system; you need family and friends who understand your "needs". "I know my family is exceptionally tolerant and deal quite well with the chaos I cause in their lives. When I take part in a production, though I am the only one who is physically in the play, my whole family takes part in it."

Where acting is concerned, what she finds important is being completely focused and having a cast that works as a team. "I think with that combination you can meet any difficulty." She's well aware that however well a performance goes, there will always be people who didn't like it. "But that's okay and though it is a little disappointing, if they have any constructive comments at least you learn something from it." But those are things one shouldn't worry too much about for as Marissa gaily points out, "just as there will always be those who didn't like the performance, there will always be people who liked it. At least they liked it."

Her driving force is her determination to give a good performance. "I want the audience to have a good time and it's important that I have a good time as well. If at the end of the performance we've both enjoyed ourselves, then I think I've achieved something."

What about her ambition in life? "You mean apart from becoming rich and famous, and winning a Grammy for my singing (her way of proving to the world that she can sing)," she asks with laugh. "Well, I want to teach.

"That's the only thing I know I really want to do." She already has quite a bit of experience in that field having taught Speech and Drama for many years at the Yolande School and having also taught English for a year at Ladies College. "Handling 30 children was a little more challenging than conducting individual classes and the responsibility factor was quite daunting, but all the same it was one of the best experiences in my life."

With her distinct sense of joie-de-vivre, she's the personification of the phrase 'don't worry, be happy'. She believes it, loves it and lives it; it's really her philosophy. "There's no point in doing things you don't enjoy and grumbling about them," says the bubbly Ms Jansz adding, "it's very important to have fun, to be happy".