Moods of the lily in muted shades
By Hiranthi Fernando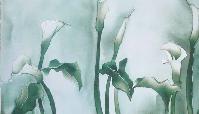 There are lilies and more lilies ranged around the room. Single lilies as well as groups of two, three and more. Lilies seen in many forms and angles, make up this beautiful collection of water-colours by a talented young artist, Niloo Gunasekera. Her exhibition will be at the Lionel Wendt Gallery on March 27 and 28.

The exhibition titled 'Calla' is devoted exclusively to the simple Calla lily or Arum lily as we know it. One could not have imagined that this simple but elegant flower blooming abundantly in Sri Lanka's hill country, could be presented in so many moods and forms.

Against a background of muted green, brown or gold, the long, willowy green stem of the lily unfurls into the graceful white bloom. The flower is seen in its various stages, tightly closed in bud form, in the process of opening and in full bloom with the yellow tip of the stamen peeping out. The subtle tones of the background set off the elegance of the flower to perfection.

Another painting displays several lilies together on tall sleek stems, highlighted against a shaded background showing a hint of leaves, some blooms open, some half closed.

Three lilies stand out against a deep burgundy background in another. A stained glass effect is seen on yet another painting, lilies against a background of greens, ochre and brown. Each painting seems more beautiful than the last.
The Calla lily has held a special appeal for Niloo since her childhood. It was the simple elegance of the flower that took her fancy.
The daughter of a planter, Niloo spent much of her early years on tea plantations in the hill country, where she was surrounded by flowers. Having held two joint exhibitions with her mother, Chiranthani, also a talented artist, this is Niloo's first solo effort. Her early exposure to nature is seen in her paintings, which have been mostly of flowers, wildlife and landscapes. Four years spent in Japan have also influenced her style. Niloo's dream to have her collection of Calla lilies exhibited together in a suitable setting will be realised by her current exhibition, which is well worth a visit.

---
A lively musical twist
"Oliver Twisted", staged by the British School at the Lionel Wendt, March 16-18, 2001. Producer and director - Vinodh Senadeera; musical director - Dilani Perera; choreography - Romina Gyi and Mohan Sudusinghe.
By Seneka Abeyratne
The past and the present juxtaposed. Oliver Twist, now grown up, reminisces about his life in the orphanage. While he speaks, scenes from his childhood unfold before our eyes.

This was an abbreviated version of the original Dickens story, though with the famous scenes intact. In his message, the Director warns, "Many incidents and scenes have been left out; the characters too are different." But the familiar characters were all there, including Mr. Bumble, Noah Claypole, Fagin, Bill Sykes, Charlie Bates, the Artful Dodger, and Mr. Brownlow. And it was fun to watch them come alive, even if some of the characters were different. For instance, Fagin (played with aplomb by Adhil Asmeer) was not a bad fellow after all, despite his mean streak.

All in all, I did enjoy the British School production, Oliver Twisted, which no doubt was a simplified version of Bart's Oliver. The cutting and pasting was skilfully done, and for this director (Vinodh Senadeera) deserves full praise. The pace on the whole was brisk, thanks to some expert directing by Vinodh.

The manner in which the narrator (Oliver Twist) appeared from time to time and triggered vivid flashbacks (without lingering too long on the stage) was also commendable. Nishkan Parathalingam performed well as the narrator, even though at the beginning, he appeared a trifle nervous (I saw this show on the first day and perhaps he had a few butterflies in his stomach).

The cast was huge - a mix of senior and junior school children, who blended well together and sang lustily. The singing and dancing was patchy, but there were some lovely moments, thanks to a strong performance by Nancy (Nelesha Ratnayake), who lifted the play with her fine acting and singing. An untrained voice, but what potential - a talented actress who can also sing and dance and move the audience with her powerful projection and rich emotional repertoire.

The songs were delightful (especially "Food, glorious food"), with the two pianists (Dilani and Vinodh) providing superb accompaniment. I only wish the soloists had better control and projection, but the chorus more than made up for these lapses with their lusty singing.

In sum, a good production, keeping in mind that this was a school show. I was a trifle disappointed with the singing and dancing, but in all other respects, the production was of a relatively high standard.

---
Haunting voice of a thinking man
By Dilrukshi Handunnetti
He has often been hailed as an enlightened voice defying the populist age of overnight stardom and jarring, discordant notes. When you first listen to Amarasiri Peiris, it is that hauntingly reflective quality that captivates you and leaves you thinking.

For a man whose career has spanned three decades, his rise to fame has been painfully slow, though studded with many accolades including a presidential award. "I'd rather be heard than seen. I am content to remain an elusive figure while my work reaches you," he smiles.

Refusing to ride the popularity waves, his is a quest for artistic finesse. Having joined the SLBC in 1966, his is a family tradition of quiet contribution. Amarasiri learned the rudiments from his father S. Albert Silva, an A grade SLBC artiste. After the successful completion of a stint at the Government School of Music (the Faculty of Fine Arts today), his musical sojourn began as a SLBC instrumentalist.

The transition from instrumentalist to vocalist also took time. "My entry as an instrumentalist had an ethical foundation. As I refused to make compromises to become a vocalist, I had a long wait until maestro Khemadasa introduced me as a vocalist through Budu Sihila Galala, a devotional song. "It was Khemadasa who recognized Amarasiri's voice as a unique instrument, able to touch the deep recesses of a being with its spellbinding quality.

The present day musical chaos leaves him cold. Rap has become the fad, under the pretext of reviving songs. But such songs should be sung in their original form, for they represent a certain era, he says.

But he is not averse to experimentation either. "I feel the fluidity, style, lyrics, music and the nuances of the original should be protected. The outcome of experiments should be the advancement of song," he emphasizes, and cites his Landune as an example. "The rap version has distorted the sympathetic nuances, the invested emotion, timbre, lyrics and music completely, making it a mockery of the original work," he adds.

To the sensitive artiste in him, the unfolding scene is tragic. "This is the consumer culture and its consequences. Everything is a commodity. The Arts are being rapidly polluted and I think we must act fast before it is beyond redemption," he says.

---
Help keep it alive
By Niloufer Peiris
Berahanda or the "Dance of the Drum" which went on the boards at the Lionel Wendt on February 16,17 and 18 marked a tribute to Chitrasena on his 80th birthday.

The programme was in two sections. With a specific aim behind the evening Vajira, whose devotion to her art is legendary, dedicated her energy in yet another direction - "to preserve the dance tradition". The programme states her viewpoint very clearly - "....there aren't enough boys taking up dancing. Nobody has the love and the ache we have. Everyone is busy studying for exams or looking for lucrative jobs. I had to do something fast or else all our hard work of the last 50 years would have been wasted."

I watched the evening with sadness. My friendship with this remarkable family spans 30 years and I have many vivid memories of watching them doing their daily class at their studio in Colpetty. Those were timeless and beautiful occasions. It was their constant search to enrich their art. Sri Lanka can be justifiably proud of them. They have magnificently represented this country far and wide. And have always been acclaimed.

However, they have many problems to contend with. For, although the government has gifted land for a School, Theatre and Museum, there are no funds to build the complex. Times are hard, and funding for the arts has always been a problem. Why is local support so lacking? Can we always look to Japan and such foreign friends to help us preserve our rich cultural heritage?

Funds seem however to be available for other extavangant schemes. Could we not as a nation celebrate the new century and unite to preserve our traditional dance?

It would be a fitting tribute to a man who has devoted his life to his art and enriched all our lives.

A repeat performance of Berahanda will be held tonight March 25 at the Lionel Wendt.

---
The rhythm of hope
By Harendra Alwis
'Pradeepanjali IV', featuring well-known sitarist Pradeep Ratnayake will be held on March 31, at the BMICH. Organized by the South Asia Partnership - Sri Lanka (SAPSRI) together with the S.W.R.D. Bandaranaike National Memorial Foundation, the proceeds of the show will be used to provide educational scholarships to children in zones of conflict.

In upholding the late prime minister's motto that "Man's ultimate goal is to serve mankind", the S.W.R.D Bandaranaike National Memorial Foundation will collaborate with SAPSRI in presenting this concert as part of their commitment to 'serve' the underprivileged. The founadtion will continue to sponsor good music in Sri Lanka.

With its intention to uphold peace, prosperity, partnership and participation to achieve sustainable growth, ''SAPSRI' has helped thousands of marginalized communities to achieve a better quality of life. This concert is a symbol of their commitment to support children in the conflict zones as well as their desire to promote good music in Sri Lanka. In organizing this concert, SAPSRI hopes to involve city-dwellers and help them make a valuable contribution towards their efforts to bring 'prosperity' to disadvantaged communities in the conflict zones. Recognizing the need for peace through understanding and participation, SAPSRI has invited local partners especially from the corporate sector, to join them in their efforts to promote an improved social, political and economic structure.

An accomplished and immensely talented musician Pradeep Ratnayake has performed to wide acclaim both in Sri Lanka and abroad. The concert features his tone poem 'Indrakeelaya' which blends the colours of prosperity, violence and ends with hope, the rhythm that makes all hearts beat. This hope he gives not only to those war-stricken souls but also to those fighting the war of life in concrete jungles.

The success of this concert will help them carry forth the message of peace and hope to all parts of the country, so that everyone may take part in our country's efforts for a lasting peace.