Any time's tea time
By Laila Nasry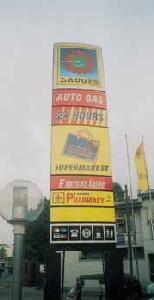 Twenty years ago, shopping at midnight would have been unheard of. But in today's world, convenience is all-important for the customer, who now, thanks to some enterprising businessmen has the luxury of shopping whenever he chooses, be it dawn or dusk. Yes, filtering down to various sectors of the commercialised world is the 'open 24-hours' concept.

Situated at the Laugfs filling station in Havelock Road, Colombo 5, 'Sun Up' supermarket is very much alive even after sundown. 'Sun Up' is what people abroad would call a 'convenience store'. "Mostly people come to get their oil checked or to get gas and while the husband is at the station, the wife pops in to do her marketing," says the Manager, Mr. Priyantha Wijewickrema.

The store stocks a limited selection but fast moving items. "Maybe supermarkets have hundred items but we have the eighty most necessary ones," Mr. Wijewickrema explains. All the same 'Sun Up' is never without customers with someone at the cash counter every 30-40 minutes. "Our peak time is 7 p.m. to 11 p.m. when most of the office crowd stop by. But there are shoppers until around 1 a.m."

However there are transactions as late as (or as early as) 3 in the morning. "We had a customer last month who bought Rs. 3,000-4,000 worth of meat items alone." However, contrary to expectations, most late shoppers don't come in looking for an urgently needed special item like medicine but to do their weekly shopping.

Popular with expatriates, the'24-hour' concept is nevertheless gaining favour with the locals. "There is a definite demand for such a service. Customers are gradually getting used to shopping at night. There is a new routine forming," adds Mr. Wijewickrema.

"My daughter was convinced that the cashier would never have punched in so many goods in the middle of the night," says one customer Mrs. Therese Perera laughing. She had dropped in at 'Sun Up' at midnight. Shopping at night is a convenience, she says and wishes there were such places close to her home. "There are always other things to do during the day and the best time to shop seems to be at night."

Meeting such a demand is no easy task. Working in two 12-hour shifts, the staff operate on a roster basis. "We have two lady cashiers who are off at 7.30 p.m. and then the boys take over. Of course there are times when they feel drowsy and then it is tea or coffee time," which Mr. Wijewickrama says is provided by the management.

Trudging to deposit money in one's pyjamas is no televised illusion. On November 17 last year, in a bid to attract more customers, Merc Bank went round the clock, bringing to Sri Lanka a service that even some European countries lack.

The Sri Lankan public has responded well to night-time banking. "One of our neighbours on Duplication Road came and opened his account late at night," Mr. Nishantha Jayawardene, the Senior Operations Manager says. Such banking facilities are a matter of convenience for daytime obstacles like queues at the counter, traffic on the roads, etc are avoided.

As most banks close at 3 p.m. a 24-hour bank is an asset for commercial enterprises that wish to either deposit their earnings made late in the evening or on weekends or simply encash the cheques received. "Once Abans had a massive sale during the weekend which ran on to millions. They didn't want to keep such a large amount of money with them because of the situation in the country so they were able to come and deposit it immediately," Mr. Jayewardene said.

Merc Bank makes available all their regular services at night. "Any type of transaction can be done. Customers come and withdraw as much as Rs. 500,000-1 million. If it's a third party we limit the withdrawal to Rs.5000. We even have international transactions done at night."

The bank rotates its staff to cover the nights. "Girls don't work the late night shift," says Dilesha Perera who was working the 5p.m. -9p.m. shift. However transport via Kangaroo cabs is provided for those working late, along with food.

"The workload is definitely less," says Officer H.M.N. Gunathilake who was on the night shift. "I don't feel sleepy or lonely because customers come even after 10p.m.," he says, adding however, that he prefers working in the day.

'Beverly Street', the clothes shop which 'opened never to close again' is situated in an area dominated by nightlife. "There are around five clubs in the area so people who come there generally drop in here," Manager B.Y. Kumara says. "Many are foreigners who come especially for the winter clothing. Business is good until around 1 p.m."

"Night time is a jolly time," says salesgirl Rashmi Wijemanne. "There around 12 of us girls and it's a very relaxed environment." There around 50 who work the night shift, allotted on a roster basis of 12 hour time periods. "Everything is provided for us. We even have a rest room," she says smiling.

Radhini Fernando is a late-night shopper and one who enjoys the experience. "Once it was during the season and even at midnight the place was packed," she remembers. Night shopping she says, is great because there is less of a crowd on the roads and in the shops. "It's peaceful without having vehicles honking behind you." What she likes most about round the clock service is the reassurance it offers that "I can go at any time to get something without a rush knowing the place will not be closed."

Night-time operations, however, do run a greater risk of theft. Not surprisingly all these establishments have stepped up their security. "Though we have an alarm system and strong security, as sales personnel we keep a vigilant eye," Rashmi says. Though statistics show that bank thefts are more likely during the day, Merc Bank, takes no chances with their security measures being stepped up considerably.