---
Give us this day our daily bread
A 'Meals on Wheels' project providing wholesome meals, not just at Christmastime, but all through the year gives life and happiness to the old and destitute
By Hiranthi Fernando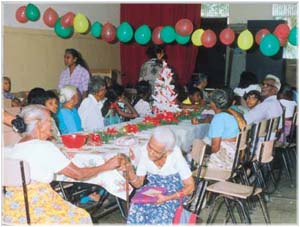 Last Monday, the church hall at St. Theresa's, Thimbirigasyaya was gaily bedecked with balloons and streamers. A long table, attrac-tively set with Christmas decor, awaited the elderly guests who trooped in aided by walking sticks. Some were accompanied by their children or grandchildren.
After a prayer, the volunteer ladies served the meal they had cooked in the little kitchen by the hall. Young and old alike enjoyed the tasty food. For many of the elders, starved of companionship, the opportunity to get together and have a chat was precious indeed. After the meal and the icecream which they loved, it was time for gifts. Each senior citizen received a parcel of new clothing.
The old folks of Thimbirigasyaya look forward to their annual 'Meals on Wheels' Christmas treat, which is a special event in their monotonous lonely lives. For on that day, the wheels take them to the meal rather than delivering the meals at their homes. The volunteers of the project collect these senior citizens, from among the poorest of the poor and bring them to the church hall for the Christmas get-together.
Emilie, who is 80, packed up part of her lunch to take home to her two little grandsons. Emilie had nine children of whom four had died. She helps to care for two of her grandsons. "We stay with my daughter but she illtreats me," Emilie lamented. "When she gives me something to eat, she scolds so much that I don't feel like eating. I am thankful for the wholesome meals I get three times a week from the ladies here."
Piyasena is 73, but looks much older. Having no family, he lives alone in a room at Polhengoda. He was employed as a security guard at Katunayake until about eight years ago. "My eyesight suddenly failed a few months ago," Piyasena said. He was wearing a pair of spectacles pasted with plaster in the centre. "I can see far away but not at close range. I used to read even at night, but now can't even see what I am eating." His greatest wish is to go to the Eye Hospital and have his eyes seen to. He too is appreciative of the wholesome meals he gets from the Meals on Wheels project. "On other days, I stand at the junction and beg for my meals," he said. "I have no way of cooking for myself."
The Meals on Wheels project was launched almost ten years ago, initiated by Rev. Sr. Cynthia Mendis, although she insists that it was not her original idea. She explained that a group of lay people who worshipped at St. Theresa's, together with some inter-congregational nuns started helping out with nursing at the Army Hospital when they called for volunteers. After the Army trained their nurses the need no longer existed. The volunteers, all housewives, had kept aside three days of the week so were keen to start another project. Sr. Cynthia had seen the Meals on Wheels project in Australia and England, the former catering mostly for low-income, lonely, single people. They paid what they could for a hot meal which was delivered to them.
And so the idea was born. They visited the slums of Thimbirigasyaya and selected the recipients from among the poorest and most helpless. "The St. Vincent de Paul Society, which used to work among the slum dwellers helped to identify the most needy," Sr. Cynthia recalled. "We did not have a cent when we started. A visiting Redemptorist brother who was a professional chef, gave a cookery demonstration and raised Rs. 6,000. With this money, we bought a gas cooker, rice cooker and other utensils."
A little team was formed and the project got started. The meals were cooked in a little kitchen in the basement of the church. A till was taken round with the meal so that anyone who wished to contribute could do so. Some felt better paying something, so they would put in a coin or two.
"The response was marvellous," Sr. Cynthia said. The almsgiving concept which is inherent here caught on. People started contributing funds towards a day's meals in memory of a loved one or even on special occasions such as birthdays or anniversaries. November, which has All Saints Day and All Soul's Day is usually fully booked by donors.
The project started by cooking and delivering packed lunches to 15 needy recipients, on Mondays, Wednesdays and Fridays. Today, meals are provided to 40 needy elders, and they plan to increase this number to 45 in the New Year, the Project Coordinator said. The recipients are selected purely on their need, irrespective of race or creed.
The forty volunteer ladies who work in the project did not wish to be named individually since they function as a team. They work in three groups, each group handling the marketing, cooking and delivering on their day. Since Sr. Cynthia who initiated the project is no longer in the Parish, the project is run entirely by lay people.
Besides the wholesome meal which is delivered to them, the old folk appreciate a friendly ear to listen to their woes. Those who deliver the meals take a few minutes off to chat to the old people who lead very lonely lives. Those who were unable to attend the Christmas get-together had their meals delivered as it is usually done, together with a Christmas gift.
Sadly, many of these elderly citizens who have toiled to bring up their sons and daughters have no one to care for them in their old age. Kalo Nona, who is bedridden, lives alone at Dabare Mawatha. Although she has children living nearby, no one takes the trouble to administer the tablets she needs for her blood pressure. This too is left for the volunteer workers to do when they deliver her meals.
Alan Nona had three sons and three daughters, of whom one son and a daughter are dead. When the shack she lived in at Kirimandala Mawatha was demolished, Alan Nona was given a plot of land near the Open University. One daughter who works in the Middle East is constructing a house on the land and also sends money for expenses but another daughter uses the money, thus depriving her helpless old mother. "My sons do nothing for me although one lives in the house with me," Alan Nona said. "I live for the sake of my daughter's two sons who also live with me."
Another recipient, Siripala has been stunted from birth. He was employed for many years at the State Engineering Corporation and later at a Mexican Restaurant in Colombo 3. A few years ago, he became paralysed and was confined to his bed. Now with prolonged physiotherapy, he can now hobble around with difficulty on crutches. In addition to his meals, the volunteers also contribute towards a newspaper subscription for him. Siripala writes poems which are sometimes published in the newspapers.
Margaret, old and feeble, has difficulty holding up her head and has bad eyesight as well. She did not attempt to attend the Christmas lunch but stayed home for her meal to be brought to her as did Josie Archchi and some others who were not up to it.
The project coordinator said they now have a fixed deposit which is kept for a rainy day. Although there are some lean months, contributions for the meals come in almost miraculously from parishioners and others who attend services at the Parish. "I was with the project from its inception," said one volunteer. "We are very happy to do this and we find it most rewarding." For them, it's a service, not just at Christmastime, but all through the year.