---
Private operator to splash next year
By Akhry Ameer
A private operator will enter the greater Negombo water sector in the second half of 2001, a top government official said at a Colombo conference last week.

Other areas earmarked for private sector participation are Kalutara and Galle coastal area, Ampara, Kurunegala, Greater Gampaha, Matara, Trinco and Kantale and Chilaw and Kakkapalliya.

Mr. Ananda Gunasekera, Secretary, Urban Develop-ment, Public Utilities and Construction Ministries told a UK - Sri Lanka Water Sector Cooperation seminar last week that a regulator would be established by June 2001, in accordance with the proposed water sector reforms.

Mr. Gunasekera said that currently Rs. 4 billion is being spent annually on the development of the water sector in Sri Lanka, whereas Rs. 12 billion is needed annually for the next 10 years for full-scale development.

Currently investment, water resources management and service efficiency are the basic challenges facing the sector.

Mr. Gunasekera stressed that there will not be any privatization of assets in the proposed reforms, and that private sector participation would be in the form of short-term and long-term management contracts. The form of participation would be selected on a case by case basis depending on the objectives.

The report on the study of the water sector by a team of consultants is said to have been handed over during the week. Specific details on the private sector involvement would be arrived at after a study of this report.

Presently the competition for water resources between agricultural, industrial and domestic usages; increased demand for irrigation; pollution of surface and ground water; the absence of a rational water allocation policy are some of the issues in the water sector. As a strategy a framework for a comprehensive water reso-urces management policy that is both institutional and legal, and the creation of a water resources council is to be presented in parliament shortly.

Adopting a rational tariff policy with affordability considerations, handing over of rural water supply to the local authorities and a clear division between private and public sector responsibilities are some of the other reform strategies that are being proposed.

Speaking on the current trends Mr. Gunasekera observed that the current National Water Supply and Drainage Board Act does not include sewerage in its definition.

Currently 74% of the population has access to safe drinking water through various mediums compared to a South Asian average of 63%. Pipe-borne water is available to only 550,000 households accounting for 29% of the population of which, 24 hour water supply is limited to certain areas. He also said that 74% of the water supply is non-revenue water that is available through roadside taps, etc. and that the demand for water supply is growing by 8% to 10% every year due to urbanization and industrialization.

Addressing the issue of sanitation Mr. Gunasekera said that pipe sewerage is available only to 35,600 households in the Colombo, Dehiwela, Mt. Lavina and Kolonnawa UC areas. A sum of Rs. 1,000 billion is said to be necessary to revise Colombo's sewerage system that is almost 100 years old.

Providing safe drinking water to 95% of the population, 24 hour water supply to urban population in principal towns and expansion of the pipeborne sewerage system have been set as short to medium term objectives with a self-reliant water sector that would ease financial burdens as a sector objective.

---
Seasonal Pops
It's the season when the Jim Reeves CD's, bells, balls, fairy lights and likes come out and when we deck the halls with boughs of holly.

It's Christmas! translated in to everyday language, it means that it is shopping time once again.

It is not the first for the year, but this season adds on a relatively large dab of colour and cheer than any other holiday.

How does it manage to do it? For starters, the consequent New Year helps. But, the companies hoping to make the best of the holiday season do the real mischief.

Research has shown that if all the Christmas trimmings, the colourful advertisements, promotions, sales and seasonal splashes were done away with, the spirit of the season would dowse down to mere nothingness.

The never-ending range of delightful goodies that come out during the season might not make one go gaga over them. Children would not pester their parents to buy them the new trendy toy in town. Parties might be just another social gathering. Frantic shopping as we know it would not exist.

Traffic would not be moving at the slowest snail's pace. And companies would not make an extra buck. Christmas would not be Christmas as we have known it. It would be rather dull.

So, what does it take to cheer things up? A good dose of hype and holiday specials.

Companies have been dishing it out every year for many years now, and they are in no hurry to change that. However, Christmas spending in Sri Lanka has taken a down turn due the current developments in the economy. A devalued rupee, the languishing stock market and the ever-rising cost of living is dampening festivities this season.

Despite this, companies continue, but in a very small way, with their promotional activates. Most companies we spoke to said that business was suffering a setback and that they had to cut corners. Christmas and New Year expenditure took the brunt of the cuts this year.

The messengers of this season or some of the companies in the mainstay of steering up emotions during this jolly season said that this year was worse than last year.

This is despite not having a major security threat and elections like those of last December.

Most other companies have cut back on their party expenditure, revised card sending policy, and reduced the number of diaries and calendars they publish for seasonal compliments. Officials hope that this trend would not continue in the New Year too.

Shoppers too are reported to be bargain hunting this season. Most shoppers we spoke to said that they were looking for the cheapest deals in town as they had to confine to a smaller budget than last year.

One shopper, said that it all boiled down to one thing "a lack of money." He said that businesses were facing a setback and as a result, the consumers had less money to spend.

He added that despite the rising cost of living, most companies had not increased wages.

So hopping that we have a better luck next year we wish all our readers a VERY MERRY CHRISTMAS and a JOLLY NEW YEAR.

---
It's in 30 min. or it's FREE!
A pizza within 30 minutes, the guarantee that made a household name for Domino's Pizza International, launched its delivery service in Colombo last Friday.

Having established a 100 stores in 9 months and thus becoming the largest fast food chain in India, Domino's identified Sri Lanka over Bangladesh and Nepal as the next destination on its South Asian drive.

Initially, outlets will be set up at Millenium Park and Cargills Food Cities at Fort and Staple Street.

Four more stores are being proposed to be set up by end March including Majestic City, Mount Lavinia and Etul Kotte. The Sri Lankan operation is also committed to setting up stores in other cities in the island.

Domino's promotes its unique selling proposition of a pizza at your doorstep within 30 minutes from the time the order is accepted through its Hunger Help-lines.

If the delivery takes more than 30 minutes, the pizza would be free. The menu will be customized to suit the Eastern palette with Coca Cola being the standard soft-drink.

The pioneer in delivery services, Domino's was founded in 1960 and today has over 7,000 stores in 67 countries worldwide. VAM Organic Group and Chase Manhattan Bank have invested Rs 120 million rupees in the Sri Lankan expansion with the support of the Cargills Food City Chain. Locally, Domino's Pizza is represented by DP Lanka (Pvt) Ltd. under the South Asian region headquarters of Domino's India.

---
Hayleys outsources brand name
Hayleys Photoprint became the first company to out-source its brand management function last week. Marketing Technologies International (MTI) has pioneered a new consulting concept identified as, " Out-Source Brand Management".

It will allow companies to out-source their brand management to MTI, either on an interim or a long term basis. Out-source brand management is based on MTI's 8S strategic marketing model which was battle tested with Agriband, USA.

MTI's out-sourcing is primarily aimed at companies with key competencies in manufacturing or sales, but lacking competency in brand management.

Multi -national companies working with local distributors and companies with smaller brands that do not receive the required attention of the management is also considered for out-sourcing.

Out-sourcing has being globally popular for routine tasks in companies for decades, but this is the first time a Sri Lankan company has out-sourced a strategic management task.

MTI's remuneration for brand management is based on a basic retainer plus a share of profits above the current level.

MTI's out-source brand manager for Heyleys , Asanka de Silva told the Sunday Times Business, "Out-sourcing is done in two ways. At Hayleys we were involved in the strategic marketing planning process itself, brand management is out-sourced until they train their own brand manager.

We also undertake stand alone brand management assignments for periods ranging from four months to three years".

MTI claims that although there will not be any cost benefits, brand profitability will increase due to the high competency of its brand management.

"In a short term assignment we will be doing the ground work for establishing long term brand equity and profitability.

We will be laying the foundation so that the company's own brand manager could take over from us", de Silva added.

MTI's brand equity measurement system will be used to monitor brand equity constantly and will be reported to the client using the concept of one page reports.

---
An epilogue to the development forum: the stark reality
By Chanayake Dissanayake
Tuesday the 19th was the judgement day for the financial community in Colombo. The anti climax it later proved to be was unanticipated by even the most pessimistic market analyst.

Deputy Finance Minister. G L Peiris speaking from Paris via satellite announced to the financial press that the government's macro economic policies were highly commended by the donors.

But the numbers spoke otherwise.

The reality remains, the government has only been pledged $100mn from the ADB at the time of going to press. However Minister Peiris stressed that the whole concept of the development forum was not to give any specific pledges immediately and the government's concentration was not aimed at numbers.

Even though the Minister was not ready to talk numbers, the market analysts were quick to respond to the developments in Paris. A senior market analyst told the Sunday Times Business that, "In the last couple of years Sri Lanka obtained pledges over $700mn. A high amount of pledges, regardless of whether they are actually turned into inflows or not would contribute towards raising the confidence in the financial markets".

Speaking about the Macro economic policies of the government he added, "A high figure for pledges would also reflect the donor countries confidence in the macro economic stability of Sri Lanka. A low amount will do nothing to raise the confidence".

Money market analysts also point out that an immediate inflow is needed to cover the Rs.28 billion in the call money market. A failure to obtain these would mean prolonged high interest rates which will hamper economic growth.

"If pledges do not come, a hike in taxation will be inevitable in the budget," commented an analyst.

Foreign financing, comprising of both foreign aid and loans is used to bridge the budget deficit. Foreign financing has dropped to Rs 8 billion in 1999 from Rs 17 billion in 1998. In the wake of the drop in foreign funds, domestic borrowing has shot up from Rs 41billion estimated for 1999 to Rs 75 billion actual in 1999. The domestic borrowing figures are expected to be much higher for 2000. High borrowing was also partly due to the drop in the privatisation revenue from Rs 4 billion in 1998 to Rs 134 million in 1999.

According to the main opposition UNP, the government has been attempting to raise at least $775 million at the Paris Development Forum. When the matter was raised in parliament last Wednesday about the actual outcome of the forum the Prime Minister said, " A detailed announcement will be done in due course".

Dr Karunasena Kodi-thuwakku told the Sunday Times Business that, " Since 1965 the pledges were immediately announced in the aftermath of the forum. Many EC countries have indicated that they will not be making any pledges until mid next year, until the government restores democracy in the country."

---
No Santa Claus : pleading in Paris
There are wise Santa Claus's and not so wise ones. It was a wise man who once said no child is ever spoiled by having too little, many are those who are spoiled by too much. Good parents often attach conditions when they give gifts to their children even at Christmas. This appears to have happened in Paris, when the aid donors seemed to have insisted on certain conditions being fulfilled. They are fully justified with respect to laying down certain conditions, they may be less justified in laying down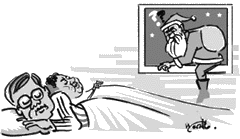 others.

There appears to have been two sets of conditions. One is that of finding a solution to the on-going war which has now reached a situation when the economy is brought down by the costs of the war. The second set of conditions relate to the issues of governance. With respect to the ethnic conflict, as it is often termed, the donors are decisively harsh.

Many of them do not perhaps even understand the issues. Others may not want to understand the realities. They are thinking within a paradigm which does not fit neatly into the situation in Sri Lanka. Several foreign countries have themselves been responsible for the escalation of the conflict.

It could never have reached the proportions it has, without the overt and covert, indirect and sometimes direct assistance the terrorists have received in one form or another from foreign countries. That the war is now bleeding the economy and that without its cessation the country's economy would be unable to grow at required rates, or even ruined, is accepted.

But bringing about a peace within a democratic framework appears almost impossible. To blame the government for the inability to bring the conflict to an end is quite unfair. And to hold out conditions of a peaceful settlement for aid is almost tantamount to moral blackmail. In fact it is another way in which foreign governments are assisting terrorism despite their rhetoric to the opposite.

The other set of conditions relating to governance is entirely different. The least one could have expected from a government which is faced with a severe fiscal and balance of payments strain owing to the war is to be financially disciplined to mitigate the problem.

One would expect the government to cut wasteful expenditure. What is expected of a government and a people at war is to make sacrifices which would release resources for the war. What is expected of a government is to set the stage for development by a serious and rational approach to economic issues. What we see are just the opposites.

To expect foreign countries to assist us in a situation of complete disregard to ensuring a good management of the economy is unrealistic. No amount of rhetoric and pleading in Paris was ever likely to succeed. "Put your house in order and we will then consider", seems to have been the message. It could have been anticipated, expected and foretold. The lack of any figures of aid commitments is the best indication that there no substantial commitments of aid. What happened in Paris was what was expected. If the government went to Paris with great expectations it only goes to show a lack of realism on the part of the government.

What is not understood is that the immediate and most serious crisis we face could not have been resolved in Paris. The Paris meeting, now called a Development Forum, seeks to give more long run assistance for economic growth. It is project oriented. It can certainly help the country to proceed with capital intensive and much needed investment in developing the country's economic and social infrastructure in the face of the fiscal difficulties. It is of very little consequence however in meeting the critical problem of resolving the alarming depletion of our official foreign exchange reserves and serious balance of payments problem.

The balance of payments deficit has caused a serious erosion in the official reserves of the country, as well as depleted overall foreign exchange reserves. At the end of October official foreign exchange reserves had come down to only US$ 1162 million.

The overall reserves were down to US$ 2229 million. Unofficial sources indicate that the official reserves are about US$ 900 million currently and that if there is no relief, that the official reserves may fall to about US$ 800 million at the end of the year.

This is about one half of the official reserves we had at the beginning of the year. Balance of payments supports from the IMF is critical at this juncture. Good governance would indeed be a condition of their's too. Besides a further depreciation of the currency, curtailment of wasteful expenditure, increased taxation and bringing down the fiscal deficit would be other conditions of theirs.

If in spite of all these factors, if the Christmas spirit moves Santa Claus to visit the deputies in charge of finance he may have a difficulty in knowing where to keep the gift package. Another good reason for not giving a gift this time. "Rest you merry gentlemen" would be his greeting to the two sharing finance.

---
The regulation of money laundering: a new challenge to a global problem
Table A
The Phases of Money Laundering
Phase Function Element of Risk
I. Placement Initial entry of funds into
the financial system Highest
II. Layering Transfer of funds from
one account
to another designed to
conceal the origin
of the funds Moderate-High
III. Integration Invest in assets through the
financial system Low
Table B
Estimates of the Total Money Laundering Generated in Each Region ($USbn/year)

Region Total Generated Outgoing

E Asia 329 31
S Asia 4 1
S W Asia 18 1
Australasia 4 2
N Africa 6 1
S Africa 19 4
Europe 1,006 21
S America 31 7
C America 24 5
Caribbean 6 0
N America 1,403 721
Antarctica 0 0
Total laundered 2,850
By D. C. Jayasuriya
LL.B.; Ph.D.; Attorney-at-Law Director-General Securities and Exchange Commission of Sri Lanka. Excerpts from a lecture Money Laundering:
Definition of Money Laundering
"Money laundering", stripped of its technical connotation, refers to an attempt to convert what is commonly referred to as "dirty money" into respectable assets. There are several technical definitions of "money laundering"; perhaps the simplest is the one that describes it as "the process of converting cash, or other property which is derived from criminal activity, so as to give it the appearance of having been obtained from a legitimate source." -(McDonell, 1997)

What is sought to be concealed is not only the crime itself, but also the existence, illegal source or illegal application of the proceeds of crime. The property- cash or otherwise- that is of concern here is one that has been obtained through or derived from criminal activity. Money laundering concerns first arose, at least in recent times, in the context of drug trafficking when attempts were being made to address an almost intractable problem from as many dimensions as possible.

The rationale appeared to be simple and straight forward- if you make it difficult for traffickers and related parties to enjoy their ill-gotten wealth, they may be less tempted to engage in drug-related illegal activity. While several countries began to enact legislation to track down and seize drug-related assets, others questioned as to why the control regimes should not be extended to other forms of criminal activity that generate similar profits. Indeed, a few countries deal with the laundering of money derived from prostitution, gambling, arms deals, smuggling, securities fraud, pornography, fraud, corruption, tax evasion and so on.

When we speak of money laundering, what we basically refer to is the flow of money; there is essentially a place where it is generated and a place where it is laundered (Walker, 1999). Laundering involves three phases and these are set out in Table A:

The proceeds of crime are generally to be found as cash or end up as cash if some item of property- the subject of the crime- is disposed of. The modes of transfer are many and include air, land and sea routes, in addition to mail transfers. Cash is bulky and liable to be lost or stolen. US dollars two hundred thousand in ten dollar notes, for instance, will weigh 40 lbs.- equivalent to the weight of two suitcases a first class passenger is permitted to check-in. Within the formal system cash is used less and less for large transactions, but informal or parallel money markets that operate in many parts of the world are based on cash transactions.

Magnitude of the problem

Precise figures are difficult to obtain for any activity that is covert or illegal. Estimates are, however, available to ascertain the magnitude of the illicit drug industry, in particular and money laundering, in general.

The turnover of the illicit drug industry was estimated, in 1997, by the United Nations International Drug Control Programme to be US $ 400 billion (UNDCP, 1997). This is equivalent to approximately 8 percent of total international trade. Drug-related money that is laundered is only a part of the picture; arms deals, gambling, prostitution and similar crimes also generate huge sums of money.

The need for the development of models to project the size of money laundering has been underlined in recent times. It has been stated that it is necessary to understand the macroeconomic effects of money laundering, particularly the adverse effects of money laundering on financial institutions and economies, eg. changes in demand for money; exchange and interest rate volatility; heightened risks to asset quality for financial institutions; adverse effects on tax collection and, ultimately, on fiscal policy projections; contamination effects on particular transactions or sectors and behavioural expectations of market actors; and country-specific distributional effects or asset price bubbles (Morris, 1998). A recent study estimates that the total amount laundered around the world per year is US dollars 2,850 billion (Walker, 1999). The breakdown by geographical region is given in Table B:

The author of the study notes that the above figures need further refinement. In a few countries where the underground economy exceeds the size of the legitimate - economy, the amounts reflected against those countries are more than their recorded GNP.

The study lists the top 20 countries of origin of laundered money. The list is headed by the United States (46.3%) and is followed by Italy (5.3%), Russia (5.2%), China (4.6%), Germany (4.5%), France (4.4%), Romania (4.1%), Canada (2.9%), UK (2.4%), Hong Kong (2.2%), Spain (2.0%), and Thailand (1.2%). Other countries on the list but with less than 1% are Rep. of Korea, Mexico, Austria, Poland, Philippines, Netherlands, Japan and Brazil. This list can be contrasted with the list of the top 20 destination countries for money laundering. The latter list is again headed by the United States (18.9%). The following countries that were not on the first list appeared on the second list: Cayman Islands, Vatican City, Luxembourg, Bahamas, Switzerland, Bermuda and Liechtenstein.

One conclusion that can be drawn from the data is that much of the money for laundering is generated by developed countries and that much of this money also flows to such countries. The United States and European countries figure prominently in this equation. The extent to which money laundering contributes further to widen the gap between developed and developing countries will make an interesting study.

In a list of countries ranked by order of attractiveness to money launderers, Sri Lanka has been placed in the least attractive category with some other 70 countries. The following assumptions were used for this exercise: that foreign countries with a tolerant attitude towards money laundering (eg. those with banking secrecy laws or uncooperative government attitudes towards the prevention of money laundering) will attract a greater proportion of the funds than more vigilant countries; - that high levels of corruption and/or conflicts will deter money launderers, because of the risk of losing their funds; that countries with high levels of GNP/capita will be preferred by money launderers, since it would be easier to 'hide' their transactions; and that other things being equal geographic distance and linguistic or cultural differences, work as deterrents to money launderers.

Patterns of money transfers implicated in money laundering cases illustrate how quickly launderers change their modus operandi and transfer routes.

Techniques of Money Laundering

Money can be laundered in a number of ways. In the words of an experienced money laundering investigator:

" Modern financial systems permit anyone to transfer large amounts of dollars through computers and financial institutions. Illegal moneys have been laundered through every available method. This is only limited by imagination. Moneys have been laundered through currency exchangers, stockbroker firms, gambling houses, private banking facilities, offshore financial institutions, wire transfers and trade financing, all with the objective of laundering and hiding proceeds of illegal activity.

Money launderers in recent years have been receiving assistance from professional individuals such as accountants and lawyers. These individuals have been trained in the more sophisticated methods of investment and movement of wealth." (Bruton, 1999) Some of the techniques that have been documented are enumerated below (UNDCP, 1997):

(a) 'Smurfing' or 'Structuring'

This is the technique by which a large sum of money is deposited in small quantities by different people in order to avoid national legal requirements relating to threshold limits (eg. ten thousand dollars) for reporting purposes. After making an initial deposit the smurf will purchase bearer cheques or international money orders which will then be credited into the account of the trafficker by an intermediary.

(b) The use of front or shell corporations

Cash-intensive establishments such as restaurants, hotels, casinos, bars, nightclubs, dry cleaners, video rental companies, parking lots and construction companies are used as front companies. Illegal profits are co-mingled with legitimate income in the placement and layering stages.

Businesses are set up in offshore centres without any legitimate commercial purpose to conceal the identity of parties and their assets. In the Commonwealth of the Bahamas, for instance, in 1998 there were 350 offshore banks and 58,000 international business corporations (US Department of State, 1998).

(c) Accounting techniques

In import/export transactions the practice of over- or under-invoicing is used to enable the difference to be transferred for illegal purposes.

The technique is used not only for money-laundering but also to circumvent foreign exchange laws and evade the payment of taxes and duties.

(d) Private investment techniques

By having recourse to various loans for investment purposes, money launderers make repayments using illicit funds deposited in an offshore account, for instance.

(e) Use of non-banking institutions

Cash is converted to other forms (eg. travellers cheques) and assets (eg. gold, gems and other precious metals) using non-banking institutions that are not strictly regulated. The use of insurance companies for life insurance policies with a large cash surrender benefit is also another technique.

(f) Investment in cash deposit certificates or government or treasury bonds

Instruments payable to bearer and that can be sold, purchased or exchanged anonymously or with minimal formalities are popular among money launderers to get rid of cash.

(g) Opportunistic lending/acquisition of companies on the verge of bankruptcy

By controlling the management of ailing companies to which funds have been injected, money launderers can continue to function using the cover of a 'clean' front company.

(h) Exploitation of underground banking systems

Launderers patronize underground or parallel markets where cash based transactions take place based on trust and confidentiality and without a paper trail. The Hawala system in India, for instance, is popular among Indians living in the United States (Jost, 1997).

Evolution of International Control Regimes

The United Nations Convention against Illicit Traffic in Narcotic Drugs and Psychotropic Substances was adopted in December 1988. This was the first international treaty to address the issue of proceeds of illicit drug trafficking. The Convention requires parties to establish as a criminal offence under domestic law the organizing, managing or financing of offences relating to illicit drug production or manufacture, sale and distribution when committed intentionally. The Convention also deals with the conversion or transfer of property, knowing that such property is derived from a drug related offence or, from an act of participation, in such offence, for the purposes of concealing or disguising the illicit origin of the property or assisting any person who is involved in the commissioning of such offences, to avoid the legal consequences of his action. The concealment or disguise of the true nature, source, location, disposition, movement, rights with respect to, or ownership of property, knowing that such property is derived from a drug related offence or from an act of participation in such an offence must also be made a criminal offence.

The United Nations International Drug Control Programme has developed a model law to assist countries to formulate national laws to give effect to the treaty obligations. Several countries, including Sri Lanka, have initiated the process of drafting new laws. The process of law reform has proved to be politically controversial, time-consuming and tedious.

The path of law reform is studded with pitfalls and many a landmine has to be avoided. One writer quite rightly observed that "[the] fight against economic crime has produced wonderful expressions, one of those most frequently heard being 'transparency'. Transparency, of course, is everything that historically banking has not been. That banking was not supposed to be. To think that in the span of less than a decade the banking community can turn a culture of centuries on its head, is at best ambitious and at worst ludicrous." (Stephenson-Burton, 1998).

The Basel Committee on Banking Regulations and Supervisory Practices- comprising representatives of the Central Banks of the G-10 Nations- pointed out in 1988 that banks and other financial institutions may unwittingly be used as intermediaries for the transfer of illicit funds and called upon banks to clearly identify their customers and to cooperate with other banks and law enforcement agencies.

At the 15th Economic Summit of the seven major industrialised nations that met in Paris in July 1989 a Financial Action Task Force was set up to address the global problem of money laundering. The Task Force came up with some 40 recommendations for the creation of an effective anti-money laundering framework. The recommendations were structured around the following aspects:

a. General Framework of the Recommendations

b. Role of National Legal Systems in Combating Money Laundering:

- Scope of the Criminal Offence of Money Laundering

- Provisional Measures and Confiscation

c. Role of the Financial System in Combating Money Laundering

- Customer Identification and Record-keeping Rules

- Increased Diligence of Financial Institutions

- Measures to Cope with the Problem of Countries with No or Insufficient Anti-Money Laundering Measures

- Other Measures to Avoid Money Laundering

- Implementation, and Role of Regulatory and other Administrative Authorities

d. Strengthening of International Co-operation

- Administrative Co-operation

- Exchange of general information

- Other forms of co-operation

- Basis and means for co-operation in confiscation, mutual assistance and extradition

- Focus of improved mutual assistance on money laundering issues

Since then, a number of geo-political organizations such as the European Union have addressed the issue of money laundering (Srinivasan and Underwood, 1997). The regional Financial Action Task Forces have been particularly influential in stimulating the development of national regulatory and other forms of control.

At the World Drug Summit held in New York in June 1998, the subject of Money Laundering received special consideration in the Political Declaration that was unanimously adopted (Jayasuriya, 2000). It urged all States to implement the provisions against money-laundering that are contained in the United Nations Convention against Illicit Traffic in Narcotic Drugs and Psychotropic Substances of 1988 and the other relevant international instruments on money-laundering, in accordance with fundamental constitutional principles, by applying the following principles:

(a) Establishment of a legislative framework to criminalise the laundering of money derived from serious crimes in order to provide for the prevention, detection, investigation and prosecution of the crime of money-laundering, inter alia:

(i) Identification, freezing, seizure and confiscation of the proceeds of crime;

(ii) International cooperation; and mutual legal assistance in cases involving money-laundering;

(iii) Inclusion of the crime of money-laundering in mutual legal assistance agreements for the purpose of ensuring judicial assistance in investigations, court cases or judicial proceedings relating to that crime;

(b) Establishment of an effective financial and regulatory regime to deny criminals and their illicit funds access to national and international financial systems, thus preserving the integrity of financial systems worldwide and ensuring compliance with laws and regulations against money-laundering through

(i) Customer identification and verification requirements applying the principle of "know your customer", in order to have available for competent authorities the necessary information on the identity of clients and the financial movements that they carry out;

(ii) Financial record-keeping;

(iii) Mandatory reporting of suspicious activity;

(iv) Removal of bank-secrecy impediments to efforts directed at preventing, investigating and punishing money-laundering;

(v) Other relevant measures;

(c) Implementation of law enforcement measures to provide tools for, inter alia,

(i) Effective detection, investigation, prosecution and conviction of criminals engaging in money-laundering activity;

(ii) Extradition procedures;

(iii) Information-sharing mechanisms.

As is not unusual with most major international events, implementation of the World Drug Summit recommendations has left much to be desired. UNDCP's regional offices throughout the world have been particularly slow to respond to the new agenda.

Responsibilities of Bankers

Relevant international instruments as well as national laws have focused attention Please turn to page 4