The day he did my head!
A Sunday in 1990. I get a telephone call from the youthful arts promoter Harold Peiris who wants to know whether I would be free to come over to his place in Kalubowila. Why, I ask him. "A young sculptor wants you for a sitting to do your head". Why me? "We have picked up a few media persons who have helped to promote the arts for an exhibition of heads of eminent personalities," Harold says. (He was President of the Contemporary Art & Crafts Association and was introducing new artists at the time). I was quite excited, in fact honoured. When I went over, Fr. Ernest Poruthota was there. While we had a chat, the young sculptor (thinning on top) finished doing his head. And then it was my turn.
Within half an hour or so he released me. I was amazed. I had heard how people sit for days for this sort of 'assignment'. Sarath Chandrajeewa was different. He is so talented. He is so quick. He talks little and concentrates on what he does. The result is a fine replica of the 'original'.
Four years later, I was among one hundred prominent personalities - doctors, scientists, professionals, musicians, photographers - you name anyone well-known, his head was there - whose heads were exhibited at the National Art Gallery. Many may not even have noticed me. But I was there!
Earlier I had enjoyed an exhibition of his terra cotta creations. They were different. Novel, innovative. There was a freshness in them.
Whenever I met Harold I used to ask him what the young sculptor was doing. He rarely came to Colombo. He was busy at his studio (and home) in Dankotuwa doing pottery with his wife. For many months I had not seen him. Harold told me he was away in Moscow reading for his Master's in Fine Arts. (He had got his Bachelor's in Sri Lanka). And then he did his PhD, also at the State Institute of Academic Art in Moscow.
After many years I met Sarath at the Hotel Lanka Oberoi at his recent exhibition titled 'Form & Feeling'. He had matured over the years - both in his work and in his looks. This time the exhibition was a mix of paintings and sculpture. The pieces of sculpture were on a single theme - his interpretation of the Mahapurusa concept of Gautama Buddha.
He had done these for his Masters degree. The paintings were abstract art with "no identifiable reference to the visible world", as renowned painter Albert Dharmasiri described them. "These paintings do not represent or reinterpret nature but follow its principles and forces". He added that nature is always the source of Sarath's creative impulses. Again, they were different.
As head of the Department of Art & Sculpture at the Institute of Aesthetic Studies (the former Heywood School of Art), Sarath should be able to lead young students of art on a modern and innovative path.
Possibly we should be able to enjoy an exhibition of his students' work in the not too distant future.
"Your head is still there. Why won't you drop in and collect it sometime," Sarath said as I left.
Impact of Satellite TV
'Satellites over South Asia: Broadcasting Culture and the Public Interest' is the title of a book launched recently at a South Asia media conference held in Delhi to take a critical look at the impact of satellite television on the countries in the region.
The book, written by two experienced British broadcasters David Page & William Crawley who have worked in the region, has been described as a comprehensive description and analysis of how satellite television has been instrumental in creating a new South Asian popular culture which has proved both attractive and controversial.
A video film has also been produced on the same theme by Napur Basu, a television journalist and award-winning documentary film-maker from India. Titled "Michael Jackson comes to Manikganj', it has been filmed in different parts of South Asia, including Sri Lanka.

---
From black belt to selling belts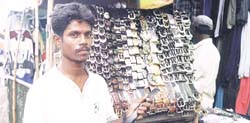 He may have won two gold medals for Sri Lanka at the South Asian Federation Games held in India last year, but this Karate champ who brought honour to his country has to earn his living on the streets of Pettah
By Chamintha Thilakarathna
Last November, a team of 13 men took off from the Bandaranaike International Airport led by Indika Sanjeewa. They were heading for the South Asian Federation Games held in India hosted by the India Karate Association. With a single karate outfit which they shared and vadai and water for lunch, the team had only one goal; to win the gold for Sri Lanka. When the games closed the Sri Lankan flag was flying high and the national anthem was bringing tears to their eyes.
In fact, they came back with not one but six gold medals. Their captain Indika was the proud winner of two gold medals and was the champion at the Games.
The tears that poured on that victorious day still roll down his cheeks. But these are not tears of victory but of failure and disappointment.
When they reached the airport a few days after the Games, they had no welcome band, no fan club, no flowers, no red carpet or generous officials to greet them.
Their success brought them no garlands or brand new cars and houses. All six gold medallists were unemployed and they returned home to their humble houses, waiting wives and hungry children.
Twenty-seven-year-old Indika Sanjeewa, one of the more fortunate of the six, makes his living selling belt on the Pettah pavement.
When The Sunday Times met him, he smiled hoping it was a customer coming his way. 'Belt labai!' he gestured. For thirteen years he has been a belt salesman and during this time he has also been taking karate lessons.
Today a national, SAF and South Asian games karate black belt champion, he struggles to survive.
At night he can be found at his coach's five- square- yard garden at the Kotahena municipal quarters, practising his karate movements.
"From about eight p.m. when he closes his pavement stall, he comes here direct and practises for about one and a half hours. Often other players join him," said coach Athula Jayantha.
Jayantha has turned his garden into a karate practice area with a punching bag and a few chains for his students to work on their biceps.
"I like karate but it does not keep my family alive," said Indika, the breadwinner in his family. He has a one-year-old baby daughter.
With two hundred rupees in his pocket at the end of the day, if he is lucky, he barely manages to feed his baby let alone buy a Rs.800 karate outfit.
A sad plight for a man whose achievements include a Karate Association gold medal in '93 and '95, Karate black belt competition gold medal in '98, the National Championship in '98 and the SAF and SA games championships in '99.
Whenever he finds some free time he teaches karate at his school, Kotahena Central College free of charge.
"I cannot concentrate on my sport because I have many personal problems such as not having a proper house to live in.
"My house at Armour Street goes under water for the mildest rain. I have no stable income. In addition we have no karate kits, equipment or even arena facilities to pursue this sport," he said.
For the Indian tour his coach had bought him an appropriate karate outfit for he had none.
They get no payment or allowance for their travelling, expenses or food when they travel overseas for tournaments. "Everything has to be paid for by the individual himself. There is no support from the Ministry or from the Association or from any organization or individual although we are representing our country," said Indika.
Coach Jayantha says that Indika has the potential to compete at the Olympics if he receives the necessary training and support.
"He goes to matches without proper nutrition because he cannot afford it. He eats a slice of bread with sambol before leaving home for a match.
"Sometimes I buy some vitamins for him as he needs to stay healthy," Jayantha said.
Not only Indika, but at least 25 more sportsmen like him are in the same plight. Many sportsmen and sportswomen are honoured, given facilities to further their sport, financial assistance, jobs etc but others see their victory and contributions go unrecognized and unappreciated.
The sport has suffered as a result of lack of support but the athletes have suffered more, says the coach. Why the discrimination, is a question Indika asks.
All athletes represent the country and not themselves. Then why are some athletes national heroes and some not?