---
Blasted lives
Neil was lucky, he lived to tell us his story but not Damayanthi (below). They were just two of the innocent victims who were caught in the most recent LTTE attack at Rajagiriya. Two stories of life and death....
By Laila Nasry
Life and death. Agony, grief and heartache. The stoic resignation of men, women and children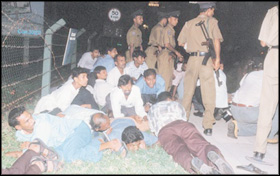 caught up in a mindless war, not of their making. The brutalisation of Sri Lankan society. The terrifying and hopeless feeling among innocent people that when you step out of your home or office you may never go back.
These were the scenes and feelings in the aftermath of the bomb blasts and the shooting which shook Rajagiriya that Black Friday.
It was the end of a typical hard day's work, but Neil Wickremaratne had two things to look forward to - a pretty girl who might just be the "right" one and a Freddie Silva show.
The first choice was the pretty girl. So with a colleague for support Neil made his way to Rajagiriya to take a look at this girl who had been proposed as his life-long partner. The day was March 10.
"It seems as if it was not my time," he says, giving us the impression that the shock of the near-miss has still not seeped through. "After seeing the girl I had just dropped my friend off and was proceeding from Rajagiriya to Colombo. I was around 100 metres from the roundabout when all of a sudden there were two bomb explosions. Though I was pretty close, the noise wasn't extremely loud but the impact was great. The glass of the rear window behind the driver's seat shattered and the pieces hit my face."
Neil quite calmly says, "Then the shrapnel from the bomb hit the car. One got wedged on the seat's headrest missing my head by inches. Another struck just above my head. More shrapnel made holes in the car. However, my first reaction was not that of fear but of curiosity. I wiped the slivers of glass off my face and turned towards the scene of the explosion.
"I couldn't see everything because there were other cars blocking my view and my vehicle was moving as well. At the same time I heard more noises. At first I thought they were small bombs going off, but later it struck me that they were gunshots."
"Why be curious in times of danger?" we asked. Neil explains, "At some time or the other we are all curious. My curiosity got the better of me and I decided to stop the car and take a look. As I tried to park, a policeman chased me off and ordered me to drive on. I saw so many other curious people too. Looking back, I think if the policeman allowed me to stop, I might have got killed, because most of the people who were injured were onlookers. Now I'm glad I didn't stop.
"I guess it was just not my time to go. Everything seemed to have been working in my favour. The road ahead of me was empty, there was no traffic. It was as if it had been cleared just for me. There was absolutely no fear in me and I was conscious of what was happening. But I knew one thing for sure — I had to get away from there fast because I could hear the gunshots getting louder and coming in my direction.
"In situations like this in theory, your whole life is supposed to flash before you. These near-death experiences are supposed to change your life drastically. But it doesn't happen that way always and life can go on like before," he smiles.
The gravity of the situation struck him only when he reached office. He said all his friends were saying "Machang you escaped".
"But no," I told them "I could die now, on my way home from work. You can never tell when and where it might happen to you. Those at home didn't know I was in the midst of all this. When I went home and told my mum, the first thing she said was 'Mother Mary has protected you'(she's a staunch Catholic).
"Yes, I too firmly believe that God was with me, at the time," he added.
---
She was the 'safe' one
By Ruhanie Perera
Srimathi Damayanthi Premachandra who had just turned 25 in February was on her way home from work in her office van. What was she doing? Was she chatting to a friend or were they laughing over a joke? Maybe she was daydreaming about her wedding and the new life she would enter soon.
This is only conjecture and we would never know. For the cruel hand of death struck her down that Friday.
When we walked into her home last week, her doggy ran up wagging its tail furiously. "It thinks you are Damayanthi coming home," her aunt said amidst the tears.
Yes, Damayanthi was just another young woman, with hopes and dreams of becoming a June bride. She and Ajith had their registration last year and were to be married this year. The foundation for their new home had also been laid. Successful career, loving husband, new home and the dream of having a family some day. But she was an innocent victim, her "crime" being that she was in the wrong place at the wrong time.
Ajith worked at the bank too, so they went home together in the same office van, to Homagama everyday. But on March 10, Ajith was held up at work and Damayanthi went without him.
Her father waited patiently for her to return by 6.30 p.m., wondering why she was late. Then Ajith came home and the search for Damayanthi began. They heard that the van was caught in the crossfire and father and son-in-law went looking for their loved one, from hospital to hospital. Damayanthi wasn't anywhere.
They were reluctant to go to the morgue, because that would mean that they had accepted that she was dead. And they weren't ready to give up on her. Finally they did go "only because there was no other place to go and they had to find her," said Nirosha Premaratne, Damayanthi's sister-in-law.There they found Damayanthi. She had died of gunshot injuries to the head and neck.
Nirosha said, "We always feared for the life of my husband, Captain Mohan Premaratne (Damayanthi's elder brother), because he was at the warfront."
Life's cruel paradox made it so, that it was ultimately the one they thought was 'safe' who was taken. "It just goes to show that the war is a cancer that affects the whole of society," says Nirosha.
With her lament, "When will it stop", we left them to their grief, wondering just how many deaths it will take till we know that too many people have died...