West meets East
Alien surroundings, yet a paradisal feeling
I have a confession to make. This will come as a surprise to most, confirmation of a sneaking suspicion to others - I had a get-out clause.
When booking my flight and planning my six-month sojourn in Sri Lanka several months ago, I had a sudden paranoia-induced panic attack that led me to consider an 'alternative' to a whole six months of commitment. What if I didn't like it? What if I missed my home, my friends, my job, my cats?
What if I stepped out of the plane into the searing heat and wondered what it was that ever possessed me to leave my friends, my family and other familiar landmarks of my life for a whole different ball game in a foreign land (list of rules not included)? So I booked a return flight for three months later. Just in case. With the guarantee that I could extend it to six if 'things worked out'. Yesterday on March 13, it was three months and two weeks since my arrival date, I should have been on a plane back to England - but I wasn't.
When I woke up this morning, or more specifically was woken up, by the bright sun and familiar 'alarm call' of the bird that sings noisily and insistently outside my window every morning, I felt a definite sense of relief. I might have continued my day in the same happy-go-lucky vein, but then the post arrived and the skies albeit temporarily, clouded over. Every fortnight I receive a copy of the magazine I work for back in England with all it's references to my hometown and how much it changes, develops and continues to exist without me. Although I still manage to balk at this shocking revelation on a fortnightly basis, it's a reminder I normally look forward to. Today however, a weekend of missed calls from family and friends worried due to the reports of bombings, gunfire and fatalities (that I've since been told included friends of my neighbours) brought on a soulful sensibility that I could only explain as 'homesickness'.
Security and the fondness of home, both lead me to reflect upon our imagined realities and the power our minds have to make sense of our world through our own vehemently individualistic and unpredictable eyes. The thing is I'm not actually sure of what it is exactly that I miss about England, people, places, close relationships, familiarity, ease all potentially translate into the sense of entrapment and niggling desire for freedom that clouded my everyday routine back 'home' and inspired my 'escape'. So on those frustrated days back in England people, places and the familiar were a bore that I had exhausted of all potential and possibility.
Close relationships felt stale, in need of refreshing, even escaping for a while, and an 'easy life' was a tried and tested formula for inactivity, boredom and lack of adventure. And sure enough I've been adventuring since I've been in Sri Lanka - especially over the last week or so. My friends visiting from England leave tomorrow taking with them my daily reminders of life back in Manchester along with their own memories of sleeping under the stars in tree-houses in the jungle, swimming under waterfalls, sunning themselves on perfect beaches in Trinco and bathing elderly elephants in Kegalle. Examples of the kinds of places, people and events that will also be imprinted on my own memories of Sri Lanka forever. Despite this constant distraction of life-affirming wonders however, I still feel a sense of longing when I look at my fortnightly package from 'back home' describing the ins and outs of a life that for the time being at least, I've left behind defiantly. Appropriately enough as I turn to the last page, the 'Travel Section' in the magazine, there are tales from afar of a young woman's adventures from an exotic and exciting sounding distant land. A woman managing and enjoying this new world on her own. A world a million miles away from the monotone streets of Manchester, England, with pictures of breathtaking sunsets and hot, dusty streets filled with life and light to prove it. It takes me a moment to realise fully that those photographs and that story are mine.
---
Zooming in with digital
Chinthaka Abeyratne, will hold the first-ever digital photography exhibition in Sri Lanka
By Nilika de Silva
Just imagine zebras on a zebra crossing. Take away the technical jargon and it's two photographs entered into the computer and 'mixed' in such a way to make a third photograph -a new creation. Well that's just one of the photographs Chinthaka Abeyratne will have on display at the first-ever digital photography exhibition to be held in Sri Lanka.
Chinthaka, a pioneer in the field of digital photography here, is to hold his first exhibition titled 'Image 2000 - Magical World of Digital Photography' from March 24-26 at the Lionel Wendt.
The possibilities in this field are mind-boggling. With the first machine for digital photography printing coming to Sri Lanka on January 31, this year the advertising and marketing industries are sure to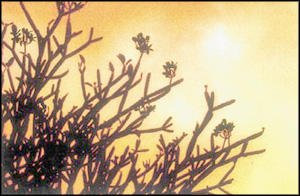 zoom in on this professional tool.
But Chinthaka, a product of Ananda College, has been in this field as a freelance graphic artist for 12 years. Maths, his field of study in school, needless to say played its part in tuning his skills and taking him from shutter-bug to photographer.
"I filmed Anandaye Davasak, a 15-minute Super Eight documentary of a day at school. I also designed cover pages for school magazines," said Chinthaka who had won an award at the Shankar International Children's competition.
He said, "While I was in school, a teacher, Asanka Abeysundera, told me to do a series of educational documentaries for science. This was shown at the Sugathadasa Indoor Stadium to a large number of students of my age."
Having left school in 1982, Chinthaka who is from Kalutara joined the Hegoda School of Photography. He also learnt how to animate a TV video image, at the Institute of Television Technology.
Going on to study cinematography at the Offici Catholique Internationale du Cinema-OCIC in 1983, Chinthaka took up graphic design for print at the Government Printing School. "In 1992, I won the medal for the best student from President D.B. Wijetunge," he says.
He was encouraged when in 1986/87 pop maestro, Clarence Wijewardena asked him to design the cover for one of his cassettes "That was the first cover I designed on offset," he said. "Every time I see a label, a book cover, a sign or an ad I have designed, I know that the path I chose was the right one."
When Club Palm Bay commissioned him to design shots for a promotion in Germany, before the hotel was completed, Chinthaka worked hard to do his best.
"I finished that job the night before my wedding. It was 10 o'clock when I got home, and my people were worried. But the York Hotel Management Company was happy because they sold all their bookings for the next season, and gave me a free honeymoon package in any hotel of my choice."
The father of two little girls, Dilky (3) and Lisa (three months), Chinthaka says his wife has been of great support to him.
"It is because of her help that I am able to go ahead with my career," he says.