Deadly touch
These men of the Bomb Disposal Squad have many secrets
- secrets that can save lives
By Udena R. Attygalle
A battle of nerves, with just a few seconds to outsmart the cruel genius of explosive experts who misuse their skill. "There is no pera se kirima (No second chance) as was seen even on March 10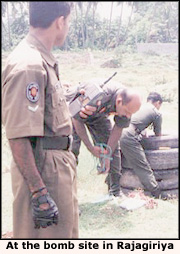 when bombs went off in Rajagiriya.
Each dangerous assignment is a matter of life and death for Major Kumara Pieris and his bomb disposal squad of the Sri Lanka Army.
As we talked he would repeat, "Please don't write this but..........if you do, it will be a literal gravedig for the next BD man."
Dial 355491 and 355492 and you get the men seen at bomb sites with the maroon explosives logo on their chests. Selected from the field engineers' section of the military, they are screened thoroughly before being enlisted to the last "line of defence" against the deadly bomb.
Their lifestyle, background and mental stability all go into the records. If you pass, you are trained in explosives handling. A refresher course twice a year makes sure you don't lose your "touch".
All this training means that a BD man, as he is called, would have been in the army for a minimum of five years, mostly in operational areas before this special assignment.
"How does it feel to be the one who is handling the bomb?" I ask. "Scared. But it's a duty we are bound to carry out, so we make up our minds and concentrate on the job at hand," says Staff Sergeant M. S. L. Peiris in a typical military answer.
"We get close to the bomb for such a short time that we don't have time to feel anything," adds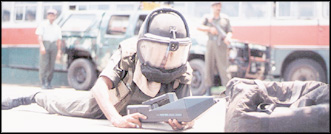 Sergeant G. K. P. Gamini.
Explaining how they go into action, Major Pieris says, "Only one person approaches the bomb at a time. After a few minutes he changes places with somebody else."
"We cannot have people getting complacent, can we?" asks the Major. "That's why BD men are taken off the team after two years," he adds.
What of the families of these men? How do they cope with the news of a bomb being found? "We can't tell our families everything, but then like any mother or wife I think they know and they bear the burden," Major Pieris says.
With many an assignment under their belts, they were loath to give out the one that sticks in their minds the most. After a lengthy pause, Sergeant Gamini came out with an incident involving a claymore mine near the railtrack at Wellawatte.
"We had given specific instructions that the trains should be stopped on this route. I had wired up the claymore and was ready to defuse it when a train came out of the blue. It was horrifying," Sergeant Gamini said.
Reluctantly, Staff Sergeant Peiris recalled another incident near an ATM machine, once again in Wellawatte. "There was this little packet and we suspected that it had a timing mechanism. I approached the object on a 'recce' mission and came back to the BD, vehicle to collect my equipment. I was just turning back when it blew up suddenly." He survived, but another BD man who was on guard nearby died.
"We cannot go to the spot and clear the place of people. Time is vital. When people surround us, it distracts us from what we are doing," he said, showing slight anger. The curiosity of bystanders is indeed a big problem.
As Major Pieris put it, "They come so that they can boast of having seen all the pieces of flesh hanging about."
Fake calls too are a major problem, as all warnings have to be taken seriously and attended to. The BD team uses a special system of questioning to verify the authenticity of a warning. But most of the time they have to check out every call. Taking a chance and ignoring a call could have deadly consequences.
"We try to get an idea of what we have to do, so we can take the necessary equipment and also be prepared, mentally," Sergeant Gamini explains. Getting hold of an eyewitness at the spot is also important.
A bomb consists of a power source, explosives and a mechanism to detonate it. The mechanism is the innovative part of the bomb. The movie image of having to cut either the blue or red wire before the timer goes off could really happen. But there can be booby-traps. Cutting the wires may be the exact thing that detonates the bomb.
Colombo has around seven separate bomb squads and Kandy, Anuradhapura, Kataragama and Yala have their own BD teams. The first BD team to be informed goes into action first, according to security priorities.
Although the army has modern equipment to handle bombs, the local BD men prefer to use their own experience and innovative methods, most of the time.
"When we go abroad for training programmes, others are a bit surprised at the way we handle bombs. Our people just handle bombs and then go for lunch without even bothering to wash their hands as if nothing has happened," the Major laughs.
But this may not be just an idle boast. The men of Sri Lanka's BD team have many secrets they keep to themselves. Secrets that only experience can give. Secrets that may save a life.
---
Down memory lane
Strokes of colour from tender age
By Roshan Peiris
Not just one or two, but 103 one-man painting exhibitions, Senaka Dunuwille Senanayake has on his list of achievements.
Starting his rise to fame at the tender age of 10, with a show sponsored by the Ceylon Society of Arts, he has displayed his creativity in 20 countries including Italy, France, America and China. Holding the first one-man show abroad at the festival in New York, his paintings have also graced the Gallery in San Francisco and the National Art Gallery in Beijing.
" My home was a typical middle class one and my father was the Public Relations Officer at Ceylon Theatres. My mother was a devoted wife and stayed at home," Senaka, casually clad in a baggy green shirt and navy blue sarong, said.
Going down memory lane he said, "From the time I was about six-and-a-half years, I started painting seriously. Encouraged by L.P. Goonetilleke Chairman of the Arts Council, who was looked upon with awe as one of the best critics in Asia, I painted nature themes based on geography lessons. They were themes from Africa, India, America and Egypt."
His artistic forays were encouraged by his class teacher Mrs. Sugathapala, wife of the Royal Primary Head Master.
"She used to paste large sheets of brown paper on the walls of the classroom and encourage the boys to express their artistic talents," he said. "At home it was an extension of this expression that I carried on, in-between fighting and bullying my sister who was three years younger."
"My parents never punished me physically. Punishment came in the form of not being allowed to go to the movies or play cricket, which was the next great love of my life," he said.
From Royal Primary, Senaka went on to Royal College, captaining the under-14 cricket team and later playing for the under-16 team .
He recalls with mirth that he got a couple of cuts on his artistic hands from an angry teacher for being cheeky and boisterous. He had also been detained in class after school to write lines, for "shooting" other children with a water pistol.
"After one year of 'A' Levels I applied to Yale and Princeton Universities . I was given a place in both with a full scholarship. I chose Yale because it boasted of a better art school, " he said.
His father wanted him to be a doctor and Senaka toyed with the idea of studying plastic surgery because it was creative. "But my heart was not in medicine, it was merely my father's influence."
Once in university, Senaka studied Natural Science, Social Science and Humanities.
" Later I took a strong liking to Fine Arts and Architecture, and decided to do a double Major in Art and Architecture."
After graduating from Yale, Senaka went to Clare College in Cambridge, England. "I came home for a year's respite and did not do my Masters at Cambridge," he explained,.
"Those were exciting times in Yale then. The Vietnam War was on and people were organising anti-war marches. It was a crazy era with the black militant movement. It was the time of hippies and women libbers, with women running about without bras. It was truly fun."
After one year at the all male Yale University, it became co- educational, making life more interesting, said Senaka.
"No. I did not have a special girlfriend since I had already met my Jennifer. I was 17 and she was 14 when we met and vowed to marry each other."
Senaka who is a devotee of Sri Sathya Sai Baba says, " I had never heard of him until my maternal grandmother Carene Wijenaike received a mysterious postcard saying Sai wanted her to visit him at the ashram at Puttaparthi. This was my first exposure to the Swami. Later when Jenny and I were travelling in an air-conditioned car we got a strong smell of jasmine flowers. Devotees told us it was a sign that Sai was with us."
"He has blessed me and directed me in my work. So I paint nature- animals, birds and, of course, Hindu gods," says Senaka whose paintings have found their place among permanent collections at the United Nations building in New York, the International Post Office in Berne and the Lodge Canberra and many other places.