---
CR's Wilson completes 50 years of service to CR&FC
Rugby Sir, is my business
By Jatila Karawita
It's hard to imagine CR without Wilson and Wilson... without the swank rugby club behind him.
This die-hard CR fan who has stood behind the bar of the CR&FC for well nigh 50 years and who has followed the progress the game here and of numerous rugby players completed 50 years of loyal, unstinted, and uninterrupted service to the Longden Place rugby club yesterday.
He was felicitated by the CR committee and members of the club at a function at Longden Place where for once he was the centre of attraction and not serving the ever thirsty rugby players from their favourite water-hole.
Wilson who is now 72-years-old and pretty much into the twilight of his life, recalled the many memorable moments attached to his work at the CR bar whilst taking a trip down memory lane during an informal chat with this scribe for 'The Sunday Times' last Wednesday.
Wilson was often pumped by reporters for information at closed door CRFU or SLRFU meetings as Wilson was the only person who was allowed to enter such meeting taking in drinks to his bosses. But never has Wilson let them down.
Wilson knew so much about rugby and was eve n-able to spot rugby talent even long before they attended practices.Wilson who came to work at the Longden Place club as a 21-year -old youth way back on March 18, 1950 as Assistant Bar Steward, under the then Head Bar Steward Pediris Perera, said he should be grateful to a number of former CR &FC rugby stalwarts who had been of immense help to him to reach the topmost post in his profession over the years.
'The then CR President Dr. Noel Kelaart and his younger brother and CR Vice-President Vernon Kelaart were two of the foremost gentlemen who helped me enormously at the start of my career in the 1950s.
Fred Kellart was another person who was very kind and helpful to me and even when he migrated to Australia I used to send him Christmas cards regularly and he too obliged," said Wilson recalling some prominent CR personalities of yore with whom he had developed an everlasting bond to this day.
Though he was not too keen to single out the names of each and every person who had helped him in various ways to get to the position that he currently enjoys at the club, nonetheless he adviced me to mention that every-body's love and kindness had been received by him in abundance to reach the top spot in bar keeping at CR.
Wilson who is a widower now, following the death of his wife about one and a half years ago and whose three sons and one daughter have given him eight grandchildren, recalled many interesting rugby matches which he had witnessed in the 1950's and 60's which to put it in his own words, ' was a real pleasure to have witnessed them'.
"If my memory serves me right scrum half Mahesh Rodrigo and fly-half Ago Paiva were two of the top notch players who used to excel for both CR &FC and All Ceylon. This halves-combination was one of the dreaded in the local rugby arena in those days.
"Then Ashey Cader and H. Newman were also two of the leading CR players who brought fame and glory to the country.
"Summa Navarathnam, Kavan Rambukwella, Tony Sirimanne, Mohan Sahayam, Eric Rolls, Sari De Silva, Didacus De Silva and Haji Omar, are just some of those greats who have captured my imagination over the past 50 years," said Wilson who lamented the current decline of standards in rugby football in the island from those lofty days of the past.
He said, "The present day ruggerites, I feel do not have that much strength when compared to their predecessors of the past whom I would say were second to none in the world. It's a pity that the level and standard have nosedived much to the dismay of the rugby loving public".
Wilson who hails from the rural town of Galigamuwa in the Kegalle district was eager to mention the names of current CR & FC President Mike Mathyz and his Vice President P.M. Balasuriya as two officials of the CR Committee who were kind enough to have organised this felicitation in his honour and also went on to state that during his uninterrupted 50-year-service to the club he has not taken a single off -day, medical leave or even a sick leave which gives ample proof of his loyalty to one of the oldest rugby playing clubs of Sri Lanka.
---
Nirosh de Silva hates criticism,
By Ravi Nagahawatte
Chess champion Nirosh de Silva might put up with a splitting headache or unaccustomed playing conditions.
But critisism is something that really crushes the spirit of this 21- year-old who recently credited himself with a silver medal at the Sangli Open Chess Championship which was incorporated with the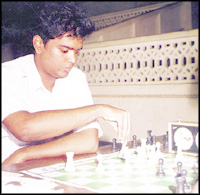 Commenwealth Championship held in India .
What really unsettles Nirosh is when someone remarks that chess is not a sport.
"I cannot cope with this" says the former Royalist who adds that there are certain individuals who have gone to the extent of hounding him to give up the sport.
Reminiscing his schooldays Nirosh brought to light how he felt the first stings of critisism which came from his classmates .
"I was criticized for being too forward, for going beyond the required limit," he recalls.
Today it is a different story as the criticism comes from people who are not at all close to him and haven't the slightest idea of what chess and representing the country is all about.
Nirosh's temper had reached a boiling point when certain people had put down the importance of representing the country at the recent tournament in India.
"This critisism made me more determined to play even though it meant that I was going there hours before the tournament. I did not have a lot of time for preparation, so I reached India six hours before the tournament.
"All this made me think that this competition was something that I should play for," said Nirosh.
"The word sport is defined as a battle or competition between two or more individuals or two teams. So doesn't the sport of chess have these characteristics?" asks Nirosh.
---
Briefly
AAA Identity Cards
For the first time the Technical Officials of the Amateur Athletic Association will be presented with an identity card and a record book at a ceremony to be held on Monday, March 20 at 3 p.m.
This ceremony will be held at the Sri Lanka Foundation Institute Colombo 7, with the Minister of Youth Affairs and Sports, S.B. Dissanayake as the Chief Guest. Also on this occasion all the candidates who were successful at the Technical Officers' examination held in November last year will be presented with a formal certificate of passing.
All qualified officials should contact the Chairman, Officials Committee, Rohan Amarasinghe to sign the documents and for further details.
Throwball Coaching
The Throwball Association of Sri Lanka has organised a throwball coaching camp at the Kurunegala "Maliga" Grounds from 9 a.m. to 5 p.m. on March 26.
Players from Kandy, Kegalle and Kurunegala are expected to attend this camp. This is an up-and-coming game introduced to Sri Lanka recently and has now been registered with the Ministry of Sports. The objective of this camp is to introduce the rules of the game to players in these districts. A similar camp was held in Colombo last year and was very successful. The first throwball tournament was held on January 16 and 23 at which Kurunegala District emerged champions.
For further details regarding the coaching clinic please contact Miss. Seetha Ramani on phone 072226590.
CIS champs
Colombo International School beat Asian International School by 73 points to 52 to win the British School of Colombo Inter International Schools basketball championships at its school courts.
Alethea International School beat British School of Colombo by 70 points to 65 to win third place.
Mayan Narendran of British School was picked as the Most Valuable Player while Yousuf Iqbal of Alethea Interantional was awarded the highest scorer's trophy.
In the run up to the finals Colombo International School beat Wycherley 35/8, Gateway beat Lyceum 20/12, British School beat Gateway 50/40, Alethea beat Gateway 85/30, British School beat Lyceum 58/24, Colombo International School beat Asian International School 73/41, Asian International School beat Wycherly 59/38, British School beat Alethea 55/49, Colombo Interntaionl School beat Alethea 58/44, Asian International School beat British School 48/39.
Hewage to lead
Pradeep Hewage will lead Old Bens in their traditional limited over encounter against the Present Boys at the College Grounds today. The Old Bens team will be selected from the following.
Pradeep Hewage, Carmen Mapatuna, Rally Tissera, Aranga Manjuka, Ashley Fernando, Dilshan Boteju, Dinesh Silva, Gihan Fernando, Mario Vethanajagam, Marlon Saverimutthu, Shehara Muthupomtota, Trevor Cramer and Thanura Gunathilake. The game will be played for the Wasantha Meegoda Memorial Trophy. (MF)
Olympic Countdown: 186 days
The Games of the Sixth in 1916 in Berlin, the Twelfth and Thirteenth in 1940 and 1944 [to be held in Tokyo or Helsinki and London] respectively, were not held because of the War. The next Games, the Fourteenth was in 1948 in London, and continued uninterrupted to this date. The Centenary Games of the Twenty-sixth Olympiad was held in 1996 in Atlanta.
The 2000 Sydney Olympics is believed to be the ultimate Games in every respect and would supercede all past Olympiads in organization, technology, giving attention to every detail - and to be the Games of Games.
Olympic story-telling will record emotional moments and poignant human drama that have made the Olympic Games magical. As the century that brought the Games in 1896 to the world that ended, the opportunity to glance back at the past and present it to our readers.
Bud Greenspan who put it all in film and his camera, witnessed the Olympics from the London 1948 Games - missing the twelve year moratorium on account of the Second World War - says: "These are personal remembrances of some of the men and women who have fulfilled the philosophy that has for decades sent world athletes into the Olympic Theatre - in the words "Ask not alone for victory, ask for courage. For if you can endure, you bring honour to yourself. Even more, you bring honour to us all."
---
Free Tennis coaching on March 25
In order to attract more players to tennis, the SLTA the controlling body for tennis in Sri Lanka will hold a free tennis coaching clinic for all on Saturday 25th of March 2000 from 8.00 a.m. to 6.00 p.m. at the SLTA premises at 45, Sir Marcus Fernando Mawatha, Colombo 7. A free coaching lesson includes providing racquets, balls and also a coach free-of-charge. Some of the best coaches and players in the country will instruct and play with prospects.
The free lesson programme is the first step in a 'grow the game' effort to get prospects to try tennis and to get them to feel the satisfaction and thrill in playing tennis and thereafter, to get the prospect to learn tennis, said Arjan Perera, Chairman, Coaching and Promotion, SLTA. If this programme is received enthusiastically, we will take this programme to the outstations too.
We expect a good turnout, as this program will target people who are interested in tennis, but are not aware of the modalities, said Romesh Fernando, Secretary, Coaching & Promotion. This programme is ideally suited for persons who have never played tennis. The SLTA will promote this programme under the theme, 'tennis is fun, fitness and forever', he said.
---
Construction of the new Thomian pool
Diving Tower -
It was originally planned to retain the existing tower with minor modifications to allow for diving depth. However no structural details were available to assess the sub-structure.
During excavation it was found that the tower foundation fouls the pools base and would become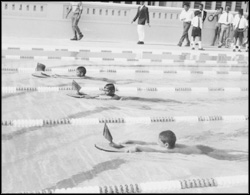 unstable. Since shifting the tower wholesale was impractical, it left no option but to re-construct a new tower.
Pool Tiling -
Specific pool tiles manufactured to FINA standards were not available locally during the time of the original tender.
Hence local ceramic tiles were specified instead. In keeping with the need to provide international competition standards, it was recommended that pool tiles manufactured to FINA standards be used.
Tile Grout -
Normal, locally made tile grout was specified originally to reduce cost. With the use of specialized pool tiles, it became necessary to use proper swimming pool tile grout which effectively resists chlorine action.
In fact the failure of tile grout was one of the reasons for the deterioration of the former pool.
Pool Lighting and Electrical Services -
With the enhanced facilities, the electrical installation was revised to include better pool lighting, flood lighting, lamp poles and lamp control panels. 12-metre steel towers were used instead of the originally specified 6m. concrete ones for better light distribution.
Duty on Halide Lamps -
A set of Metal Halide lamps were donated by an Old Boy.
However, in view of the exorbitant customs duty imposed, it was decided to meet part of this cost.
Plant Equipment Room -
The original plant room was adequate to house light duty pumps and filters which were used as the basis for design and costing in the early stages of the project in 1997. However, it was felt that in keeping with the heavy demands anticipated when the pool is commissioned, to use heavy duty pumps, filters etc., with a turnaround time of 6 hours. This necessitated the enlargement of the originally envisaged plant room by a further 2.5 metres.
Further a separate balancing tank and plant room with separate pump filters etc., were provided for the training pool instead of a common system.
This was done for reasons of efficiency and superior water quality control as recommended by the consultants.
Submersible Pump -
A Grundfoss submersible pump was introduced as an additional drainage precaution in the basement plant room.
Ventilation of Equipment Room -
A ducted mechanical ventilation system was used as it was strongly felt that the safety of those operating the chlorinating plant in the plant room which is at basement level must be ensured. An extractor fan was provided for ventilating the equipment room.
Changing Rooms and Tiers -
The school authorities requested additional space for chemical storage, equipment and an office for swimming coaches. These were provided by extending the changing room block to the rear by 2 metres which required demolition of part of the existing school building at the rear.
As a result, the number of toilets and spectator accommodation on the tiers too increased, which was considered a bonus.
Tiling of Changing Room and Tiers -
In keeping with the enhanced finishes of the pool it was decided that the utility areas are tiled instead of the cement finishes provided in the original BOQ.
Vanity Counters -
In order to provide useful counter space within the changing rooms, two granite vanity counters were introduced with large mirrors.
Sanitary fittings and Plumbing fixtures -
Originally, local sanitary fittings were specified to reduce cost. These were changed to more durable and aesthetically pleasing units from Twyfords.
Plant Boxes -
These were introduced on the upper tiers as an additional safety measure.
Tiling of Pool Deck -
Instead of the utility concrete surface specified originally it was decided to tile the pool deck. The width of the pool deck was also increased to keep the deck width similar to that in the old pool.
Storm Water Drain System -
External storm water drainage system with earth-fill, outlets, drains and gratings were provided to allow better drainage of area surrounding the pool.
External Shower Room -
Additional showers were provided externally and the floor and walls of this room tiled similar to other areas.
Roller Shutter -
An aluminium roller shutter door was provided at the main plant room entrance for the added protection of the pool equipment from rain and sea spray
Safety Chains -
Stainless steel safety chains were introduced on either side of the pool separator.
Construction Joint -
Construction joint with better quality Polysulfide sealant was introduced to enhance performance of pool structure.
Boundary Wall -
Originally, the wall was to be reconstructed on the existing footings at no additional cost. However, the need was felt to expand the apron space and therefore rebuilding from scratch was inevitable.
Two additional timber doors were also introduced.
Stainless Steel Handrails -
Length of stainless steel handrails increased due to additional tiers and diving tower.
Reconstruction of Pavilion -
Originally the pavilion was to be reinstated where damaged due to the construction, at no extra cost.
With the construction of the new diving tower and extension of the plant room it was not practically possible to retain the existing pavilion, and was completely re-built.
Pool Equipment -
The provisional sum for pool equipment in the original estimate of 1997 was Rs. 2,250,000. Tenders were ultimately invited in May 1999 and the contract awarded to M/s Techwaters (Pvt) Ltd., for a sum of Rs. 4,255,000 including GST. Subsequently, a set of springboards were added at a cost of Rs. 392,000. The comments made under the Plant/Equipment Room earlier in this report are relevant with regard to the efficiency and performance of the pumps and filters and other plant which were installed.
Landscaping -
In order to restore the areas at the entrance to the pool and also the surrounding areas to that which prevailed before construction commenced, the services of a landscaping contractor were obtained to replant root balled tress, carry out new planting and turfing of selected areas.
---
Sports Editor notes
Our understanding was that the pool was to be modernized, remodelled and internationalized with a change only in distance: to 25 metres from the present 33 1/3 yards. Total demolition was not necessary to make such a change. Furthermore, only small modification was necessary to the neglected diving tower to keep the platform at 5 metres.
Why the need for an additional 3 metre platform? Springboard diving is confined to 1 and 3 metres only. Platform diving is held at 5.75 and 10 metres. Olympic games and world championships are held at 10 metres. However, FINA permits other championships at 5 and 7.5 metres with the objective to encourage platform diving. STC Pool Committee may have intended to introduce a new platform at 3 metres? The only FINA standard adhered to is that the pool is an international 25 metres - in all other aspects FINA specifications were never followed. Water Polo was not in the equation, if that were the case the specifications needed for Water Polo is nowhere near FINA requirements.
Lack of space prevents responding to several other inaccuracies individually. Two separate pools is a waste and cannot justify the expenditure in excess of Rs. 35.0 million in modernizing, refurbishing and internationalizing this gift of Dr. R.L. Hayman.
---
The Bobbies of London
The Metropolitan Police London
Sir Robert Peel founded the Metropolitan Police in 1829 and they were known as "Peelers" or "Rozzers" in Victorian times. And today they are known was "Bobbies". At the turn of the twentieth century, the first Training School was opened at Peel House in Central London with a 4 weeks basic course for recruits which continued here until the late sixtees.
Hendon's Police connection began in 1934 with the short-lived Trenchard Police College, built on land once belonging to Hendon aerodrome. The College trained officers for the higher ranks of the Metropolitan Police, party drawing recruits from outside the Force. This went against the traditions of the Met, which both before and since has promoted from within the ranks. The College closed in 1938, but the Hendon connection continued with recruit, detective and driver training still being based there. Not long after the war, plans were laid to provide facilities to support a considerably greater training commitment.
Eventually, all Force training was brought under one banner at the 10 Million Pound Peel Centre, officially opened by Her Majesty The Queen in 1974. This is now known as the Metropolitan Police Training Establishment which is situated in a sprawling complex at Hendon with an imposing statue of Sir Robert Peel in front of the Administration Building.
The main training establishments within the Peel Centre are Recruit Training School, Telecommunication School, Driver Training School, Detective Training School and Management Development Training Unit. Officers other than from the Metropolitan Police also attend courses here. The Overseas Police Officers Training Course too is conducted here which I attended.
I began my training course on Advanced Police Training at this Training School which had separate yet clearly linked training schools, residential study rooms, superb sports and technical facilities. There were 24 Police Officers from different countries who underwent this course wih me, they were Inspector V. Naiken, Inspector S. Madeleine, Sgt. F.H. Accouche and Woman Sgt. Maggie Pillay from Seychelles. Inspector PG. Asli. PG H.J. Ismail, Inspector Hamza b. HJ Salleh and Inspector Hasrin HJ Sabtu from Brunei. Inspector G.H. Blake from Tonga. Inspector K.J. Bojang and Woman Sergeant F. Camara, from Gambia. Inspector M. Ellis and Inspector U.V. Smith from Bahamas, Inspector J.J. Grant and Sergeant M.T. Lashley from Trinidad, Tobago. Inspector Ho Yiu Maw, Inspector How Yu Ming and Inspector Lam Shing Yip from Hong Kong. Inspector B.D. Kerry and Inspector D. Willie from New Hebrides. Inspector G. Lungu and Inspector F. Mukupa from Zambia. Sergeant L.E. Powell from St. Kitts. And Inspector T. Seerunge from Mauritius.
We were all housed in the East Tower of the Metropolitan Police Training School which had two 13-storey buildings, one for the men and the other for the women side by side linked in the ground floor by a huge restaurant where the men and women had their meals. There was also a common T.V. room for both men and women and a "Pub" which was patronised by the staff and the trainees in the evenings.
Our training programme commenced on June 5 and we were addressed by Mr. D. Rosser, the Commandant of the Training School along with our two lecturers. Mr. Williams and his deputy Mr. Murray were taken on a tour of the training school. On May 6th we were called upon to make our personal introduction after which we were given our Medical Cards and Uniforms of the Metropolitan Police which we were very proud to wear during our stay. Inspector John Grant from Trinidad and Tobago who was 6 ft 6ins in height and a heavily built giant was an unhappy man as he could not find any uniform to suit to his size and had to wear his civil clothes during the entire training. That evening we watched the World Cup soccer matches Argentina vs France which France won and West Germany vs Mexico which Germany won by a record 6 - Nil. The following day watched Brazil vs Spain which was a 0 -0 tie.
During Saturdays and Sundays we had no lecturers and were free to go sight seeing and visit friends. That evening I went with some friends to the Wimbledon Stadium and attended a children's party where I met several Sri Lankans. Later I watched the World Cup soccer matches Scotland vs Holland which Scotland won 3 - 2. Peru vs Iran. Peru won 4 - 1 Sweden vs Spain. Spain won 1 - 0 Brazil vs Austria. Brazil won 1 - 0.
On June 14 we were taken to the London Fire Brigade Training School at Lambeth which is across the river Thames on an educational tour. In the evening there was a welcome coffee party for us by the Metropolitan Police Training School where we were introduced to the members of the staff. That night watched World Cup soccer matches Holland vs Austria which Holland won 5 - 1 and Brazil vs Peru. Brazil won 3 - Nil.
The following day June 15 which was a Thursday we were taken to the House of Commons and House of Lords and we had the privilege of visiting the chambers of both houses. I sent greeting cards to my wife and children and friends in Sri Lanka from the House of Commons as this was a historic moment for me. In the evening visited the Grey Hound Pub which is a very popular waterhole in Hendon with Inspector Kerry of New Hebrides and played darts with the local crowd. During the week-end I went by train to the house of Malcolm Jayasekera a retired Inspector of Police from Sri Lanka and handed over a packet of tea that was given by his friend Mr. V.T. Dickman S.P. and had lunch at his house. Returned to school in the evening and watched World Cup soccer matches West Germany vs Holland. Draw 2-2. Italy vs Austria. Italy won 1-0 Brazil vs Argentina. Brazil Draw 0-0 and Poland vs Peru. Poland won 1-0.
(To be Continued)