'Will you still need me, will you still feed me?'
By Chrishanthi Christopher
View(s):
 Growing tragedy of destitute elderly kicked out by families
 NES trials schemes to help families bear cost of aged care  
Reports of people found abandoned on the doorsteps of other people's homes, in parks and on the streets are growing increasingly common.
Last week, a woman aged around 70 years was found on the doorstep of a residence in Nawala. The residents, who wanted to find out how she came to be there, found her confused and mentally unsound. She was cleanly dressed but had on several layers of clothes and bore tell-tale signs of having been in a hospital, with plaster marks indicating a cannula had been removed from a hand.
Another man in his early 30s was found roaming the Vihara Mahadevi Park in the early hours of a cold morning. A good Samaritan's attempt to ascertain his residence revealed he had been with the National Institute of Mental Health (NIMH) in Colombo for the past two years. A call to the NIMH revealed that he had been forcefully discharged and, with no family to go to, was on the streets.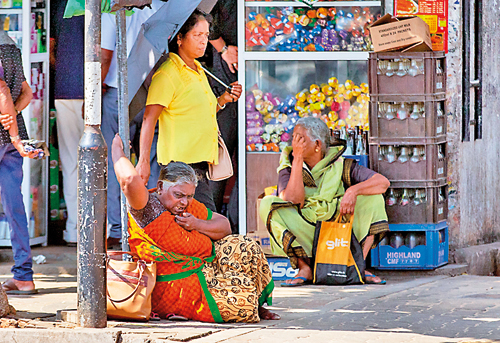 Hospitals do not want to take in patients without address or family because they say that when such patients recuperate, with nowhere to go, they continue to stay in hospital, depriving incoming patients of beds.
Even Buddhist temples do not want homeless people taking refuge in temple premises.
Recently, two elderly people found on the streets said they had been living in a Buddhist temple at Kalubowila for years but had been chased out by the temple authorities.
Under the Protection of the Rights of Elders Act No.9 of 2000 and the Amendments Act No.5 of 2011, the state requires children to take care of their elderly parents. The state takes responsibility for those who are destitute and without family.
National Secretariat for the Elders (NSE) Director M. Ramamurthi said although there are no guidelines to follow in the cases of elderly people abandoned by families, complaints could be made to the police or the district secretariat if an  elderly person is found desolate on the street.
He said the ministry, under its National Action Plan on Disastrous and Conflict Situations, has programmes to re-integrate/reunite the elderly with their families.
"When we get complaints of this nature, we call the family members, inquire into the circumstances and direct them to take them back home," he said.
Destitute elderly people are given shelter in state-run or charity homes for the elderly. There are 306 state and charity homes, which the NSE says is painfully inadequate to accommodate the growing elderly population. The list of those waiting to enter the homes grows longer every year.
Although the NSE has no statistics on the number of people waiting to enter state or charity homes, it says an indication of the need can be seen in the increase in people aged over 71 years requesting the Rs. 2,000 monthly allowance for the destitute. Mr. Ramamurthi said about 90,000 such people made an application for the allowance last year, joining 416,000 other aged folk receiving the payment.
The NSE's attempt, with the University of Colombo, to carry out a survey last year on the destitute elderly population, had to be shelved due to the impasse created by the dissolution of the government in October 2018. The fund of Rs.4 million allocated for the purpose was returned to the Treasury.
Last year, the NES introduced a programme under which Rs.100 was deducted from the Rs 2,000 monthly allowance to build new shelters and improve living conditions for destitute elders. The programme, which began in 2018, has amassed Rs. 4 million. Under this programme, scheduled to commence next month, the NES plans to use the funds collected to give Rs. 25,000 to elders living with families to purchase beds and build or upgrade toilet facilities.
World Bank help is being sought to fund a long-term strategy to improve standards of care and increase the number of homes for the aged.
All homes for the elderly, whether state, non-governmental or charity, will be graded into A, B, and C levels, and assistance will be provided to upgrade homes that have inadequate facilities.
The NES will request homes to submit reports on plans for improvement, in order to qualify for grants up to Rs.1.5 million. Plans are being made to train around 10,000 young people from rural areas as caregivers for the elderly in homes and hospitals.
The founder of a charity home for the aged in Piliyandala, Sanath Munasinghe, said he had stopped taking in homeless people even though there were several vacancies in his institution, because it had become increasingly problematic to provide long-term medical care.
An arrangement had existed to move ailing residents from the charity home to a 200-bed Meerigama health facility exclusively built for the elderly, which cared for these people until death. But now the facility was full and was refusing to accommodate any more people.
It is learnt that the facility, which was set up in 2017 with 50 staff, currently only had 30 personnel, with no qualified staff to attend to the sick.
The Piliyandala home for the aged now seeks the assistance of the nearest district or base hospital to treat sick residents.
He faces the problem that hospitals, as stated earlier, are refusing to take in homeless people as they do not move out when they recover.
Additionally, Mr. Munasinghe said, quoting residents in the home he founded, nurses and caregivers were abusive, rude and discriminatory to homeless or destitute people.
They frequently shunned these individuals, refusing to bathe or wash them or even provide bedpans. They insisted on the presence of round-the-clock caregivers for such patients. Families who could not provide a member to act as carer were encouraged to employ personnel from agencies that operate around the hospitals displaying boards reading "Rogi Sevakayo Attha" (Attendants available). These carers had to be paid Rs.1,800 daily.
Mr. Munasinghe lamented that charity homes could not afford such expenses. "I would rather feed the homeless people in my shelter with that money," he said.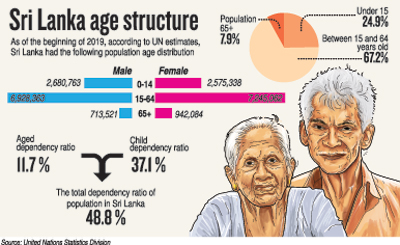 The National Council for the Elders Act No.9 of 2000 states that refusal to provide appropriate health care, social care or recreational services amounted to neglect and an act of omission.
Hospitals do not supply prescription drugs prescribed by doctors. Only basic medication such as paracetamol and antibiotics are dispensed by hospitals, other drugs and medical supplies having to be bought from pharmacies. Even glucometer strips to use in testing patients' blood sugar levels have to be bought from outside at a cost of Rs. 75 each.
The United Nations report, "Population Aging in Sri Lanka: New Challenges for the 21st Century" (2017), states that aging in Sri Lanka is occurring in parallel to lower levels of economic development. It said decreasing fertility and mortality rates and the migration of youth overseas were contributing to the increase in the relative size of this country's population.
In Sri Lanka, the term "elderly" is related to the retirement age, which is 55-60 years. The Census and Statistics Department's projections state that in 2041 there will be a 100 per cent increase in the number of persons aged over 60 years – 5.3 million people, 24.8 per cent of the general population. The last survey, in 2011, counted 2.5 million (12.5 per cent of the population) in the aged category.