Kinniya sand mine clash: Protesters who attacked Navy personnel face arrest
View(s):

Police and the Navy are conducting separate investigations to arrest those who attacked Navy personnel during a protest against a raid on an illegal sand mining site in Kinniya — an operation that led to two deaths and injuries to a host of others, including a dozen navy personnel.

The deaths occurred when two youths were drowned after they jumped into the Mahaweli River to escape Navy personnel who opened fire during a raid. It is said the navy personnel fired in the air to disperse an unruly crowd of about 500 people who had gathered there to protect the sand miners and protest against the Navy presence.

The angry crowd went to the extent of pelting stones and objects used in sand mining at Navy officials. Twelve sailors were injured and admitted to the Navy Hospital in Trincomalee.

Muttur Police Division Assistant Superintendent Buddhika Manatunga arrived at the scene and called for more police reinforcements from Sampur and China Bay stations to control the situation. A group of soldiers also came to the scene.

Residents say the sand miners jumped into the river only when the Navy opened fire. But the Navy maintains that they jumped into the river, when Navy personnel were trying to arrest them.

Twenty-two-year-old Abdul Rauf Faris was one of those who jumped into the river. His body was washed ashore in a nearby area. The postmortem examination was conducted at the Tricomalee Base Hospital. The scond body was found the following day near a sand dune. It was that of 19-year-old Mohomed Rasmi.
However, the two deaths have not distracted the police investigation into the attack on the Navy personnel.

The Eastern Province's Deputy Inspector General, Kapila Jayasekera, instructed ASP Manatuga to arrest those who attacked the Navy. The Navy has also begun a special investigation.

Trincolmalee District parliamentarian and Deputy Ports and Shipping Minister M.A.M. Maharoof who visited the scene later said that law enforcement matters of this nature needed to be carried out by the Police and not by the armed forces.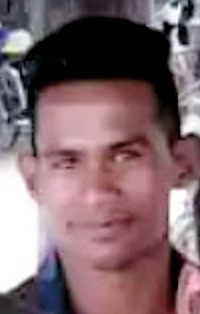 However, Navy Spokesman isuru Suriyabandara said the operation was launched with the assistance of the Police Special Task Force, and the Navy was acting in terms of instructions that had come from the President's office.
He said that the Geological Survey and Mines Bureau had provided the Navy with the information about the locations where large-scale illegal sand mining was taking place. Trincomalee District Parliamentarian Susantha Punchinilame said the illegal sand mining had been going on for some time and apathy on the part of the relevant authorities had left room for illegal sand miners to have a field day.
He said the Navy's action was justified, especially when the relevant authorities were silent. He urged the authorities to review the licence procedure.