Move to free trishaw drivers from idleness trap
By Shaadya Ismail
View(s):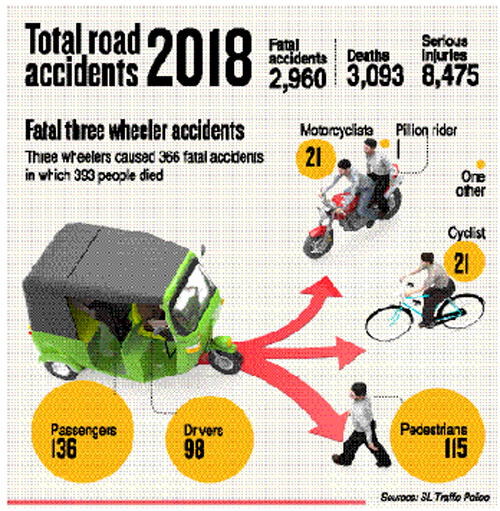 With three-wheelers accounting for more than one in 10 deaths in traffic accidents and a fresh survey revealing that trishaw drivers are idling most of the time, the government is offering them support to take up other professions.
Last year, 393 trishaw drivers and passengers died in accidents from a total of 3,093 such deaths, police said. The 2017 figures are similar: 395 of the total of 3,100 accident fatalities.
In a fresh move to encourage these drivers into other professions, 100 of them have been trained in alternative skills by the National Apprentice and Industrial Training Authority.
The authority's Three-wheel to Four-wheel programme provides loans and training for trishaw owners to buy cars and extend their employment capacity.
The programme has been launched in Nuwara Eliya, Ampara, Trincomalee, Polonnaruwa and Matale, authority Chairman Dr. Saranga Alahapperuma said.
A recent survey conducted by the authority found that out of eight hours "on the job" each day, three-wheelers only have hires for two hours, with the rest of the time wasted in idling and worse.
Dr. Alahapperuma said young people joining the profession are lured into all kinds of criminal activity.
The authority has to work with the fact that three-wheeler drivers like the work. "Ninety per cent of three-wheeler drivers enjoy their job and they are hesitant to come out of it," Dr. Alahapperuma said.
The main objective of the programmes is teach the drivers an alternative skill which they can use during times they do not have hires, thus increasing their income.
Skills such as plumbing, masonry, electrical work and home appliance maintenance will be taught.
"Overcrowding and overtaking are the main reasons for three-wheeler accidents," police media spokesman Superintendent Ruwan Gunasekara said, explaining that trishaws easily become unbalanced when packed with passengers and when they swerve to overtake vehicles on the road.
Senior Professor of the Department of Transport and Logistics at the Univerisity of Moratuwa Amal Kumarage warned that trishaws were not the only unsafe vehicles.
"Due to the high tax regimes, people are forced to buy cheap vehicles which are, most of the time, unsafe," he said.
He emphasised that public transport had not improved and that the country should look at moving from three-wheelers to safer modes of cheap transport.