Deactivate Indian trawlers caught illegally fishing in Lankan waters, says experts
By Asiri Fernando
View(s):
Sri Lanka should decommission the bottom trawlers it takes into custody, particularly those convicted of fishing illegally in Lankan seas and, like Maldives and Indonesia, either sink or set them alight once Legal processes are over, Fisheries experts urged this week.
The call came amidst Sri Lanka continuing to liberally release large numbers of Tamil Nadu (TN) bottom trawlers back to their owners, without prosecution or penalty. The vessels were detained between 2013 and last year.
The last batch of 6 boats were returned on February 1. Between December 2018 and January this year, the Navy has released 34 trawlers to their owners. This has drawn widespread condemnation from Northern fishermen, who are once again subject to incursions by TN trawlers carrying out illegal, unreported and unregulated (IUU) fishing in Sri Lankan waters.
"Only tougher deterrent measures and policy consistency will compel TN trawlers not to engage in IUU fishing (IUU) in Sri Lankan waters," experts warned. This includes decommissioning vessels equipped with mechanized bottom trawling which are in custody, as soon as Legal processes draw to an end following a conviction, and the offenders repatriated to India at New Dehli's cost, after being given a suspended sentence. That would prevent them from languishing in Sri Lankan jails," Dr Steve Creech, a fisheries scientist, told the Sunday Times. ""
"Detained vessels should only be released if and when the fine imposed by the Courts, under the Fisheries Act, is paid by the boat owners," he also argued.
These issues were hammered out during a seminar on evolution and resolution of IUU fishing by TN trawlers in Sri Lankan waters in Colombo this week.
Just last month, the Sri Lanka Navy (SLN) chased away thousands of trawlers which had illegally crossed the international maritime border. After a lull, the boats have started trespassing again.
"This is not a problem created by the Sri Lankan fishermen," said Dr Creech, who has worked extensively on the subject. "It is a problem created by Indian fishermen." Right now, only Sri Lanka is trying to stop the excursions, with neither the Indian Government nor the TN State Government helping.
The culprits are trawlers, not fishermen using smaller vessels or traditional fishing methods. "This is an unequal dispute,'" said Thiyagaraja Waradas, a fisheries activist and university lecturer. The Indian Government's portrayal of IUU fishing as a "humanitarian" issue affecting the livelihoods of TN fishermen who consider the Palk and Mannar Bays as "traditional fishing grounds" was misleading.
"There is an asymmetry in that argument," Mr Waradas said. New Delhi's approach is to bring both fishing communities from across the Palk Straight to the table to discuss solutions. This does not address the fact of sovereignty or present an equal footing for negotiations.
Sri Lankan fishing groups took part in several ad hoc discussions with TN trawler counterparts. They then withdrew from the process and sought Legal action. Between 2013 and 2015, Sri Lanka increased efforts to deter and apprehend trespassers. This led to an increase in the number of Indian fishermen in custody. This caused a strain in the relationship between Colombo and New Delhi. Post 2015, the number of arrests have declined, which prompted local fishermen to protest.
Most TN trawlers are owned by businessmen. Some employed labour from other Indian States to work on them. They used mechanized bottom trawling which is destructive and caused serious damage to the seabed and marine ecosystems. Other marine species are destroyed in the process, endangering fish stocks.
In 2017, Sri Lanka became the first country in Asia to ban bottom trawling and the use of destructive trawl nets. Soon afterwards, however, the Department of Fisheries proposed to weaken this ban by allowing "less destructive" trawling in designated trawling zones. But it didn't go through owing to widespread protest.
The trawling ban was regarded a victory for the Northern fishermen and environmentalists who petitioned the Minister to enforce it in full.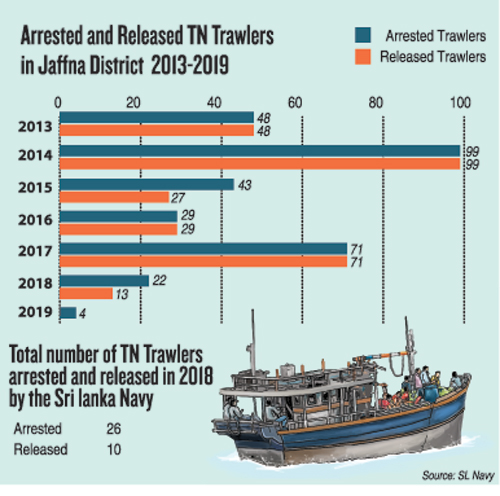 Panelists at the seminar opposed the possibility of detained vessels being re-purposed for use by Sri Lankan fishermen. "Bottom trawling is banned in Sri Lanka," they said. "No vessel, foreign or domestic, should be allowed to carry that type of machinery and use it in Sri Lankan waters."
"IUU impacts Sri Lankan food security, livelihoods and the seafood export industry," said Dr Creech. Independent assessments point to an estimated loss of income of US$ 41million between 2010 and 2015.
But recent changes in Laws are an improvement, the experts agreed. They envisaged expedited court proceedings, with completion within 30 days of charges being filed against foreign fishermen arrested in Sri Lankan waters.
"The directive sends a message to everyone that this matter is to be dealt with quickly," said Chinthaka Fernando, Attorney-at-Law. But the SLN, the Fisheries Department and others must be supported to arrest, charge, prosecute and, if found guilty, convict TN trawlers under the Fisheries (Regulation of Foreign Fishing Boats) Act.
"If the Sri Lanka Government enforced the law on TN trawler owners with consistency and decommissioned vessels, it will stop TN fishing 'mudalalis' from sending their boats to fish illegally in domestic waters," Dr Creech said.