Undersea data cables should be legally protected: Experts
By Asiri Fernando
View(s):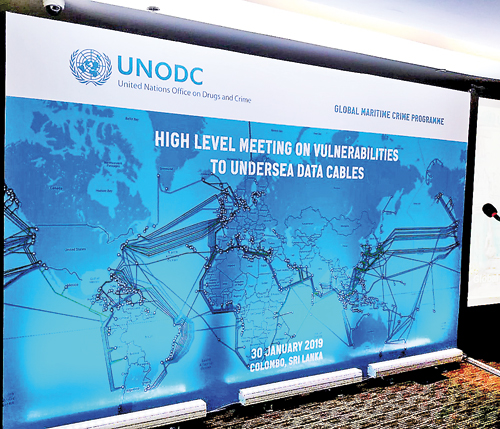 Sri Lanka needs to classify Undersea Data Cables (UDC) that service Sri Lankan communication infrastructure as 'critical national infrastructure' and bring them under local jurisdiction. The recommendation was made last week at a meeting of experts in Colombo, convened by the Global Maritime Crime Programme of the United Nations Office of Drugs and Crime (UNODC). The meeting took place following a request made by Prime Minister Ranil Wickremesinghe at the Indian Ocean: Defining our Future forum in October 2018. The government of Sri Lanka drew regional and global attention to the 'freedom of digital connectivity' with an emphasis on safety and security of UDCs.
Over 95% of global communications occur through fiber optic undersea cables. An estimated USD10 trillion of economic activity moves through submarine cables every day. Given the reliance of States on UDCs for critical state functions from personnel management to financial transactions matters to military communication, it is surprising that almost all of the global network of submarine cables are privately-owned and maintained. Given the importance of UDCs to the global communications network, there is an opportunity for Sri Lanka to take a lead role in a critical issue of global importance, following the government's interest in addressing this issue.
Present domestic and international laws on the use and security of UDCs are inadequate according to a Foreign Ministry official who declined to be named. Due to the fact that the majority of UDC are privately owned, they do not fall under sovereignty jurisdiction of countries beyond territorial waters. "The cables come under Sri Lankan law up to 12 nautical miles, but beyond that we have no legal authority to enforce their security or prosecute any offenders who deliberately or negligently damage them" a Senior Navy source told the Sunday Times. Security experts have expressed concern that damaging UDCs can be an act of terrorism, an attempt of extortion, espionage or a precursor to an attack. Sri Lanka, as a maritime nation, relies significantly on UDC-linked communications infrastructure for trade, communication and financial management, as access to satellite-based communication systems are limited at present.
Since 2010, the United Nations has called for member states to enact laws for the protection of submarine cables, considering them to be critical communication infrastructure. In a resolution adopted by the UN general assembly in December 2018, the global body underscored the importance of the cable network and called for nations to adopt laws and regulations to protect undersea cables and punish those who willfully damage them or damage them due to negligence. "There is an obligation by States to ensure that the cables within their jurisdiction are protected," said Dr Harsha De Silva, non-cabinet minister.
The discussion of experts and regional stakeholders, last week, saw a review of the significance of the cables, the sparse international law on them and limited domestic law regarding their protection. As per the recommendations, there are several measures Sri Lanka needs to expedite. At a national level, Sri Lanka should classify the submarine cables as critical communications infrastructure, making it a part of national infrastructure. Further, a National Action Plan for resilience and protection of the cables needs to be formulated with stakeholder consultation.