Getting the balance just right
By Joshua Surendraraj
View(s):
The key ingredient to every music recording is definitely the artist itself. What differentiates a good song from the rest is the different style and emotions, unique to every artist. Capturing all of this and regenerating it in a compelling form as they flow in the live room however, requires a certain level of skill and experience. And according to David Luchow, who runs his own mixing and mastering studio in Germany, an audio engineer's trade is definitely not one that can be learnt through a mere paper qualification.
The story of David is one that is driven by passion and a long lasting desire to be the best at what he does. It begins in his church, simply because he couldn't handle the music counding "distorted and out of balance."
A younger David thought to himself, that one day he would change the way music sounded in the country. Today, he is committed to coach and empower young producers, recording engineers and mixing engineers in Sri Lanka. In fact we found him conducting a series of workshops at iCreateforU Studios, Wattala.
"I always knew that I wanted to work for me and nobody else." This, kept pushing him towards his dream to produce music, despite all those around him telling him it was a worthless pursuit.
It was definitely not easy, because sometimes "Sri Lankan parents can be more ambitious than you are," he tells us with a laugh. But David stood his ground. His then girlfriend (now wife) was his constant support. She encouraged David to get qualified in the field. This led him to the SAE Institute in London to pursue a degree in Audio Engineering.
Despite the university being reputed though, David was left disappointed with the whole education system. After he got his diploma at the University, David realized he was in a much worse position than when he had started. That's when he decided to quit the degree programme. "For me it was clear that a piece of paper wasn't going to get me to where I wanted to go."
He figured, to pursue his dream, his best option was to get into the industry itself. Sooner, David found a production studio, quite close to his home in Surrey. He approached them for a job as a freelance audio engineer.
After a brief interview with the Audio Director of the studio, he was given the job. "I remember him asking me if I could handle the consoles, to which I replied I could, despite not having much experience on the subject," he tells us with a chuckle.
David was immediately thrown to the deep end, but this taught him so much more than a school ever could. "A school is a very controlled environment, designed for you to pass and feel good. This, eventually leads to failure" he explains adding that the world outside is very different from the classroom.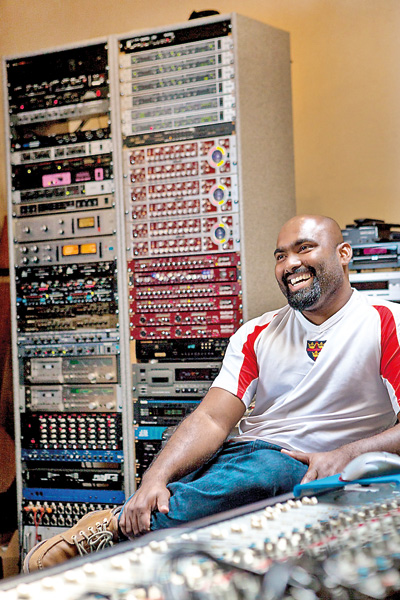 "It's actually a minefield and you have to navigate through the mines." This was just how David learnt to use a microphone, record music, work on time and above all make his dream a reality.
His start was extremely challenging, especially because he knew that if he'd make a mistake at the studio, half of England would know about it, since the studio used to do work for BBC. But, David was a keen learner and his supervisor showed him the ropes of the trade. Within his first week at the studio, David was handling the work by himself.
Back in England, he kept working on his dream by also going to various workshops. Sooner, he got married and moved to Germany in 2011, where his life changed completely, once again.
"I had to start from scratch, especially since it was a completely new language and zero business opportunities," he recalls. David spent a whole year working on the language and looking for jobs, only meeting rejection in the process.
He was on the verge of giving up. "That's the point in life where you know that you'd have to give every last bit of energy into what you want to do and that's where your success lies." This was just what he did and eventually he got an opportunity to work at ZKM Katapult studio, one of the biggest studios in Germany.
He recalls the Audio Director of ZKM calling him for a chat, whilst giving him a prior warning that they had no jobs to offer. The twenty minute conversation went on for two hours straight and by the end of it the director was impressed by how well David could answer his questions.
David left the studio that day, having secured himself a freelance position.
"It was in these moments where you'd feel there's a guardian angel showing you exactly what you need to do to get to where you need to go."
Today, David has worked with some of the biggest names in the industry, including US Jazz legends Fred Wesley and Pee Wee Elis, who played with the late James Brown and the Amrod Brothers etc.
David's story goes to show that sometimes you don't really need a paper qualification to make your dream a reality. The key to it all is in your hands and you just need a leap of faith and a passion for what you do. This is just what saw David's career as an Audio Engineer take off.
"If you believe you can do it, you can do it."
David will be back in Sri Lanka, this February for his next series of workshops.
For more information on his work log on to https://www.davidluchow.com/