'Bumblebee' Transformers back in town
View(s):

The latest of the 'Transformers' series, 'Bumblebee', a sci-fi action movie is now being screened in the theatres in Colombo and the outstations.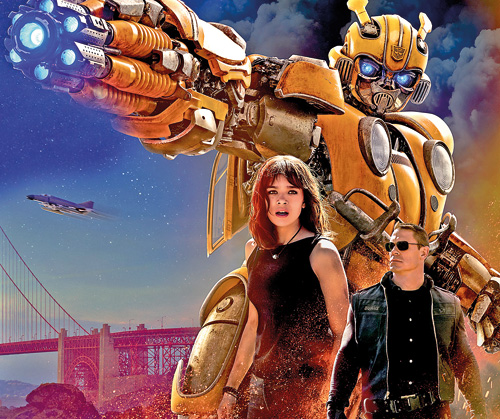 Directed by Travis Knight and written by Christina Hodson, the film stars Hailee Steinfeld, John Cena, Jorge Lendeborg Jr., John Ortiz, Jason Drucker, and Pamela Adlon, with Dylan O'Brien, Angela Bassett, Justin Theroux, and Peter Cullen in voice roles.
On the run in the year 1987, Bumblebee finds refuge in a junkyard in a small Californian beach town. Charlie (Hailee Steinfeld), on the cusp of turning 18 and trying to find her place in the world, discovers Bumblebee, battle-scarred and broken. When Charlie revives him, she quickly learns this is no ordinary, yellow VW bug.
As the film begins, audiences get their first glimpse of the Bumblebee of Cybertron lore. Known as B-127, the bright yellow transformer is a fierce warrior who has fought in a centuries-long conflict between the Autobots and the Decepticons. When all seems lost for the Autobots, B-127 is dispatched to Earth with a mission: Protect the planet and its inhabitants in the hope of establishing a refuge for his comrades.
His arrival is complicated when two Decepticons, Shatter and Dropkick, follow him and launch an attack that endangers Earth's inhabitants, and an American military team decides, understandably, that the alien species is a threat to mankind. Bumblebee attempts to hide from his pursuers disguised as a dilapidated yellow Volkswagen Beetle, but when a teenaged girl named Charlie decides to restore the vehicle, she inadvertently discovers his true identity.
Producer Lorenzo di Bonaventura describes the film as an origin story. "This is Bumblebee's origin story on earth. Since the movie predates the Bay chronology we had the opportunity to do a deeper dive into his character, giving the audience even more reason to fall in love with him.
Director Travis Knight remembers playing with Transformers action figures as a child in the 1980s. An avid fan of the animated television series, he is also a devotee of classic motion pictures of the era, including Spielberg's E.T. the Extra-Terrestrial and the films of John Hughes. "The titans of '80s cinema approached adolescence with great sensitivity, warmth and humour," the director says. "It's a universal struggle we all go through, whether to fit in and seek acceptance or to stand out and forge one's own identity. All these moments, sometimes conflicting, merge into the swirling roil of adolescence."
Knight was especially excited to enter the expansive world of the Transformers and focus on a tiny corner of that universe to tell a more intimate, character-driven and emotional story.
In Colombo 'Bumblebee' is being shown at Scope Cinemas (CCC) ATMOS, Liberty by Scope, Empire, MC Cinemas and Liberty Lite. It is also being screened in a number of cinemas around the country.