SriLankan Chairman's costly interference and botched catering plan at Mattala airport
By Sandun Jayawardana
View(s):
SriLankan Airlines suffered a staggering loss of USD 90, 261 (Rs.14.5 million at today's exchange rate) due to transit passengers missing their connecting flights after former Chairman Nishantha Wickramasinghe overruled a decision by one of the airline's Operations Control Managers to reschedule a flight from Colombo to Paris in January, 2014. This was revealed during this week's sittings of the Commission of Inquiry (CoI) probing alleged irregularities at SriLankan Airlines, SriLankan Catering and Mihin Lanka.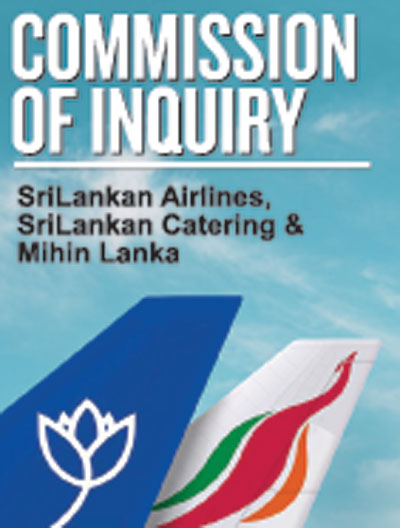 Mr Wickramasinghe had insisted that the flight depart at its earlier scheduled time as some VIPs were on board. However, the passenger manifest of the flight, UL 563, which was submitted to the commission, showed that no VIPs were on that particular flight.
Highlights that came up before the commission this week:
Mr Wickrama-singhe's insistence that UL 563 leave at its earlier scheduled departure time affected 128 passengers who were in transit on multiple aircraft, resulting in SriLankan Airlines having to pay USD 90, 261 for tickets, meals and other facilities to those who missed their connecting flights. It also caused enormous damage to the airline's reputation, witnesses who testified acknowledged.
Dhammika Senanayake, the airline's Operations Control Manager who was on day shift when the incident occurred on January 25, 2014, testified that two aircraft had been unavailable as they were undergoing maintenance. Accordingly, they were one aircraft short to operate morning flights on the European route.
A decision was taken to use one plane that had arrived from Paris the day before to fly to Frankfurt. This was because the Colombo-Frankfurt flight, UL 553, had a higher number of transit passengers who were scheduled to fly to other destinations such as USA and Canada onward from Frankfurt.
Accordingly, a decision was made to delay the Colombo-Paris flight, UL 563, to enable the Frankfurt flight to leave on schedule. Meanwhile, another SriLankan Airlines flight coming from Male was also delayed. This flight was bringing a further 75 transit passengers who were on route to Paris, and this made the case for delaying the Paris flight even stronger since those passengers, too, would have been able to take the delayed flight, Mr Senanayake further stressed.
After learning of the rescheduling, however, Mr Senanayake testified that the chairman called him and insisted that UL 563 be rescheduled to depart on time, claiming that a number of VIPs were on it. Mr Senanayake said that he explained to the chairman his rationale for rescheduling the flight and pointed out that more than 75 passengers would miss their onward connections if the Paris flight was reinstated. However, the chairman was adamant that his instructions be followed, the witness told the commission.
Mr Senanayake stated that he complied with the order and informed of the change to his colleague, Nishantha Handapangoda, who took over the night shift.
Mr Handapangoda, who also gave evidence after Mr Senanayake, stated that the airline had to spend USD 4436 on tickets and meals for a group of passengers from the delayed flight from Male to be put on a China Eastern Airlines flight to Colombo, while a further USD 85, 475 had to be borne to buy tickets for passengers who missed their connecting flights. Altogether, 128 passengers were affected, with the airline losing USD 90,261.
Mr Senanayake and Mr Hadapangoda, who have 33 and 27 years of experience respectively with the airline, told the CoI that there was a chain of command that had to be followed and it was the first time a chairman had personally intervened to overrule a decision by an Operations Control Manager.
Though Mr Wickramasinghe had cited the presence of some VIPs, UL 563's passenger manifest did not indicate any VIPs were on board.
The January 25, 2014 incident came four days after Mr Wickramasinghe had a UL flight from Kuala Lumpur to Colombo with 124 passengers diverted to Singapore to pick up a "VIP delegation." However, apart from Minister Dr Sarath Amunugama, the only other people picked up by the diverted flight had been the chairman and his wife.
SriLankan Airlines had not conducted an evaluation of share value before deciding to buy back 40 million shares of SriLankan Catering at Rs. 100 per share, at a cost of Rs.4 billion on September 1, 2009.
SriLankan Catering earlier had one million shares which were valued at Rs. 1 each before a share split increased it to 100 million. SriLankan Airlines Board of Directors had then made a decision to buy back 40 million of those 100 million shares at Rs.100 per share.
It was pointed out by the CoI that the decision to increase the number of shares to 100 million and to buy back 40 million of them had been taken on the same day. The commission queried as to how the price of a single share suddenly went from Rs.1 to Rs.100 and whether a share evaluation had been done before deciding on the price. Nalaka Sanjeewa, Manager – Finance SriLankan Catering, told the CoI that the airline's Board of Directors had made the decision to purchase the shares at that value and, to his knowledge, no share valuation was conducted prior to arriving at the decision.
Shares of SriLankan Catering had later been increased to 900 million through a subdivision of shares in 2011. Company Secretary Dalrene Thirukumar told the commission that she could not find a Board Paper that explained why the subdivision of shares of SriLankan Catering was necessary. The commission directed the witness to look for such a document and report back.
The CoI observed that overall, the issuance of its shares had not benefited SriLankan Catering, with most of the funds going to the parent company, SriLankan Airlines.
SriLankan Airlines suffered a loss of at least Rs.28 million due to a botched plan to build a flight kitchen for SriLankan Catering at the Mattala Rajapaksa International Airport (MRIA).
In 2012, the airline's Board of Directors had approved the construction of a flight kitchen at MRIA at a cost of USD 3 million. Reading from Board Minutes, Company Secretary, Ms Thirukumar told the commission that in November, 2014, the Directors had voiced concern about the construction of a building for the kitchen following a study of the project by the University of Moratuwa. Accordingly, the Board Minutes revealed that it had been agreed that the partially constructed wall should be torn down. There were no documents available to state whether damages were sought from the contractor.
SriLankan Catering Manager – Finance, Nalaka Sanjeewa said he conducted a feasibility study on the MRIA flight kitchen and concluded that it would start making profits after five years. He said he came to the conclusion based on several assumptions. He said he was told that three flights would be operated to Mattala. However, this did not happen and that was one of the reasons for the project to be abandoned.
The airline had already utilized USD 847, 000 allocated for the project by the time it was abandoned. The construction cost was recovered because the airline had two bank guarantees. However, it had already ordered Rs.56 million worth of equipment for the inflight kitchen.
Mr Sanjeewa told the commission that SriLankan Catering had been able to utilize half of the equipment. However, the other half was still idling at the company's warehouses.
The CoI comprises Retired Supreme Court Justice Anil Gooneratne (Chairman), Court of Appeal Judge Gamini Rohan Amarasekara, Retired High Court Judge Piyasena Ranasinghe, Retired Deputy Auditor General Don Anthony Harold and Sri Lanka Accounting & Auditing Standards Monitoring Board Director General Wasantha Jayaseeli Kapugama.