Adding fuel to the public ire over rising cost of living
By Kasun Warakapitiya
The flow-on-effect of three fuel price increases in recent months have sent prices of several goods and services soaring higher and higher - The Sunday Times insight on how ordinary people are struggling to cope with the rising cost of living
View(s):
A three-time fuel price increase within a short period of four months has snowballed into price hikes in a variety of goods and services.
A packet of rice — the common man's food — that was sold at Rs 120 a few months ago has gone up by twenty rupees. Though bread remains at the old price of Rs 55 a loaf, prices of pastry items have increased by five rupees and bun by a rupee.
Taxi fares for a trip from Colombo Fort to the Bandaranaike International Airport, both in four-wheel vehicles and three wheeler scooters, have gone up by Rs 600.
Four months ago, it was Rs 2,200 a drop from the Airport to Colombo Fort in an airport taxi, and now the same hire costs Rs 2,800. A reputed tax company said it has adjusted its prices by Rs 4 a kilometre.
On May 10, fuel prices were increased. The price of a litre of Octane 92 petrol was increased from Rs 117 to Rs 137, and a litre of Lanka Auto Diesel from Rs 95 to Rs 109. The prices were increased again on July 5, with the price of a litre of Octane 92 petrol going up by Rs 8 to Rs 145. The price of a litre of Auto Diesel was increased by Rs 9 and went up to 118. Early this month, fuel prices were increased for the third time in as many months. Though the price revision saw no change in Octane 92 petrol, Octane 95 petrol and supper diesel prices were increased by Rs. 2 and Rs. 1 respectively.
Sudesh Kumara who sells packets of rice to bus operators at Pettah told the Sunday Times that he found it difficult to sell the packs at Rs. 140 because he had to now bear a higher transport cost. A packet of rice he sells comes with four curries including fish or chicken.
Thirty-four-year-old Kumara, a Colombo resident, pays a daily rent of Rs. 1,900 for the small shed where he and his wife sell packets of rice. He said that to survive in the business, instead of increasing the price of his packets of rice or reducing the quantity of the rice, he was forced to go for cheap vegetables. He said his customers would not buy the packet if he were to reduce the quantity of rice. Other sellers also have adopted the same method.
The Sunday Times investigation reveals that instead of the expensive bean, carrot and brinjal, most eateries are now serving cheaper vegetables or such as pumpkin, manioc, plantain flower, cucumber (as a salad) and leafy vegetable or mallum.

The rise in cost of living is not a concern only for the city people. Even in outstations prices of several items have gone up as a result of the increased cost of transportation when items are brought from Colombo.
Bus drivers now charge Rs. 400 to carry a small cardboard box (2X2ft) from Colombo to Jaffna and vice versa. A few months ago, they charged Rs. 350.
Bus driver Mano said that because of the higher cost of operating buses after the fuel price increase, bus owners had slashed or stopped the commission paid to drivers from the profit. He said that in addition to his daily pay of Rs. 1,300, he was getting a daily commission of Rs. 500 to Rs. 800. But now the owner had stopped paying the commission saying he was not making profits.
The bus fares were increased on July 1, but fuel prices were increased for the second time thereafter resulting in losses for bus operators.
P.P Sunimal (38), a driver of a private air-conditioned bus operating on the Anamaduwa-Colombo route, said he used the expensive super diesel to ensure a trouble-free run of his vehicle, and the recent fuel price increases were eating into the daily collection. After the first fuel price hike in May, he said the ticket price was increased from Rs 335 to Rs 375, but it remained the same even after the subsequent fuel price hikes.
Also complaining about high fuel costs and a dip in profits are three-wheel operators. After the May fuel price hike, the minimum charge for the first kilometre was raised from Rs. 50 to Rs. 60, and every kilometre after that went up by Rs. 5.
Pettah three-wheeler operator, W.P Victor (48) said he now skipped his lunch to save Rs 200 to bear his daily fuel cost of Rs. 1,000.
He said he normally got short-distance hires of Rs 60 but had to spend hours in traffic, wasting fuel.
"My life is spent on the streets but only get about 10 hires a day. There are days when I can't even earn enough to meet my fuel cost," he said, adding that he stopped using the meter as he found it was not profitable even after the fare increase.
With the fuel price increase, school and staff van operators have also increased the fares.
Among the other transport fare increase has been the fares for school and office vans.
School bus operators union chairman N.M.K. Harischandra Padmasiri said they only raised the fee by a small amount and were now struggling to continue the service.
"School van fares were increased based on the distance. Now I charge Rs 4,000 for a child who travels from Kadawatha to Colombo. Earlier it was Rs 3,700.", he said.
"I earn about Rs 80,000 from 20 students who travel in my school van. But I now hardly earn a profit as I have to incur Rs. 20,000 maintenance cost, a fuel cost of Rs. 30,000 a month and Rs 10,000 for a woman employee who takes care of the small children. I am left with only a meagre Rs 20,000 a month," he said.
The Sunday Times also learns that despite a good vegetable harvest, prices have not come down as much as they should have been. This is, according to the Central Bank's daily report on food prices, largely due to the fuel price hike.
At the Pettah market, the price of a kilo of carrot was Rs 200 three months ago. On Friday, it was Rs. 263 and cabbage which was selling at Rs 73 was, on Friday, selling at Rs 140.
At the Dambulla market, a coconut can be bought at Rs 48 but at the Pettah market it is sold for Rs 60. The 12-rupeee increase is largely owing to the higher transport cost.
Kapugamage Laxman Silva who supplies vegetables to shops at Borella and Wanathamulla said he found it difficult to earn a living by supplying vegetables to retail shops because of the higher transport cost and the higher vegetable prices at the Pettah wholesale market.
He explained that he sometimes had to borrow money to buy vegetables as the money he earned was not enough to run his house and pay for the education and tuition fees of his daughter who was sitting her Advanced Level exams.
Many parents like him have also felt the domino effect of the fuel price hike and are complaining about the recent hike in tuition fees.
Some tuition masters who were charging Rs 500 an hour have increased the fee to Rs 750.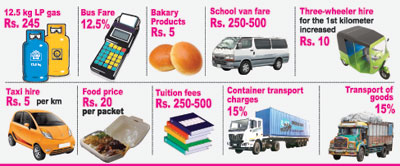 Gampaha tuition Master Yasnajana Upendra said he had to travel in his car to various locations to conduct his classes and, therefore, he had to increase the fees to cope with the increase in the transport cost and the cost of living.
Breadwinners, when asked for their comments on the price increases, reacted angrily.
Dharmadasa Dias said that he was in his seventies and was forced to work as a store keeper in a private school because his family was struggling to meet the increasing living costs.
He travels in public transport five days a week from Hokandara to the school in Colombo.
He said elderly people should not be working, but he could not afford to stay at home because he had to look after his wife and support his grownup children to pay at least their utility bills.
A.V. Saman who travels from Alawwa to sell pineapples in Colombo said that at the end of the day, he hardly made any profits after meeting his transport and meal costs. So he has decided to increase the price of a small bag of chopped pineapple from Rs. 30 to Rs. 40.
Chilaw fisherman Augustine Perera (46), the breadwinner of a family of three, said the kerosene price increase had hit them hard and, therefore, they had no option but to ncrease fish prices.
"During the past few months we have been affected by the bad weather and the catch was not great. The fuel price increase came at a time when we were facing the effects of the bad weather. So we felt it was a big blow to us," he said.
The flow-on effects of the fuel price hike will invariably have a subtle overall impact in the coming months in the form of price hikes in goods and services.
The increase in the price of fuel may have contributed to an increase in the inflation rate, a recent Central Bank press release said.
"Inflation, which remained in low-single digits during the period February-June 2018, accelerated in July 2018 as expected. This was mainly due to the recent transitory price pressures stemming from upwards adjustments to the domestic petroleum prices and higher volatile food prices, as well as the base effect," the Central Bank said.
Electricity tariffs may not go up: Power and Energy Ministry Secretary

Power and Energy Ministry Secretary Suren Batagoda, commenting on possible effect of the fuel price hike on power generation says, "Fuel for power generation is heavily subsidised" and there has not been an increase in the electricity unit cost in six years, despite the high fuel costs.

Dr. Batagoda says there are no plans at the moment to increase electricity rates. "The treasury will absorb the increase in cost of power generation" he says, though such moves to absorb losses will likely place a further burden on the public in the long run.

A Finance Ministry official says the Cabinet-appointed committee comprising representatives from the CPC and the Petroleum Ministry meet once a month to review the fuel prices in terms of the approved pricing formula. Accordingly, prices are revised in response to the increase in price of crude oil in the international markets.
The impact of fuel price hike on different sectors

All Ceylon Farmers Federation National Organiser Namal Karunarathnem has said the recent fuel price increases have severely affected farmers, too, as they use kerosene for water pumps and lamps they use when they keep watch.

In addition, most farmers are paying more to hire tractors and agriculture machinery as they are run by diesel or kerosene, he says, blaming the authorities for not doing enough to help farmers.

He says that even in the transport of their produce to the market, they now incur a bigger cost.

AlI-Island Three-Wheeler Drivers Union leader Lalith Dharmasekara says the ad hoc changes to fuel prices have put three-wheeler drivers in a dire situation.

He says the three-wheelers with meters are now charging Rs. 60 for the first kilometre though the fare hike is hardly enough to meet the rising living costs. Several phone-app-based taxi services also have revised their charges

Mr. Dharmasekara says the Government is fumbling with the regulatory system which three-wheeler drives want implemented. There was a Fare Review Committee established in the 2013 but the Transport Ministry dissolved it in 2017, leaving three-wheeler operators without a say in the fare increase.

All Island Bakery Association President N.K. Jayawardana says they are still awaiting the opportunity to meet the relevant authorities to discuss a price increase in bread and other bakery items.

Bakers are incurring losses due to the impact of the fuel price hike, he says.

Container transporters Association President Nimal Amarasekara says the industry is suffering significant losses due to the diesel price hike.

The price of diesel has increased 24 percent in recent months. He says the industry is now going through a lull due to the low import-export demand, and, therefore, the organisation will defer its decision to raise the fares charged from shippers.

The current base rate to transport a 40-foot container within Colombo remains at Rs. 13,000 and it has not been revised for a long time, he says.

"We receive no concessions from the Government. The fuel price hike hurt us directly and indirectly. The prices of tyres and spare parts have gone up," he adds.

Prakrama Dassanayaka, Managing Director of the popular bakery chain Perera and Sons (PnS) speaking to the Sunday Times says prices of selected bakery items will be increased from September 1 as their production cost has increased by 7 percent following the fuel price increase. The company uses diesel-run ovens and operates a big fleet of vehicles to transport its bakery items to outlets in several parts of the country.