Heavy fines in play despite bus driver agitation
By Shaadya Ismail
View(s):
The traffic police has deployed extra police personnel with the introduction of the new fine system from July 15, in a fresh attempt to keep the number of vehicle accidents low in the country where over 3,000 people are killed annually in road traffic accidents.
The move comes amid an abortive attempt by private bus drivers to scuttle transport services demanding that the government reduce higher traffic fines.
The Transport Ministry and the police have ruled out a review of the fines, and instead are stepping up measures to enforce the fines.
"Special areas have been identified by the area police stations and officers are deployed 24 hours on three shifts,'' Traffic Administration and Road Safety Director, SP Indika Hapugoda said.
According to him, the first charge sheet for traffic fines was issued in 1981, and the fine for the offence of speeding was Rs 200, and 24 years later a new charge sheet was issued where the fine for speeding was Rs1,000. And this year, the fine for speeding is Rs 3,000.
SP Hapugoda pointed out that the decision by bus drivers to launch a strike during the A/L examinations was very unreasonable.
"They are only concerned about their demands disregarding their services to the public. How is this fine unreasonable? Fines are introduced in a country to put things in place,'' he said.
The fines that came into effect from July 15 has reduced the number of accidents, said SP Hapugoda.
He emphasised that if bus drivers start driving their vehicles carefully, conforming to road rules, then there would be no necessity to pay a fine.
According to traffic police statistics, from January 1 to June 30 last year, there were 85 fatal accidents caused by private buses and 25 caused by SLTB buses. Lorries were responsible for 182 fatal accidents, while container trucks were involved in causing 10 fatal accidents.
From January 1 to June 30 this year, there were 103 fatal accidents caused by private buses and 31 fatal accidents caused by SLTB buses. Another 155 fatal accidents were caused by lorries while container trucks caused six fatal accidents.
"We will only accept the new charge sheet on the condition that roadways are improved and developed,'' the organizer of the All Ceylon Private Bus Workers' Association, U K Kumarartne Renuka said. He pointed out that roads must have CCTV cameras and roads must have at least four lanes.
He said that bus owners accept the new fines because they are not affected by it. "If we don't pay the owners their stipulated amounts they are not happy with us, and if we don't find extra money our families will go without meals,'' he said.
According to Mr Renuka, apart from the money given to the owners, part of the balance is spent on fuel and meals. The remainder is divided between the driver and the conductor – a meagre sum.
"We are not opposing the fines system, but to implement such heavy fines the road conditions must also be of commendable standards,'' he said.
Inter-Provincial Private Bus Owners' Association president Sarath Vijitha Kumara told the Sunday Times that, although they did not get involved in the bus strike so as not to inconvenience A/L exam candidates, the fines must be rectified.
"There is no discipline on the roads, and it is important to have fines. But there is also a problem with the road conditions,'' he said.
Mr Kumara said that there is a practical problem for drivers to pay such a huge fine in comparison to the amount of money they earn daily.
He suggested that, apart from imposing traffic fines, the roads must be improved and the speed limits modified.
Meanwhile, the chairman of the Lanka Private Bus Owners' Association, Gamunu Wijeratne, said that there should be a fine system to bring about discipline on the roads.
He said that his union has not called for a strike due to the inconvenience it can cause to the A/L students.
"As bus owners, we face a lot of problems when an accident happens. There are times when deaths occur due to an accident and we have to appear in courts every now and then,'' he said.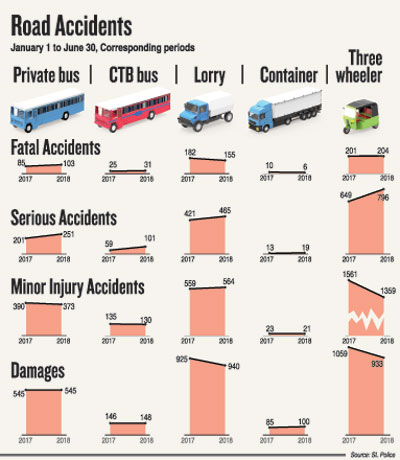 Mr. Wijeratne believes that the new fine system is an initial move to help reduce future fatalities.
Meanwhile Transport Ministry Secretary G S Withanage said no one had initially come forward and opposed the new fine system.
"Once a law is passed it cannot be changed according to personal whims and fancies. These demands are very unreasonable,'' he said.
According to him the purpose of fines is to produce good drivers who follow road rules and are aware of public safety.
"There has been an increase in bus accidents. This is an initiative to help curb the number of accidents,'' he said.