Artist of 70s romantic comic strip "Ithin Eeta Passe" passes away
View(s):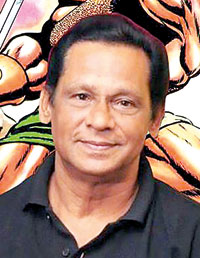 Balangoda Sarath Baddage better known as Balangoda Sarath Madhu who popularized comic strip romance in the country with his endearing love story of Dedunu and Kelum in "Ithin Eeta Passe" passed away on Friday at the age of 69.
Baddage began his career as a science teacher but his passion for art led him to the world of comics. While his drawings appeared in numerous publications, he is best remembered for his story "Ithin Eeta Passe", the characters of which became household name in the 1970s. It was later made into a tele drama that ran for more than 100 episodes.
His comic strips appeared in a host of newspapers including Siththara, Situwama, and Dasuna and in a comic paper he founded named Hithawatha.
His remains are lying at his residence, No 154/8 Namal Uyana Para, Navinna, Maharagama and his funeral will be held tomorrow (August 20) at the Udahamulla Cemetery.