Kele: Savour this sanctuary after the safari
By Ajit St John
View(s):
Once you get to Kataragama town, take the Sithulpauwa road and turn left at a sign that simply says "Kele". Follow the signs from there and you will arrive at "Kele", a jungle retreat, the creation of owners Nishani and Vasantha Wanigasooriya. It comprises three chalets with six rooms and can accommodate three persons in each room. Thoughtfully designed and constructed to minimize impact on the surrounding bush, the chalets are on stilts and allow a through-flow of air and protection from "creepy crawlies".
Nishani and Vasantha being wildlife enthusiasts, wanted a place "far from the madding crowd" and one that could be a haven for wildlife, and the name "Kele" came from their love of the jungles where every opportunity they had, would be spent. Places like Yala and other national parks would be their regular haunt.
They tell me the design of the chalets just came to them, whilst dining at a restaurant and was drawn on a serviette. It grew to what is now "Kele".
"Kele" is now very much a jungle and nature-themed hideaway. The jungle around being retained the way it was meant to be, not cleared to be replaced by manicured lawns and exotic plants. The chalets blend well with their surroundings and have every comfort one could want to relax in and look forward to returning to after a safari.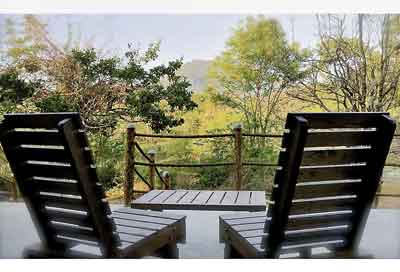 The decor is in earthy tones and wood is a prominent feature. All rooms are well proportioned and are equipped with tea / coffee-making facilities, mini bar, A/C, fan and hot and cold water. Stunning wildlife pictures, mostly taken by Vasantha adorn the walls. The bathrooms are large and have a shower that is a highlight – designed to simulate a waterfall! The water pours from one stone spout to a bigger one just below it and cascades over you. What better way to wash away the dust and fatigue of a safari! Laundry facilities are also available.
The pool invites you to a dip at all times of the day and takes on a new dimension at night, fitted with 250 fibre optic lights that change colours. With the spangled sky above, you would indeed find it difficult to drag yourself way from the scene!
The cuisine at "Kele" is excellent with Nishani personally preparing and supervising the delectable array of dishes; western, eastern and typical Sri Lankan cuisine is also on offer. You will therefore be forgiven for skipping a safari to leisurely indulge! Dining here has somewhat of an "Out of Africa" feel! You walk from your room along a kerosene lantern lit gravel path to the dining area. If it is a night for a barbeque, you will see that two-tiered meshed tray contraption suspended over the flames is in full use. The bottom level closest to the flames is to sear and seal the meats and the upper level and the upper level to cook. This suspended barbeque can be tilted and swung for even cooking. The pit is made of "humbas matti" or mud from the termite mounds and coconut shells provide the fuel to complete the job. The result, succulent and well cooked meats!
For those who would like to leave early in the morning and spend a full day at Yala, a picnic breakfast + lunch can be provided on request.
Whilst only being opened for a little over two months, Kele has a lot going for it. It is a mere ten minutes from Kataragama and the Kirivehera temple, 20 minutes from Wedihiti Kanda and 30 minutes from Situlpauwa temple. Better still the Katagamuwa entrance to the Yala National Park is only 15 minutes away and is definitely the best way to avoid the rush and crush at the Palatupana main entrance.
Having stayed at "Kele" for three nights and visiting the Park every day, I was amazed at the difference – the Katagamuwa entrance had a handful of vehicles entering via that route, resulting in some very good wildlife viewing as both the visitors and animals were less disturbed. On the first day alone, I saw a leopard stretched out on a ledge on Modara Gala. Close up encounters with jackal and elephants including the tusker "Gemunu", followed by numerous sightings of buffaloes, crocodile, deer and peacock.
It is clear that "Kele" is a labour of love by both Nishani and Vasantha. They are wonderful hosts and go out of their way to ensure that their guests have a memorable stay. They are passionate about the product they offer and the glowing tributes on "bookings.com" etc is testimony of this!
"Kele" offers the best of both worlds, easy access to civilizations and places of historic interest, whilst offering nature lovers or jaded city dwellers a place to relax, unwind and commune with nature. I am sure you will as I did, find your own sanctuary at "Kele".
E-mail – info@keleyala.com  Web – www.keleyala.com