Jaffna comes to Colombo once again
By Joshua Surendraraj
View(s):
Celebrating diversity, cuisine and culture, for the second year running, Cinnamon Grand Hotel, Colombo brings you the Jaffna Festival, which enters its last day today (25). Experiencing the festival in full swing, it was certainly different to what one would usually find in any five star hotel in Colombo. A quick stroll through the lobby, past the Cheers pub and into Cinnamon Grand's village in the city, the sound of Tamil music is your first hint of what's in store. I was greeted with a warm traditional welcome, where a bright eyed hostess applied Kumkum and Vibuthi on my forehead.
A string of lights lit up the pathway to the main buffet area, while several market stores lined up on either side, were selling produce from Jaffna. One of them also contained fresh vegetables from the area.  The huts were draped with Palmyrah leaves, while several push bicycles on the side of the trees gave a glimpse of life in Jaffna.
Several dummy horse dancers were quick to take to the floor, – with the 'Nakkappu Gramiya Kalai Kulu' dance troupe from Jaffna moving in unison to the beat, whilst manoeuvering their replica horses effortlessly.
Heading to the food I made my way to the 'Jaffna Kool' counter. The soup, as one would call it, packs in a range of complex flavours, all in one sip. Some of its main ingredients include Palmyrah flour, jak, blue swimmer crabs, prawns, boneless fish fillets and different spices etc. It was served in a perfectly clean coconut shell.
Then it was over to the buffet.  This comprised a variety of dishes (70 to be exact) all of them exclusive to Jaffna prepared by several ladies from Jaffna, using traditional recipes that have been passed down for generations. This type of cooking is only found in homes that still make their own spices etc.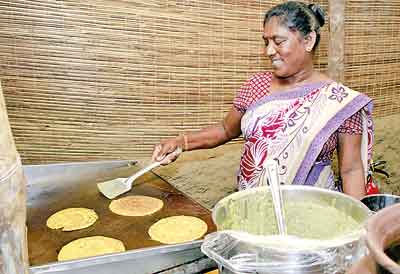 The feast included dishes such as spinach pittu, string hoppers, rice, brinjal white curry, onion fenugreek curry, elephant yam curry, thuvaram dhal curry, mullet fish curry, prawn curry, shark mallum, stingray fish curry, beef curry, cuttlefish curry and chicken curry, to name a few, not forgetting the fried prawns, fish and cuttlefish that was sheer temptation. Right next to the main food area, was a hopper action station, comprising milk hoppers and Dosai, and if you were looking for different textures in your plate, this was certainly a go to option.
The dessert station was another highlight of the event, including desserts such as Rio Ice cream, Pinatu (which tastes like kavum), laddu, mango and jak.
"We're very proud that we're able to bring different communities together through food and music, while creating that Jaffna experience right here in Colombo," Tharika Goonathilake, the head of marketing and communications- city hotels (Cinnamon Hotels) said.
As I moved on from the food, a story that inspired me that evening was the one told by the ladies from Punkudutivu Island in Jaffna who ran the market stalls at the festival. Over the years they have overcome several difficulties, particularly owing to the war. Most of them are single parents  who have courageouslye gone on with their own ways of making a living to bring up their families, Tharika tells me. Their stalls sold Palmyrah handicrafts and also spices etc. and the hotel does not charge any commission from them.
That's the significance  of the festival.
The festival will serve both lunch and dinner today at  Rs. 2,850/ nett per head.
Call 011-2497468 for
reservations
For more info log on to their Facebook page at-  https://www.facebook.com/CinnamonGrandC/