Dr. Rahim made Fellow of the Royal Australian College of Surgeons
View(s):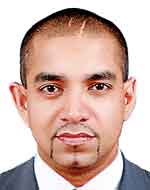 Former Royal College and Sri Lanka  Junior National rugby coloursman, Dr. Reza Rahim, successfully completed the Fellowship Examination in Orthopaedic surgery and is now a Fellow of the Royal Australian College of Surgeons with his sub-speciality being spinal disorders.
After his initial training at Prince Alfred and Royal Melbourne hospitals in Victoria, Dr. Rahim completed his Orthopaedic advanced training in New South Wales in January 2017. He has also completed fellowships  locally and Internationally in this field.
Reza played rugby football for Royal College in the 50th Bradby Shield encounter in 1994. In 1995, playing for Royal College, he was selected to represent the Sri Lanka Junior National team in the first Junior Rugby Asiad in Taiwan.
Reza is the son of another former Royal College rugby coloursman, Branu Rahim and wife Patsy and the brother of 1999 Royal rugby skipper Dinesh Rahim.