Star Wars tops UK box office
Star Wars: The Last Jedi
View(s):
Racing ahead of all the UK box office in 2017, latest of the Star Wars series 'The Last Jedi' placed in number in the last week of 2017.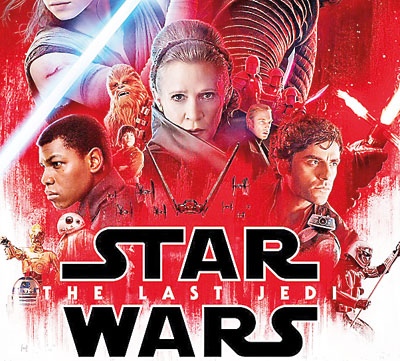 The film was also ranked among the Top 20 films at the box office in 2017
Written and directed by Rian Johnson, the film is the second in the Star Wars sequel trilogy, following Star Wars: The Force Awakens in 2015.
Produced by Lucasfilm and distributed by Walt Disney Studios Motion Pictures, the film narrates around Rey who develops her newly discovered abilities with the guidance of Luke Skywalker, who is unsettled by the strength of her powers. Meanwhile, the Resistance prepares to do battle with the First Order.
Luke Skywalker's peaceful and solitary existence gets upended when he encounters Rey, a young woman who shows strong signs of the Force. Her desire to learn the ways of the Jedi forces Luke to take a decision that changes their lives forever. Meanwhile, Kylo Ren and General Hux lead the First Order in an all-out assault against Leia and the Resistance for supremacy of the galaxy.
The film stars Mark Hamill, Carrie Fisher, Adam Driver, Daisy Ridley, John Boyega, Oscar Isaac, Andy Serkis, Lupita Nyong'o, Domhnall Gleeson, Anthony Daniels, and Gwendoline Christie in returning roles, with Kelly Marie Tran, Laura Dern, and Benicio del Toro joining the cast.