Making spirits bright this season
A popular plant for this time of year, the humble Poinsettia needs only a bit of care to last the whole year through as Kaveesha Fernando finds out
View(s):
We are all familiar with poinsettias, if only through the Christmas ornaments which can be found in abundance during the season. Although not as abundant, the poinsettia plant is sold in Sri Lanka during the season and its red leaves are sure to make the season extra festive.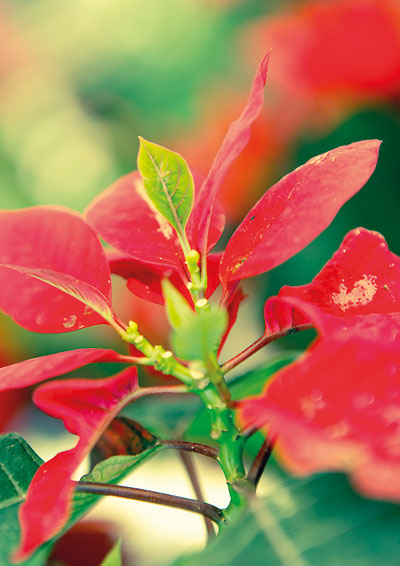 Poinsettia, or Euphorbia pulcherrima, is native to Central America and Mexico. The plant's name comes from the first American envoy to Mexico Joel R. Poinsett, who first introduced the plant to the United States. The red part of the plant is not actually a flower, but is instead what is known as a bract – a modified leaf which often holds flowers in its midst. The small clusters of yellow, green and red in the middle are the actual flowers of the plant. Poinsettias can be found in several different colours, including yellow, white, pink and maroon, although the distinct red variety is the most popular. It is said that the brightly coloured leaves of the poinsettia plant attract insects to the flowers in the middle, thus ensuring that pollination takes place. The bracts stay coloured only for a few months in most places including Sri Lanka, where they only stay in colour from October to December, we learn, after which the bracts turn green.
Owner of Sevana Plants, Moratuwa Sumedha Silva explains that there are two popular types of Poinsettia sold in Sri Lanka which are of different quality. Among other differences, the bracts of plants grown in Sri Lanka turn green much faster, lasting only from November to January while the plants sourced from Bankok for instance remain in colour from August to February or March. His plants are priced at Rs. 2,800 on average.
In Sri Lanka, poinsettias grow best in colder climes, which is why the plant is often grown in the central hill country in areas such as Bandarawela and Balangoda. The plants are transported to Colombo, where they are sold in many places, including Diyatha Uyana plant sale at Battaramulla. Colombo is a good place to grow plants because of its mild climate, we learn. "Mewa Colombath wawanna puluwan mokada me dawaswala Colombath siithalai (these plants can be grown in Colombo also because Colombo is also cold these days)," explains E.P. Mallika Karunasili, who sells poinsettia plants at Diyatha Uyana. She says that sales were at their peak in early December, although the plants will be available till the end of the month. Her biggest and best plants were sold for Rs. 5000, while the smaller ones were sold at different prices – starting from Rs. 1000. The bigger plants are sold in bright red pots which are festively decorated with white faux fur and gold bells, making them an appealing gift.
Noel Chaminda also agrees with Mallika's views, saying the plant grown in Sri Lanka is of good quality if looked after properly. Chaminda, who grows his plants in Badulla, says that while a stray plant will grow well even on its own, in Colombo they must be looked after carefully. "In Colombo you should start adding fertilizer in September and from that time if you look after it carefully it will change colour faster and last about four months," he says. Chaminda's plants sell for varying prices starting from Rs. 300.
N. Wijesiriwardene explains that watering the plant is important. "You water the plant daily and keep it under direct sunlight and add fertilizer (green nitrogen fertlizer) once in three weeks and that's all," he says. If the plant cannot be kept in direct sunlight, it can be kept inside – as long as it's also kept outside for a sufficient amount of time (a few hours) daily, we learn. His plants are usually priced between Rs. 1500 and 2000.
Diyatha Uyana is a great place to buy poinsettia not only because there are several vendors at the same place but also because the green nitrogen fertilizer is available right in front of some of the stalls which sell poinsettia. 200g of fertilizer is sold at Rs. 70, and might be sufficient to maintain a plant throughout the season because a plant only requires one or two teaspoons of fertilizer every three weeks.
From Mexico during the time of the Mayans to modern day Sri Lanka at Christmastime, the poinsettia plant has undoubtedly remained a popular plant throughout the ages, with the plant being sold across the globe today. Although rarely found for sale in Sri Lanka, the bright red bracts of the poinsettia are sure to invoke festive cheer wherever they go.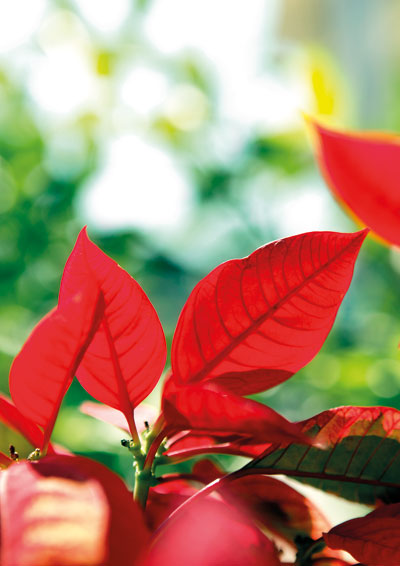 The Diyatha Uyana plant sale is open from Friday to Sunday from 9am to 9pm. Some of the sellers plan to finish selling their plants by Christmas Eve, so today might be your last chance to buy one. Sevana Plants is located at Main Street, Moratuwa – opposite the Moratuwa police station and could be another option to find these gorgeous plants.