Seheni makes writing debut with 'The Chameleon'
View(s):

At 16, young author Seheni Hisara Kariyawasan has just launched her debut novel 'The Chameleon'.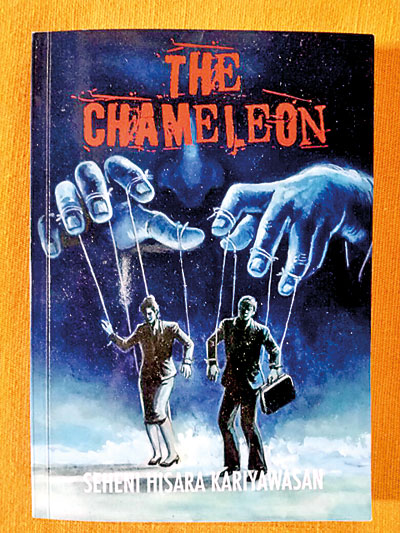 In this suspenseful two-part thriller, we follow detective Cole Wallen and his team as they attempt to extricate themselves from a tangled web of intrigue and unsolvable cases- to unmask the serial killer behind a random (or not so random) spree of homicides.
A former Bishopian and current student of Asian International School (AIS), Seheni is an avid reader, her bookcase filled with crime and mystery novels and series like Game of Thrones, the Shadowhunter chronicles, Lemony Snicket's A Series of Unfortunate Events and Stephen King books to name a few.
Her reading had to come to somewhat of a halt these past weeks as she was sitting for her O'Levels but earlier she was finishing a book a week. "I can't put a book down," she admits, willing her exams to 'hurry up and finish' so that she can start reading Stephen King's "It". "I've read pretty much all his books, 'The Shining'," her favourite to date.
As Seheni dashes off to catch her dog Pluto, her mother Kumudini speaks of how even as a child Seheni had an active imagination, role playing with her grandmother, various characters from their imaginations, movies or books, and constructing makeshift forts and play areas. Around 7, she was gifted her first 'The Little House on the Prairie' series – a special edition with lovely pictures and "From there onwards there was no stopping her," Kumudini laughs. Around 7 or 8 years she wrote her first collection of poems, titled "Joys of Childhood".
When she switched from Bishop's to AIS, her writing becoming a 'project' of sorts to keep herself occupied as she settled into her new school. Her first draft for 'The Chameleon' was written in 2015 and the second completed at the beginning of this year. She put her heart and soul into researching 'The Chameleon' with her second draft more in-depth with intricate character backstories and a solid structure and plotline, even sending out a questionnaire to her friends and family for their feedback.
'The Chameleon' was a dream turned reality for her – literally. Having awoken with a character, now called Resident 87 in her novel, Seheni immediately narrated her dream to her best friend from school. The two built on the character and story line. This was a usual occurrence between the two friends as they would "never listen in class" and instead envision stories and characters which they would act out when free.
A dog lover, Seheni's book is dedicated to her "childhood companion – Teddy", her Labrador who is no more.
Although she always wanted to write a novel – the concept of publishing it "hasn't really sunk in" she admits. Feedback and support are the pillars of strength and motivational drivers for this young teen. She remembers gifting a manuscript of two chapters of one of her past works to a teacher only to receive a mediocre response – squelching her desire to write for a brief period. At present though, scoring high marks for literature, she is constantly scribbling creative pieces for competitions. The opinions of her teachers, friends and family, she says, mean the world to her writing.
'The Chameleon', is a "very complicated" piece with many robustly structured storylines, shocking connections and mind boggling revelations, Seheni reveals. She hopes readers may feel "some sympathy for all the characters and understand their motives at the end."
"I'm very attached to one character," she says. As easy as it is to decry J.K Rowling or George R.R Martin for their growing 'Kill bill' lists in their books, Seheni says she now understands and appreciates the magnitude of thought that goes into it.
"There's a sense of satisfaction killing off your character and watching how your readers react to it" – the satisfaction stemming from having made the reader so attached to the character that they mourn their passing.
"The Chameleon" is a codename for "an item" in the story Seheni reveals. Each chapter also hosts a quote – from Shakespeare to Robert Frost to Cassandra Clare each quote setting the tone and theme of the chapter. A gripping storyline and panic inducing moments – this novel is not for the faint-hearted.
Published by Vijitha Yapa Publishers, "The Chameleon" is available in leading bookstores priced at Rs. 750.