Cocaine in cargo puts Lanka's sugar importers in a jam
By Sandun Jayawardana
International smugglers are said to introduce contraband at Brazil's port - Detectives say it is likely narcotic drugs meant for other destinations land in Colombo
View(s):
The recent detection of a large haul of cocaine at a government warehouse has prompted detectives to shift their focus on international smuggling rings and probe whether Sri Lanka's sugar importers have become unwitting victims.
On July 19, cocaine weighing 218 kilograms was detected from a shipping container that brought sugar to the Sathosa Economic Centre in Ratmalana. Seven suspects have been arrested in connection with the haul.
On Friday, Industry and Commerce Minister Rishad Bathiudeen told Parliament that the sugar importer had been 'blacklisted' until investigations were concluded.
The company had been registered to supply 500 tons of Sugar to Sathosa, he said. In a related development, several Customs officials have been transferred pending the conclusion of an internal inquiry. They were allegedly responsible for releasing the container from the Orugodawatta yard where containers were checked.
The Sunday Times learns that detectives plan to carry out checks on more than a dozen containers that have aroused the suspicion of law enforcement authorities. They are now lying at the Colombo port.
Police Spokesman Ruwan Gunasekara told the Sunday Times the Police Narcotics Bureau (PNB) was trying to establish if there was a link between the recent cocaine bust and previous detections of cocaine in shipping containers that brought sugar. "Investigations are underway to see if this was the work of a single network," he said.
Prior to the July 19 detection, the PNB and other police divisions had detected 2.56kg of cocaine on eight occasions so far this year with the total weighing 220kg. However, this is far below the 1488.17kg detected in the 20 cases last year.
The United Nations Office on Drugs and Crime (UNODC), in its 2017 World Drug Report, has highlighted an increase in cocaine trafficking in Asia. It notes that there are indications that cocaine consumption in several countries in Asia continues to rise. "Possible proof of this was a very large seizure (900 kg) of cocaine in Sri Lanka in 2016 and another of 500 kg in Djibouti in 2017, which was probably en route to Asia. Overall, in 2015, the quantities of cocaine intercepted in Asia increased by more than 40 percent compared with the previous year, with increases reported across all sub-regions."
The recent detections in Sri Lanka have focused attention on Brazil, which the UNODC in its 2016 World Drug Report identified as the most frequent country from where cocaine is dispatched to nations in Africa, Europe and Asia. It is believed that Santos, the country's largest port, is being used as a drug trafficking hub to smuggle cocaine. Several containers which carried cocaine to Sri Lanka originated from this port.
It is believed that drug traffickers are inserting stocks of narcotics into otherwise legitimate cargo — an operation that is known among international law enforcement officers as "rip-off modality." This is where neither the shipper nor the consignee is aware the shipment is being used to transport contraband.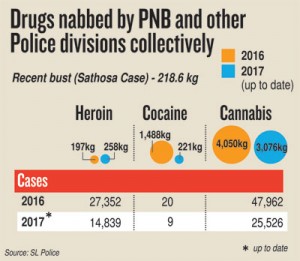 Sri Lanka Sugar Importers Association (SLSIA) spokesman Hemaka Fernando said the cargoes they import were vulnerable to 'rip-off modality' operators.
The SLSIA comprises 11 big time companies which import sugar from countries in Europe and South America, including Brazil and Colombia. "We have suspended sugar imports from Brazil and Colombia," he said, adding that they were now forced to import sugar from other countries at a very high price.
Mr Fernando said Sri Lanka produced mostly brown sugar and 90 percent of the country's sugar requirement was met by imports which amounted to about 600,000 metric tonnes a year. He insisted that the importers whose containers were found to contain cocaine would have had no knowledge of the presence of the drug. He recounted that the first detection of cocaine in such a container was made in June, last year when authorities announced it with much fanfare in the presence of President Maithripala Sirisena.
"The importer in that case spent eight months in remand custody, before being released without charge," Mr Fernando said. He claimed that the importer in the latest instance was also a victim. "He could have easily sold the stock to a third party or taken it to some rural area and sold the consignment. Why on earth would he want to send it to Sathosa?"
He also said that except for the first instance where cocaine was detected due to a tip-off given to Customs, in all other cases, it was the consignees themselves who informed the authorities about the drugs in their containers.
Mr. Fernando accused certain elements with political interests of trying to "blow the issue out of proportion" and make it seem as if the importers and Sathosa were part of a massive cocaine racket.
Authorities say the local demand for cocaine, which is still an expensive high-end drug, is extremely low. Prof. Ravindra Fernando, Chairman of the National Dangerous Drugs Control Board (NDDCB), said most of the stocks that have been detected were likely meant for other destinations.
Customs Deputy Director and media spokesman Sunil Jayarathna said they were aware from intelligence reports of a mafia which offloaded the drugs from Brazil while the ships were anchored at European ports. The stocks end up in places like Sri Lanka, probably because the smugglers could not offload the stocks at certain ports due to some reasons, he said.
Mr Jayarathna noted that because of such possibilities, pinning down any main suspects in Sri Lanka would be difficult. "We have seen several suspects who were taken into custody over such drug seizures later being released due to lack of evidence," he said.
Only a comprehensive international investigation could ascertain whether the cocaine smuggling racket had a Sri Lankan connection, he said. Mr. Jayarathna said that in the wake of the recent cocaine detections, Brazil had offered assistance to Sri Lanka to train officers. "We informed them that our officers had already undergone extensive training and what we needed from them was closer cooperation to stop drugs being introduced into shipping containers from their end," Mr Jayarathna said.