'Yashodhara'
By Susitha R. Fernando
A movie making, a bridge between Lanka-India talents
View(s):
Prof. Sunil Ariyaratne has returned to filmmaking directing his 22nd film 'Bimbhadevi' alias 'Yashodhara', the story of the beloved wife of Siddhartha. The titles roles of Siddhartha and Yashodhara is played by two Indian stars A. Chowdhury and Pallavi Subash.Last week the two Indian stars were in Colombo together with the director Prof. Ariyaratne and producer H. D. Premasiri.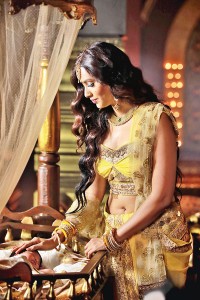 Prof. Ariyaratne who shot the film in a massive set at Ranminitenna cinema village in down south, Hambantota during 45 days of strentuous schedule says that the two Indian stars proved that his selection was absolutely accurate.
According to the professor, there are a large number of books which were written and films were made based on the character of Siddhartha but only a few on Yashodara. "There is not a single film that was made based on the character of Yashodara who played a pivotal role in Siddhartha's life and his journey in search of the truth.
"One of the leading pieces of literature on Yashodara 'Lady of the Lotus' fictionalised biography of the wife of Buddha written by William Edmund Barrett was released in 1975. This book became world famous and was translated to many languages including Sinhala by Ananda Amarasiri," said Prof. Ariyaratne who is famous for his researches. However Prof. Ariyaratne made his film 'Yashodhara' based on 'Yashodharawa' written by Ven. Ganegama Saranankara thera.
Speaking about his selection of Indian stars to play the roles Siddharatha and Yashodhara, Prof. Ariyaratne said that he wanted an actor and an actress whose personal characters are not tarnished. "Besides I preferred to take two stars from India, the country where the Lord Buddha and Yasodhara lived," he told media.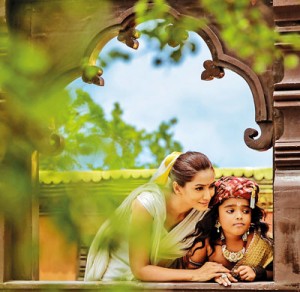 Pallavi Subash (Yashodhara) who hails from Maharashtra Province has made her debut as a model. She has later switched on to teledramas where she played several leading roles.
Pallavi has performed in more than 12 Marathi films, but came into limelight with her role of Dharma in 'Chakrawarthi Ashoka' tele series. Rukmini the character she played in mythological series 'Mahabarat' was also highly acclaimed by the TV audience. "This is my first title role and I am thankful to both the director and the producer for giving me such a challenging responsibility," Pallavi told the journalists.
Prof. Ariyaratne who had a number of unsuccessful auditions for the role of Siddhartha accidently came across A. Chowdhury who had already won accolades for his acting and modelling in the Indian cinema arena. Chowdhury had two years experience with Lancaster Grand Theatre as an actor and specialising in acting techniques.
He played a leading role in the British Asian feature film 'The Anglistanis and has played roles in several movies and short films.
The advisors for the film are Professor Bellanwila Wimalaratane thero, Professor Medagoda Abhayatissa thero, Professor Agalakada Sirisumena thero, Professor Chandima Wijebandara, Professor Sumanapala Galmangoda, Professor Asanga Thilakaratne, Senior Lecturer Nawalapitiya Anuradha and Suddhammika Bikkhuni. The other roles are played by Dineth De Silva (Devdath) Sangeetha Thedani (Mahamaya) Ajith Weerasinghe (Suddhodana) Udari Perera (Nanda) Heshan Manula (Nanda) Shammu Kasun (Channa) Kamal Deshapriya (Supprabuddha) Thumindu Dodanthenna (Kavvyakkaraya) Ruvi Lakmali (Radhitha) Wilson Gunaratne (Asitha) Anesta Gray (Uththara) and Nethsuka Muluthenrala (Rahula)Behind the screen Channa Deshapriya handles camera, Bimal Dushmantha is art director, Wimal Deshapriya is assistant director, Manohari Hewawasam is production manager. Makeup is handled by Priyantha Dissanayake, costume designing by Thilina Hettigamage, music direction by Rohana Weerasinghe, choreography by Chandana Wickramasinghe, visual effects supervisor is Chathra Weeraman and vocalists are Nanda Malani, (introducing) Ravindra Karunarathne, Asanka Dhananjaya and the production coordinator is A.D. Ranjith Kumara