'Sports for Unity' held in Poonakary
View(s):

Appe Lanka recently held their second event "Sports for Unity" in Poonakary last month.

A statement from the organization said students from Bishop's College and and S. Thomas' College travelled to Poonakary and stayed at the Poonakary Central College. The "Sports for unity" programme commenced with a football match between STC and Poonakary Central College.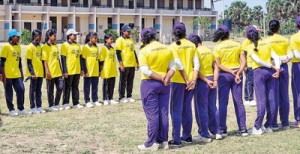 A cultural show followed comprising Baratanatiyam dancers in their beautiful green costumes mesmerizing the audience. The highlight of the day was when Thomians and the Bishopians handed over 75 bikes to the students.
Appe Lanka has now distributed 150 bikes this year. The plan is for BC and STC to host a return match this year. In September Appe Lanka will organize a charity family bike ride from Jaffna to Poonakary across the Sangupiddy bridge. A bike maintenance work shop and a road safety workshop will be held as well.
To join the family bike ride contact 0777736476 or 0772872956.