'Despacito' emerges as UK's No: 1
View(s):

'Despacito' the cool sounding song by Luis Fonsi, Daddy Yankee with Justin Bieber on the remix has emerged again as the UK's No: 1 song. A week after making way for the charity song 'Bridge Over Troubled Waters' by the Artists For Grenfell to be chart champs. 'Despacito' managed to get 34,000 downloads and 7.5 million streams to reclaim the No:1 position on the UK singles chart. The track now counts seven non consecutive weeks at the top spot.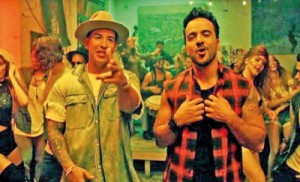 Meanwhile 'Bridge Over Troubled Waters' by the Artists for Grenfell still managed to do more downloads though with a score of 53,000 even though it dropped to the No: 3 spot on the UK singles chart this week.
Making her UK top Ten appearance after nearly two years is Rita Ora at No: 10 with 'Your Song', an electro pop track which climbed up a notch. The song is her 6th top 10 and is to be featured on her next album. 'Your Song' is co-written by Ed Sheeran and Steve Mac who is also producer of the track.
The UK Official chart has changed the rules for the singles chart from this month. The move will support breaking artist with three of their most popular tracks based on sales, downloads and streams. The move will end the dominance of the charts by multiple tracks and double counting from both the singles and albums chart.
Elli Goulding has highlighted the lack of female artist at major music festivals. The 30 year old singer said on social media that she did not see enough female participants at festivals. Even the recently concluded Glastonbury festival was dominated by male performers.
Charlie Puth has decided to name his second album after the app on his mobile phone where he recorded bits of his songs. The app Voice Note will be the title of 25 year old Puth's next album which is expected before the end of this year.
Adele dropped a bombshell on her fans on June 30 when she announced the cancellation of her two final London Wembley Stadium concerts schedule for 1st and 2nd July, which is part of her Adele Live World tour. The last minute cancellation was cited to vocal cord damage. The 29-year-old singer apologised to her fans saying she was forced to cancel the gigs on doctor's orders.
Adele has had a problem with her voice before and underwent surgery to repair a vocal haemorrhage in 2011. There reports of mixed reaction by her fans. Some were angry while other arrived at the Wembley stadium to sing Adele songs in her support. She has promised a reschedule or a refund.
Tom Hadley the lead vocalist of the 80's band Spandu Ballet announced he had left the group in statement he released July 3. He said he will not be performing with the band in the future sparking rumours of a dispute within the band which is dominated by the brothers Martin and Gary Kemp. In their heyday Spandau Ballet had major hit songs such "True," "Gold," "Only When You Leave," "Life Line" and "Through The Barricades."
TW LW
1 2 Despacito (Remix) – Luis Fonsi/ Daddy Yankee & Justin Bieber
2 3 Wild Thoughts – DJ Khaled ft: Rihanna & Bryson Tiller
3 1 Bridge Over Troubled Waters – Artists for Grenfell
4 5 Unforgettable – French Montana ft: Swae Lee
5 6 Mama – Jonas Blue ft: William Singe
6 4 Strip That Down – Liam Payne ft: Quavo
7 9 I'm The One – DJ Khaled /Justin Bieber/ Quavo/ Chance The Rapper
8 8 2U – David Guetta ft: Justin Bieber
9 10 Power – Little Mix
10 11 Your Song – Rita Ora