Shows to watch out for this month
From Game of Thrones to a gripping thriller and an F. Scott Fitzgerald adaptation - the following is a rundown of shows not to be missed this month
View(s):
Snowfall
Boyz n the Hood director John Singleton revisits the streets of early '80s Los Angeles to tell the story of how the crack cocaine epidemic began. Before the drug takes a hold in US cities, we follow ambitious dealer Franklin Saint (British newcomer Damson Idris) on a quest for power.
Meanwhile, a CIA operative begins an off-book operation to fund the Nicaraguan Contras, and a wrestler-turned-gangster gets caught up in a power struggle within a crime family. Premieres 5 July.
The Defiant Ones
A reference to the 1958 film of the same name about escaped prisoners (played by Tony Curtis and Sidney Poitier) who are shackled together and must co-operate to survive, this four-part documentary focuses on the unlikely business bromance between two street-smart men from different worlds, Andre 'Dr Dre' Young and Jimmy Lovine, and their impact on pop culture down the decades. Filmed over three years, The Defiant Ones features in-depth and candid interviews with the music moguls as well as artists including Snoop Dog, willi.iam, Eminem and Bono. Premieres July 9 on HBO.
Game of Thrones
It seems like we've been waiting forever for winter to come to the seven kingdoms, but it's finally arrived and with it the great war. At the explosive finale of season six, Cersei Lannister had seized the iron throne in a coup at King's Landing, Jon Snow reclaimed Winterfell after a brutal battle, and flanked with her dragons, Daenerys Targaryen is headed for Westeros after assembling an armada. Whether there will be any throne left to claim when the Night King and his army of the dead descend, is anyone's guess. Premieres July 16 on HBO .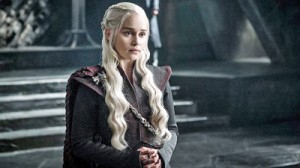 Ozark
Arrested Development star Jason Bateman takes a rare dramatic turn in a dark thriller playing a Chicago financier forced to go on the run with his wife (Love Actually's Laura Linney) and secretly relocate his family to a resort community in the Missouri Ozarks when his money laundering dealings with a Mexican drug lord go awry. Premieres July 21 on Netflix
The Last Tycoon
Adapted from F Scott Fitzgerald's last unfinished novel – based on real-life film mogul Irving Thalberg – this lush period drama follows 1930s Hollywood movie producer Monroe Stahr (Matt Bomer), as he battles father figure and boss, Pat Brady (Kelsey Grammer) for creative control of their studio.