Acoustic Sundays with Rav David
View(s):

Curve Restaurant, set in the Park street Mews complex, synonymous with live music and great Tapas now features Rav David (also known as Ravin Ratnam) every Sunday from 7.00pm – 11.00pm with an acoustic unplugged music .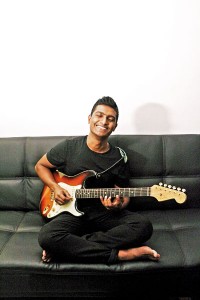 Rav David, a well-known name in the Sri Lankan music industry, who is born to a family of very prominent musicians and singers in Sri Lanka has decided to focus his love on a Solo Unplugged performance at Curve Tapas Bar Every Sunday.
Rav is a singer, musician, lyrics writer, composer, Music Producer, Studio engineer and has been a part of many bands, since 2000.
Rav has been with quite a selection of bands namely Mute, The Fuz, Mechan-X, Inner Sound, Rebel, D-Zone, A-Team, Funk Junction, Brown Sugar, Magic Box Mix Up, Proteus, Stigmata, R.A.G.E and now he's on a path to fulfilling his lifelong dream as a musician.
Playing music that inspired him on his journey as a musician, Rav started his career as young as 15. His acoustic/unplugged music focuses on his personal favourites/filtered list of genres such as Grunge, Rock, Alternative, Motown, Funk, Soul, Blues and even a little bit of Jazz.
'So don't expect to hear the usual stuff you hear around. It's definitely music that relates to all those born in the 60s, 70s, 80s and 90s. It is definitely a mix of good old music and retro' said Harpo, one of the veteran DJs in Sri Lanka and the man behind the Curve Project.
Rav's experience and his versatility on any instrument and vocals have given him an edge over his love for Music and performing. There are certain types of music that's just noise, hype and little substance.
'His hope is to bring back the good music that once gave him and so many others hope strength and meaning' Harpo added.
Head on down to Curve, every Sunday and chill out to some good old music.Call 011 2300183 for more details.