South America and Singapore at 'Colombo Seven'
View(s):

Colombo Supper Club's last edition featured the creations of Singaporean chef Damian D'Silva. Once again this month, they have teamed up with Jetwing Colombo Seven to host two of Singapore's most innovating restauranteurs – Jennifer Lee and Christian Hartmann of contemporary Latin-American cocktail bar Vasco.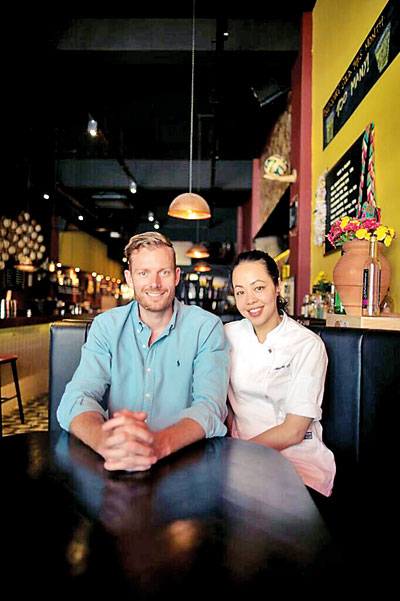 The event will be held on the 27th and 28th of June starting at 7.00pm at the rooftop restobar of Jetwing Colombo Seven – Ward 7.
Singapore is a city where people enjoy trying new things, the nightlife and café culture are booming and the pace never slows down. Vasco remains fresh and contemporary with its offerings, the only Latin-American themed venue on the island.
It takes influence from South American culture and celebrations; serving Mexican food on special festive days, made with the freshest ingredients and paired with only Latin American spirits.Christian Hartmann found his true passion behind the bar and has worked in Copenhagen, Bangkok, and now resides in Singapore.
The inspiration for Vasco came after a trip to South America, when he wanted to bring the vibrant nightlife experience he had there back to South East Asia. Having a love for South American spirits ensured that this new endeavour would be centred on a bar.
Head Chef Jennifer Lee is at the helm of a team made up of some of the finest chefs in the industry. She has worked in restaurants, bakeries and cafes all her life and is one of the few female head chefs in Singapore at the moment.
Lee was based in Mexico City, reviewing as well as cooking at restaurants for a year prior to embarking on the Vasco journey.
The event in Colombo will feature classic cocktails crafted from the finest Latin American spirits. Vasco's signature creations will be served alongside boldly flavoursome South American street food, elevated by pairings with the right beverage.
Naserah Tyebally, the founder of the Colombo Supper Club, is a Singaporean and passionate foodie eager to enhance the concept of dining out in Sri Lanka. She is a lawyer by profession and an avid traveller, eager to use her multiple platforms to forge stronger links between the global culinary world and Sri Lanka.
Ward7 is the eclectic rooftop restobar at Jetwing Colombo Seven, serving up a memorable dining experience and panoramic views of the city. Indulge in the finest of local and international spirits, wines and signature cocktails at the bar. Generous sharing platters, hearty pub grub or a la carte meals of your choice – guests are spoiled for wining and dining choices at Ward7.
Colombo Supper Club aims to put Sri Lanka on the map of entertaining and creative gastronomy. It hopes to both showcase the best of global culinary talent to Sri Lanka as well as nurture local chefs in their explorations of food.
For more details contact 0772300038