A theatrical protest against wars
'Trojan Kanthawo' celebrates 17th Anniversary
View(s):
Versatile dramatist Dharmasiri Bandaranayake's multi-awarded theatrical production "Trojan Kanthawo" (Trojan Women), translation of Euripides' anti-war tragic will go on the boards at 7.00 pm on July 9 at the Lionel Wendt theatre, Colombo.
Organised in aid of the building fund of the Tricon Cultural foundation, the play celebrates its 17th anniversary this year.
'Trojan Kanthawo' is set in the background of the fall of Troy, with all it's attendant suffering of the families of the city's defeated leaders, in particular the old Trojan Queen Hecuba and the other royal women.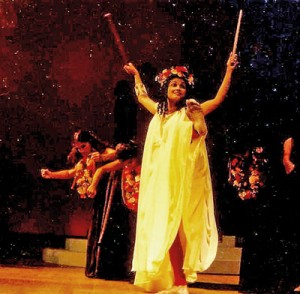 Women were the most affected having to undergo untold hardships. Andromache's son Astyanax is taken from her and hurled to his death from the walls of Troy. Finally as Troy goes up in flames, Hecuba and the other Trojan women are carried off to the ships to face slavery in Greece.
Euripides (480-406 BC) who wrote the Trojan Women in 415 BC was one of Athen's three great tragic dramatists. The play is timely and is a powerful indictment of the babarous cruelties of war. The superb cast of over 40 characters brings a combination from both English and Sinhala theatres.
Talented Neil Alles' role as 'Poseidon' is also outstanding and Hecuba's daughter played by Meena Kumari is remarkable in her role. Anoja Weerasinghe and Yashoda Wimaladharma plays two other leading roles in the play.
The director brings English theatre personality Jehan Aloysius to do the role of Menelaus and Juanita Beiling plays 'Helen'. The translation of the classic has been done by Ariya Ranaweera and the theatre script is by Ananda Wakkumbura and Dharmasiri Bandaranayake.
Talented music director Rukantha Gunathilake gives colour to the play with the music direction. Bringing well known names in the English drama Bandaranayake joins Jerome de Silva for the choreography in 'Trojan Kanthawo'.