A suspenseful journey in search of a serpent
'Maranthika Sarpaya'
View(s):
'Pitasakwala Abhirahasa' (The Mystery of ET) famed young director Nirmal Rajapaksa's newest film 'Maranthika Sarpaya' (Deadly Serpent) is being completed and will be in cinemas soon.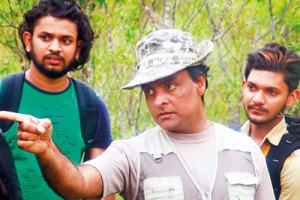 Revolving around a group of youngsters who go on an expedition to Sinharaja rain forest, the film is full of suspense. The journey is for both educational and investigative purposes.
The group with prior permission from the Forest Department is accompanied by a forest officer. The journey takes several days and the group is camped in the middle of the forest.
One day the forest officer had to get back home leaving the group in the forest and taking this opportunity, a few group members decide to go to the northern boundary of the forest which is prohibited. This is in search of a mysterious serpent existing in this part of the forest.
The ban has been imposed due to this reason. The serpent is supposed to be an extremely poisonous and dangerous one which was subjected to a genetic mutation.
But the group gets lost and are stranded in the middle of the forest. They are completely cut off from the rest and this takes a dramatic turn.
The film was shot in a forest reserve in Balangoda and Hirikatuoya and was filmed using 4K technology.
The film also has a number of underwater and action scenes and features a 40-foot long serpent which preyed on humans.
The film is played by Senaka Wijesinghe, Ayesha Madhushani, Yashodara Sandamali, Chirath Tissera, Lakshan, Charith, Sanjeewa, Yukthi, Pradeep, Sehnel, Chamika, Dinesh, Eshan, Sachee and Sapna who comprised the team of youngsters who joined the expedition.
In the technical staff, the assistant director is Charith Devapriya, art direction is by Sanjeewa Ranatunga, make up Chan Athukorala, production manager is Lasantha Kamalsiri, sound mixing is done by Shashika Ruwan Marasinghe and screenplay writing, camera, editing, production and direction are by Nirmal Rajapaksa.
Nirmal started his feature filmmaking with 'Pitasakwala Abhirahasa' (The Mystery of ET), a story about extraterrestrial threats to the earth and humans.