Theatrical display of religious piety
Passion play at Eththukale
View(s):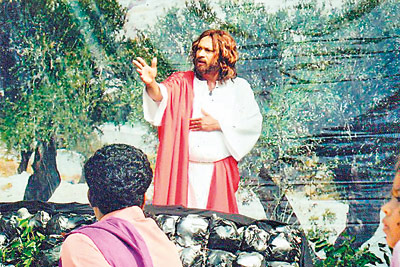 Once again the villagers of Eththukale in Negombo, one of the famous tourist destinations in the country will get together to perform a passion play depicting the life, suffering and sorrowful death and resurrection of Jesus Christ.
The passion play titled 'Eththukala Pasku Dekma', played both as a theatrical performance and Christian religious service will take place from 2.30 pm to 6.15 pm on Good Friday, March 25 at the church ground of St. Sylvester Church, Ettukale.
Produced by weli-known playwright Clement Fernando, the passion play started in 1998 was enacted with the participation of a cast and crew of over 125 villagers from Eththukala. The passion play enacted biannually will be performed for the eighth year.
The leading roles of the passion play are performed by Demon Cruisz  as Jesus Christ, Shiromi Birose- Mother Mary, Sylvester Miranda-Peter, Hakman Myraal-Judas, Jude Kurera- John, Calystus Miranda-Jacob, Melmon Myraal-Mary Magdalene, Sandra Mirandaa-Veronica, Earl Croos-Pilot, Jude Croos-Caiaphas and Starzon Croos-Simon of Cyrene.
Under the guidance of Parish priest Rev. Fr. Terrance Bodiyabaduge, the passion play is organised by Dilakshan Miraal and stage management is by Shanthi Miranda.