'It's not in the Stars'
View(s):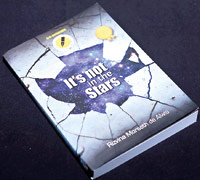 It's not in the Stars' by Rizvina Morseth de Alwis was herald as the co-winner of the first-ever Fairway National Literary Award at the award ceremony held during the Fairway Galle Literary Festival in January 2016.
The Fairway National Literary Award was established in conjunction with Fairway Holdings with the aim of inspiring and encouraging local writers and nurturing a culture that supports art and literature in the country.  It is the only award in Sri Lanka that recognises the efforts of Sinhala, Tamil and English novelists.
As part of a long term plan to create a wider appreciation for literature and the arts across diverse segments of society,Fairway Holdings is expected to sponsor this award in union with the Fairway Galle Literary Festival for several years to come.
'Sri Lanka has a rich cultural heritage that must be preserved and made sustainable. The first step towards doing this is to create a greater appreciation of local art by its people' said Chairman, Hemaka de Alwis.
Bagging the award under the English category, 'It's not in the Stars' is de Alwis' debut novel, and was also shortlisted as an unpublished manuscript for the Gratiaen Award in 2012.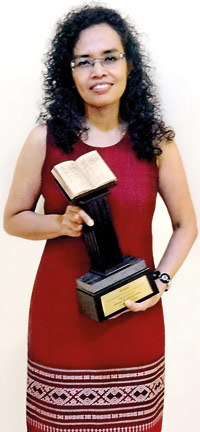 Rizvina Morseth de Alwis sharing her thoughts said, "I'm ecstatic. I was happy to be shortlisted, but then to go on and win it – that was a huge surprise!  Writing for me has always been a solitary act of self-reflection. So, sharing my stories with others didn't come to me so easily. But to know that others enjoy what I write and that the judges considered it worthy of this award is a boost to my confidence as a writer.
It is a validation that I have a voice as a writer and has spurred me to continue on this path."
Set against the complex background of the Sri Lankan civil conflict and the political upheavals of the '80s and the '90s, 'It's not in the Stars' is a captivating story of three friends whose lives are woven together in an inextricable manner as they transition from childhood to adulthood.
The story centres around two strong women, Minu and Sam who come fromvery different backgrounds. As a Sri Lankan Malay, Minu finds herself caught between her family's pressures to marry within her community and her desire to become independent and control her own destiny.Sam, who comes from a privileged Sinhala Buddhist family,is quite Minu's opposite in nature.
She is more confident and feisty but equally vulnerable to love, heartache and betrayal. Caught between Minu and Sam is Pradeep, who struggles with a renewed consciousness of his identity as a Tamil and is the thread that links them all
together.
De Alwis works for the United Nations and is now in the midst of writing her second novel.