Encouraging volunteerism
By Duvindi Illankoon
View(s):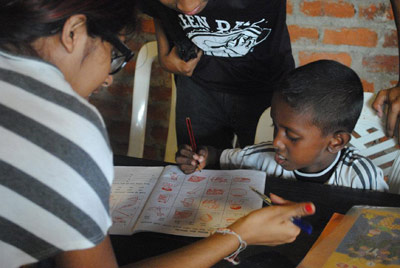 Looking to make a difference ? There are many youth volunteer groups out there that could use your help.
Last month the Mirror Magazine  spoke to Geoffrey Prewitt-Chief of the UNV (United Nations Volunteers) Development Programming Section-who was in Sri Lanka for the V-Awards, a ceremony that recognized some of the country's most hardworking volunteers carrying out projects that serve their communities. The V-Awards Volunteer of the Year was Kasun Jayathunge, a young man with a hearing impairment who was nominated for his work with the foundation 'Sumaga Ruhunu Circle For The Deaf.'
The V Awards started in 2011.Over the last few years the awards programme has recognised the work of some incredible volunteers carrying out projects-be it within their community or at a national level. "I was honoured to be invited," said Prewitt of his participation.
Prewitt is a history graduate turned development professional. Growing up in a giving community instilled a strong sense of community in him, he shared. "My first professional volunteering experience was in a country in Southern Africa. It was so enriching because I could see the tangible results of my contribution."
Although he now serves in a role that involves much more work behind a desk, Prewitt keeps an eye on volunteering trends and preferences, especially among young people. While young people already volunteer in a variety of important areas such as education, health and micro finance, there is a need for contribution in administrative such as data entry, surveying, translation and record keeping for organizations that engage with communities, he noted. Prewitt also added that it's important to encourage volunteerism at a policy level, for a scheme that can coordinate the many youth volunteer bodies that have begun to emerge over the last few years.
Youth led initiativesThe following are just a few youth groups one can volunteer with.However, this is by no means an exhaustive list with many youth led initiatives doing some excellent work around the country.Without Borders

These group has  been around for some time, quietly carrying out some stellar projects. Idea Labs, a project they launched at a school in Deraniyagala aims to encourage digital literacy, language skills and leadership qualities-soon it'll be launched in Colombo as well. Keep posted on-www.facebook.com/withoutborders95

SocialService.lk

A non-profit launched in 2014, this group has covered some 80+ projects ranging from immediate disaster relief assistance to community related projects. SocialService.lk works in a broad spectrum of areas from education to health and even counseling-so you have your pick of projects to choose from. www.socialservice.lk

One World Volunteers

Launched in 2011, this is a youth led volunteer initiative managed by Sri Lanka Model United Nations. The group has just re-launched with a few small projects-ideal if you're not able to make a long term time commitment.

www.facebook.com/groups/oneworldvolunteers

Dare to Dream

Dare to Dream works primarily with children to create fun, interactive experiences for both the volunteers and kids. They do all sorts of things-from making cardboard installations to painting activities. The group is based in both Sri Lanka and the UAE.

www.facebook.com/d2d.srilanka

Kandy Teen Club

These youngsters have combined volunteerism with opportunities to meet like minded people. Their projects are designed for teenagers, so for those in Kandy or the suburbs-keep posted on www.facebook.com/KandyTeenClub for their projects.