Killing-spree in Lanka, 'Dankotuwa' bodies burnt beyond recognition hamper police investigations
By Sandun Jayawardana and Damith Wickramasekara
Latest incident in an alarming rise in underworld related violence
View(s):
Criminal Investigation Department (CID) detectives probing Friday's discovery of five charred bodies inside a burnt-out van in Buthgampala, Dankotuwa, were yesterday trying to identify the victims and what exactly happened to them.
The van's licence plate led police to a finance company. They found that, the vehicle's driver, Kapila Senarath Bandara from Pannala, had been reported missing by his wife. On Friday, police took her to the location of the van, but she failed to identify her husband, as all the bodies were burnt beyond recognition.
According to Bandara's wife, Bandara had allegedly phoned his daughter on Thursday night and told her he was going out with several friends. He has not been heard from since.
Police were also looking out for any other instances of missing persons since Thursday.
Police Spokesman ASP Ruwan Gunasekara said while investigations were continuing, detectives would not have much to go on until at least the victims' identities and how they died, are established at the postmortem. The gutted van was discovered along a secluded section of a byroad surrounded on both sides by coconut estates. The road is used by area residents to commute between Irabadagama and Buthgampala. Police officers made the gristly discovery on responding to a 119 call.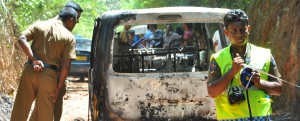 When the van was found, its rear door was open, while the driver's and the passenger seats were vacant, the five bodies were found in a heap at the back of the van. Bloodstains were also found some 500 meters away from the van.
The number of victims and the manner of their deaths points to underworld gang rivalry.
The incident occurred less than a week into new police operations to control the alarming rise in underworld related violence.
Last Sunday, President Maithripala Sirisena instructed both the Inspector General of Police (IGP) and the Army Commander to take all necessary measures under a joint plan to eradicate underworld activities.
According to the new measures initiated by the police, a Divisional Enforcement Team (DET) was set up for each of the 10 police Divisions in the Western Province (WP). They have also been assured assistance by the Police Special Task Force (STF) should they be required. A 'Special Snap Roadblock System' has also been initiated by all 102 police stations in the WP.
Senior Deputy Inspector General of Police (SDIG) WP, Pujith Jayasundara is in overall charge of these operations.
When contacted, STF Commandant, SDIG Ranjith Perera confirmed STF personnel were now actively engaged in anti-underworld operations. "We have already started conducting mobile patrols in several police divisions in the WP as part of the preventative measures," he told the Sunday Times.
Military Spokesman Brig Jayanath Jayaweera meanwhile said, "The armed forces are available, if an official request is made by police to the Army Commander."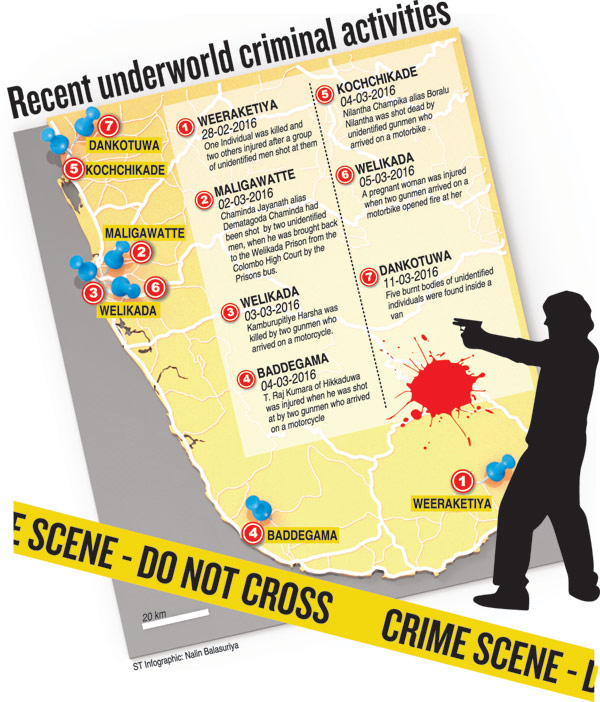 However, as of last evening, police still had only one suspect in custody over the recent spate of violent crimes.
That suspect, a 26-year-old resident of Weligama, with underworld ties, was arrested by a Colombo Crime Division (CCD) team on March 7, for possession of a live hand grenade. Five mobile phones were also recovered from his possession. Detectives were subsequently able to identify him as one of two gunmen who shot and seriously wounded a 23-year-old pregnant woman opposite the Welikada Prison in Borella on the evening of March 5.
Police believe the Welikada shooting to be a case of mistaken identity. The gunmen were in fact looking for the wife of a notorious underworld figure known as 'Samayan,' who is serving a prison sentence. 'Samayan' is believed to have had a hand in the killing of 32-year-old Danushka Harsha alias 'Harsha,' shot dead by two unidentified men who burst into a house at Arunodaya Mawatha, Welikada on March 3. The deceased, an alleged underworld figure from Matara, was also the chief suspect of the 2006 murder of former Southern Province Minister and former Southern Lanka Development Authority (SLDA) Chairman Danny Hittetiya.
Meanwhile, suspects involved in the attack on a prison bus in Dematagoda on March 2, are still at large. Underworld kingpin 'Dematagoda Chaminda' was seriously wounded in that attack, believed to have been organised by his rival, 'Bloemendhal Sanka.'
No arrests have also been made related to the attack on individuals traveling in a van at Weeraketiya, which left one person dead and two others wounded, or the shootings of two motorcyclists in Baddegama and Kochchikade, all of which occurred within the past two weeks, and are thought to be underworld related.
The apparent ease with which people are able to commit these crimes, sometimes in broad daylight, has left police scrambling to keep in step with these underworld elements.
Former DIG I.M. Karunaratne stated that police could no longer rely on the public to regularly come forward with information, as the bond that existed between the two, before the end of the war, was no longer present.
"During the war, people were far more vigilant regarding what went on in their neighborhoods. Any suspicious activity, person or vehicle was quickly reported. However, following the end of the war, this vigilance started to relax, while the relationship between the police and the public deteriorated to the point where not much is available in terms of effective intelligence on underworld activities," he observed.
He also lamented that the police department was faced with many obstacles such as lack of manpower and vehicles.
However, the biggest obstacle, he felt, was a feeling within the ranks of junior officers and constables that no one was protecting them from being pressurised when handling difficult cases, which inevitably resulted in low morale.
In a bid to control the situation, the police urgently needed to look for short term solutions, while working on long term strategies at the same time, he stressed. "A major necessity is for new officers to be trained in intelligence gathering, so that, a strong police intelligence network is built up," he further said.
SDIG WP, Pujith Jayasundara however, insisted to the Sunday Times that the operations were yielding successes, though details could not be divulged to the media as investigations were ongoing. Noting that the roadblock system is operational round the clock, he said the STF was also assisting and is present at selected roadblocks. In addition, the STF was coordinating with the police to conduct mobile patrols in 'vulnerable areas' that have been identified by police regarding underworld activities.
Pointing to the discovery of the bodies in Dankotuwa, SDIG Jayasundara said he strongly believes that whoever killed these individuals would have been looking to dump the bodies somewhere in the WP. "However, due to the strong police presence, the killers may have been forced to dump them in Dankotuwa."
The SDIG said they were holding a progress review of operations every five days. The first review was held on March 8. The second progress review originally scheduled for today (13), had to be brought forward due to the funeral of the Ven. Asgiri Mahanayake Thera in Kandy. Accordingly, senior officers and others involved in the operation held this review yesterday.