Hybrid heart surgery on staggered basis at two locations
By Kumudini Hettiarachchi
Trailblazing path taken by Surgeon Rajitha de Silva backed by cardiologists
View(s):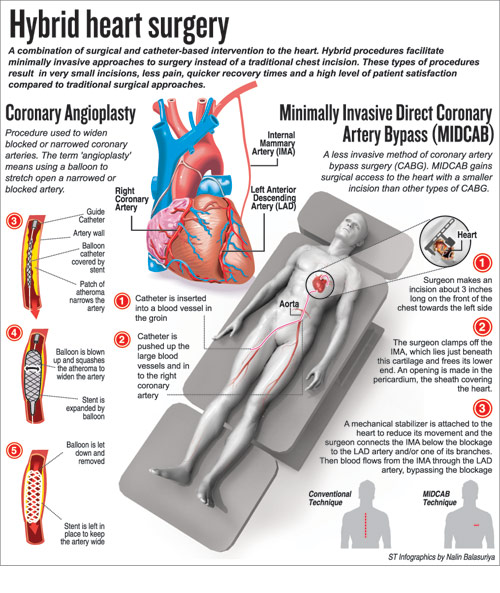 He has had many heart troubles in the past but on Tuesday he had come from his home in Ratnapura to the Sri Jayewardenepura General Hospital in Kotte to get just two sutures removed from a small incision made on the left side of his chest.
There has been no opening up of the chest wall with a big cut, neither has there been the sawing of the breast bone (sternum) to expose the diseased heart of 32-year-old P.K.P.C Kumara, to heal it.
He has been able to get the best of two worlds – that of the skills of Cardiologists in the Cardiac Catherisation Laboratory and the Cardiothoracic Surgeons in the Cardiac Operating Theatre.
'Hybrid heart surgery' — a combination of two procedures, sans open-heart surgery!
Only rarely and recently being performed even in the centres of excellence in the West, hybrid heart surgery has been the answer to Kumara's heart troubles right here in Sri Lanka…..and Kumara is not even the first, but the second, to benefit from these pioneering efforts.
It is Consultant Cardiothoracic Surgeon Dr. Rajitha Y. de Silva attached to the Sri Jayewardenepura Hospital who explains the numerous possibilities and combinations of hybrid heart surgery. Imaging hybrid heart surgery for the uninitiated, Dr. de Silva says that it is a mix of minimally-invasive (also known as keyhole) revascularisation through a small cut on the chest and interventional cardiology through angioplasty and stent-placement performed from the groin.
Hybrid heart surgery has opened up new and exciting vistas in dealing with all matters of this vitally-important organ, be it repairing of leaking valves or unblocking plaque-choked vessels, the Sunday Times learns. It has also strengthened heart links between the National Hospital of Sri Lanka (NHSL) and the Sri Jayewardenepura Hospital.
Dr. de Silva came under the spotlight several years ago when he operated on the beating heart of patients through minimally-invasive heart surgery as opposed to open-heart surgery which needs the heart-lung machine.
With the unstinting cooperation of Consultant Cardiologists, it is to Dr. de Silva's credit that he has been able to introduce hybrid heart surgery in Sri Lanka, hot on the heels of such procedures being introduced in the United Kingdom (UK). Incidentally, Dr. de Silva had learnt the finer points of keyhole heart surgery under the pioneer for this procedure in the UK, Cardiac Surgeon Inderpaul Birdi of the Essex Cardiothoracic Centre at Basildon University Hospital. He performed the first hybrid heart surgery in the UK.
Although the thinking in the West is that for such combined heart procedures there is a need for a 'hybrid operating theatre', the Sri Lankan heart teams which have gone down this trailblazing path have overcome this challenge by performing these procedures at two locations and on a staggered basis.
"We do the hybrid heart surgery on a staggered basis," points out Dr. de Silva, citing the case of Kumara who underwent the stenting at the NHSL and the minimally-invasive direct coronary artery bypass (MIDCAB) at the Sri Jayewardenepura Hospital.
Even the first patient, a lawyer, had undergone the minimally-invasive procedure at the hands of Dr. de Silva in the Surgical Operating Theatre of the Sri Jayewardenepura Hospital and followed it up with a stenting by Consultant Cardiologists Dr. W.S. Shantharaj and Dr. Chandrike Ponnamperuma at the NHSL's Catheterisation Laboratory some weeks apart.
Describing the heart troubles which brought him into the hybrid heart surgery arena, Kumara says that he realised that something was wrong in June, last year, when he found himself breathless and panting when talking while engaging in his tea-leaf business. Rushed to a doctor close to his home, tests and medications followed. However, by November he was much worse.
"Papuwa pichcheegana, ugara gavata enna patan gaththa," says Kumara, adding that there was a severe burning sensation in his chest which kept rising to his throat. For three days, he suffered, unable to stand, walk or sleep, assuming that it was an attack of gastritis.
Concerned relatives though brought him to Colombo to see Consultant Cardiologist Dr. Ruwan Ekanayake who ordered several tests including an electrocardiogram (ECG) and an echocardiogram of the heart.
"I had suffered a heart attack," says Kumara who was immediately admitted to hospital and given medication. Later referred to the NHSL's Institute of Cardiology, Kumara had been told by Consultant Cardiologist Dr. Gamini Galappatthy that there were blocks in two of the three major coronary arteries which supply blood to his heart. They were the Right Coronary Artery and the Left Anterior Descending (LAD) Artery.
An angiogram on November 18 had enabled balloon-stenting of the Right Coronary Artery, after which he had been referred to Dr. de Silva to undergo a MIDCAB for the 99% blocked LAD which had been performed on February 24 at the Sri Jayewardenepura Hospital.
According to Dr. de Silva, Kumara had blocked coronary vessels on both the right and left sides of the heart. Stenting could be done for the right side vessel-block but with the LAD in his case, a MIDCAB was the best option.
"The decision on hybrid heart surgery is very much a joint one between Cardiologists and Cardiothoracic Surgeons," stressed Dr. de Silva.
Kumara's recovery has been fast and uneventful. With all the tubes removed the night of the surgery itself, he has not been in the Intensive Care Unit but in Ward 20 of the Sri Jayewardenepura Hospital.
Two days later, he was climbing stairs with the physiotherapist, says Kumara, smilingly adding that the hybrid heart surgery was performed just after his birthday which was on February 21. Along with the dedicated and caring nurses of Ward 20 he had cut a cake in double-celebration.
Returning home on February 29 to the surprise of all and sundry, he says that every single day he and his family shower blessings on Dr. de Silva not only for his skills but also for his humanity.
On Tuesday, when we meet him, Kumara is making ready to add the finishing touches to a poem of thanks he will soon be presenting to Dr. de Silva.
Major advantages of hybrid heart surgery
Many are the heart-issues that can be dealt with through hybrid heart surgery:
- When a combination of mitral valve problems and coronary artery blocks occur – usually both mitral valve and coronary artery diseases are tackled through open-heart surgery, but now the mitral valve can be repaired through keyhole or minimally-invasive intervention, with the coronary artery blocks being addressed by angioplasty-stenting
- When holes in the heart and coronary artery disease have to be treated in one person too hybrid heart surgery comes in handy.
The major advantages of hybrid heart surgery over conventional open-heart surgery are:
- Simple operation as opposed to major open-heart surgery
- Quicker recovery time along with less time spent in the hospital and no time at all in the ICU
- Reduced mortality (death) and morbidity (illness)
- A small incision (two inches) on the left side of the chest as opposed to a 10-15 inch cut along with the breastbone (sternum) being split. No scarring in hybrid heart surgery
- Less blood loss and less risk of infection when compared to open-heart surgery
- No stopping of the heart unlike in open-heart surgery where the activities of the heart are transferred to a heart-lung machine