Gangaramaya can help in development of the country
View(s):

In these weekly articles, I wish to use information and insights I receive from the clerty or others in any part of the country. So I request you to please write to me, giving your National Identity Card number and your Grama Niladhari division. I believe that without happiness, peace and the correct attitude, we will not be able to overcome sorrow or alleviate suffering.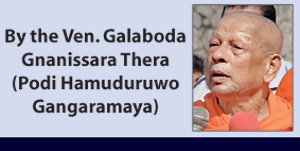 When Ranil Wickremesinghe became the Prime Minister in 2001, he put the country on the right path within a year. But the then President Chandrika Bandaranaike Kumaratunga took away his powers. The terrorist war ensued and it was waged like the Elara-Dugemunu war. Finally President Mahinda Rajapaksa defeated the terrorists. Largely on account of this, Mr. Rajapaksa was reelected. But he had unlimited powers and this led to his downfall. The present President says he doesn't have the parliamentary powers like Presidents J.R. Jayawardene and Mahinda Rajapaksa.
When Ranasinghe Premadasa became President in 1989, in his first speech he said that the Central Bank was bankrupt and it had only Rs. 5 million. Yet he started a major poverty alleviation programme. As citizens, we also contributed to the efforts. To help the poor, the Gangaramaya took the lead to initiate "Janasaviya". Today it has become "Samurdhi". Many politicos are alleged to have played out huge amounts from Samurdhi funds. These politicos are reported to have deposited these moneys and are earning massive amounts as interest. Does the Government know about this?
We also advised President Premadasa about the GST. People like F D Balasuriya, D G Ariydasa and Mr. Dayaratne who were with the present Prime Minister then will vouch for this. During the time of President J R Jayewardene, the concept of Tree Bank was advertised and the Gangaramaya took the lead to plant mahogany and teak. Those who planted these at the time are rich today. We were able to contribute to these good causes due to the support given to us by Ranil Wickremesinghe who managed Youth Affairs at the time. We set up the Sri Jinarathana Technical College, where thousands of youth who could not pursue higher studies are benefiting. They have found good jobs and are not a burden to the country. Some of them have even gone abroad for jobs and the country gets a large amount of foreign exchange from them.
It is the policy of the Gangaramaya to lead the youth. We transformed the Dutch market at Nupe in Matara to start a secretarial course. Premier Wickremesinghe needs to ask Foreign Minister Mangala Samaraweera, whose home base is Matara, as to what happened to the secretarial course at Nupe. Cannot Mr. Samaraweera see that this place has become an abode for animals? Someone must speak up.
Today, the media are full of reports about toxic fertilizer and the need to turn to organic fertilizer. Some Buddhist priests are taking the lead in this. We wish to remind the people that the Gangaramaya started an organic fertilizer project with the help of the Gangaramaya Technical College students. We have a comprehensive plan for carbonic fertilizer development. It is a small project with limited funds. We have a plan to spread it island wide in three months. Anybody can obtain a copy of this plan from us. We can show the work we do.
I also wish to refer to the move to slash the Samurdhi benefits. There are opportunists who want to hurt the poor and make quick money. The Government should be on guard to protect the Samurdhi project and its recipients. We have such a plan and anyone can obtain details from us.
Today there is no specified quality for our rice. If the quality is not good we cannot store it for long. The decline in the price is due to this. We have pointed out that paddy and rice are being used for the manufacture of beer. Did our ministers and authorities not know that rice we exported became bad and was thrown to the sea abroad? We know how to obtain a good price for our paddy and rice. Free advice doesn't pay in the long run and is not appreciated either!
Now let us reflect on another topic. Are the people benefiting from the sweep tickets that they buy? Some opportunists are benefiting and the people have lost faith in the lottery ticket. We have specialists who could advise on how to run the lotteries profitably. The Prime Minister has a plan to give employment to one million. We have a plan to create half a million jobs. Today there is no dearth of employment opportunities. The problem is the lack of man power.
Your inquiries applications and suggestions should be addressed to the Organization for the Development of the Country, Gangaramaya, 61, Sri Jinarathana Road, Colombo 02. Plans to develop private enterprises by cutting down on waste and other measures can be purchased from us. We are also ready to buy any ideas and plans with regard to development of the country. Please write to us.
Today some countries are recruiting people for plucking fruits including grapes. Some rich people are hiring labour for this and are earning large sums. Whatever it is, some opportunists are working with agencies to sell our labour abroad for a song. Slavery is taking place with our labour. Some people are recruited to the Malaysian Rubber plantations almost as slave labour. Who is there to stop this? Are our missions aware of this situation? We can put an end to this greed and stop the injustice meted out to our people. We can stop the foreign employment agencies from profiteerng from slave labour. Please write to us.
Always at your service.
Galboda Gnanissara Thero,
Gangaramaya,
61, Sri Jinarathana Road, Colombo 02.
Telephone : 2435169, 2327084